We've seen MIDI controllers come and go on Kickstarter, but this one, State of the Loop, is a unique hardware controller and the first ever that gives dedicated control over Ableton's Looper device.
State Of The Loop is a MIDI controller / Control Surface designed to control and monitor Ableton Live's Looper device. The buttons allow to select and control which Looper is currently monitored / controlled, and the LEDs light up according to the state of the selected Looper device.
It works in conjunction with a Max For Live device named StateOfTheLoop that communicates with Ableton Live via standard scripts (no extra folder or software to install). The device also adds a few features to Live's Looper device, like arming the track automatically.
You can also plug 2 Expression Pedals to the controller, that will connect to each instance of the StateOfTheLoop device. You can map each pedal to 4 Live parameters using the « Pedals » panel in the StateOfTheLoop device. The pedals are only active when the device is selected (this means that you can control an almost unlimited number of parameters with only 2 pedals !).
Finally, State of the Loop features a « Scenes Mode », where the buttons allow to select and play Scenes and move inside your Live set, the LEDs displaying the color of the selected Scene, along with the 2 first letters of the Scene's name.
The StateOfTheScene Max For Live device also provides an easy way to set up « Scene Follow Actions » and a big floating window that displays essential information about the live performance.
State Of The Loop is very straightforward to use, has a robust metal case and is 100% made in France.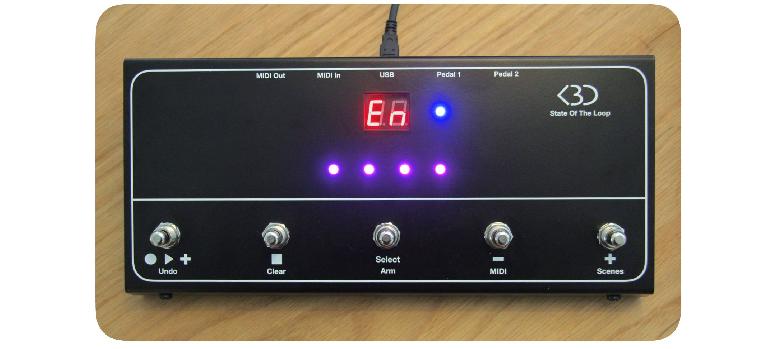 State of The Loop Features
Display and control the state of Live's Looper
Up to 99 loopers !
2 Expression Pedal inputs with "dynamic mapping"
Scenes Mode to launch Scenes and display their color and name
Sturdy metal case
100% Made in France
USB or MIDI connection for longer distances (up to 15m/50ft)
USB powered
Easy configuration
Weight : 1.7 kg / 3 lb
WxLxH : 30 x 13 x 6 cm / 12 x 5 x 2.5 inches
The Kickstarter campaign is limited to about 200 units, including a limited edition designed by French artist Jb Hanak.