LONDON, UK: "Spitfire Audio is proud to announce availability of ERIC WHITACRE CHOIR — capturing the breathtaking range of that most personal of musical instruments, the human voice, joyfully crafted and conducted from within the luxurious Lyndhurst Hall at London's legendary AIR Studios by namesake GRAMMY® Award-winning American composer, conductor, and speaker Eric Whitacre (famed for his so-called 'Virtual Choir' projects bringing individual voices from around the globe together into an online choir, as well as his choral, orchestral, and wind ensemble music), ultimately showcasing his 22-singer-strong The Eric Whitacre Singers as Spitfire Audio's arguably most anticipated virtual instrument library release to date.
With welcomed assistance and the advanced skillset of design and user-experience agency ustwo — responsible for DICE, the world's fastest-growing live music discovery app, and MONUMENT VALLEY, a surreal exploration through fantastical architecture and impossible geometry, ERIC WHITACRE CHOIR creatively delivers as a bespoke, self-contained (AAX-, AU- VST2-, and VST3-compatible) plug-in, developed primarily for composers, by composers.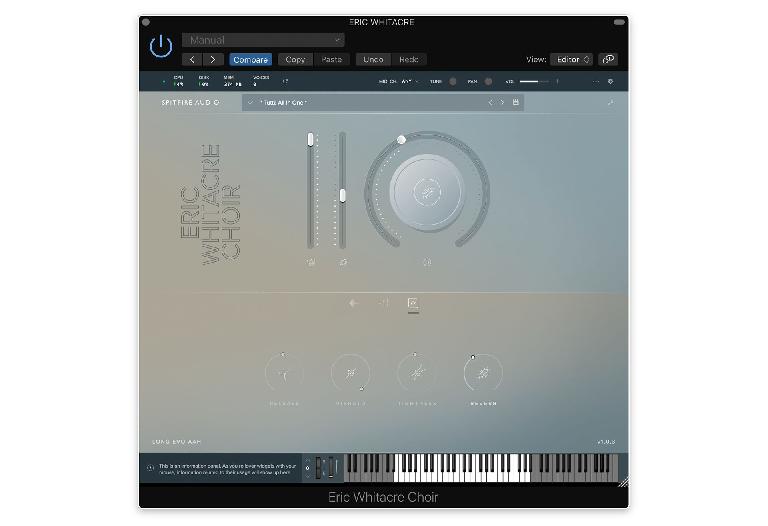 Above and beyond that it is an exceptional library, filling 200GB of audio that transcends choral cliches of sacred, angelic, and apocalyptic as an encyclopaedia of the voice, vying to enrich any composition. Cue a thought-provoking closing commentary from Eric Whitacre: "What I love about writing for voices is that sometimes a simple minor triad is all you need — no need to dress it up. It's sophisticated because it's so simple. And it has a gravity to it. It goes deep — at a cellular level." Like ERIC WHITACRE CHOIR itself, surely?"