Spitfire Audio: Eric Whitacre Contrast Sample Library
Curated by GRAMMY® Award-winning composer and conductor Eric Whitacre, Eric Whitacre Contrast features all-new performances from 19 world-class singers.
The acclaimed release of Eric Whitacre Choir from Spitfire Audio five years ago captured the breathtaking range of the most emotive musical instrument – the human voice. Advance to today, and Spitfire Audio releases Eric Whitacre Contrast – a sample library that surpasses the sonic boundaries of traditional choral performance, pushing the human voice to powerful new extremes.
Curated by GRAMMY® Award-winning composer and conductor Eric Whitacre, Eric Whitacre Contrast features all-new performances from 19 world-class singers, captured in AIR Studios, offering 245 contemporary techniques made with remarkable clarity and precision.
Also presented in standard mode and Spitfire Audio's Evo Grid for instant inspiration, these emotive textures are pushed to breathtaking new extremes in the eDNA synth engine, which enables recombining of these techniques to create inspiring new sounds – while also featuring bespoke presets from three special guest sound artists.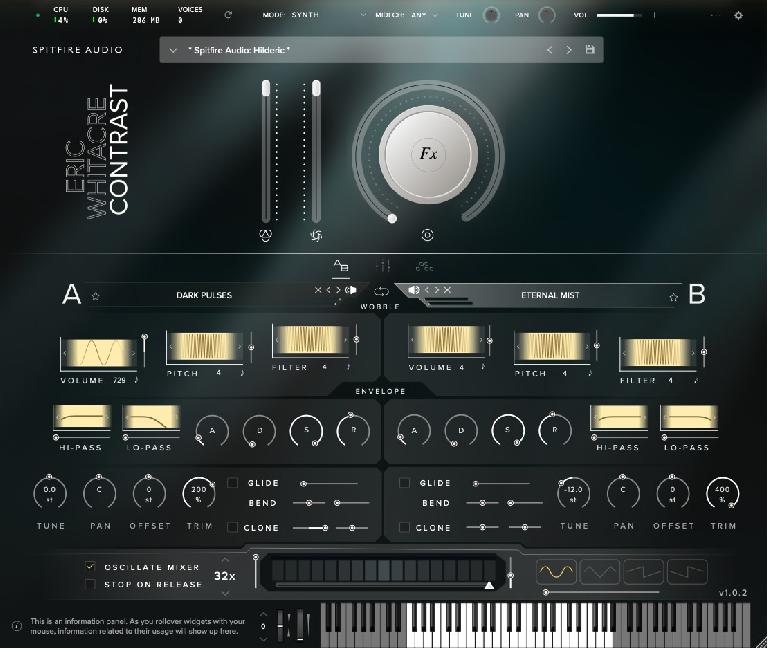 A living, breathing machine of sonic metamorphosis with limitless creative sound design possibilities, for any genre of music, available as a standalone library or as an addition to Eric Whitacre Choir and other Spitfire Audio sample libraries.
"What I love about Contrast is that it feels alive, just letting it evolve under your fingers...it offers this cinematic emotional palette that is different to anything we've done before. Suddenly you can create these genuinely interesting emotional worlds."

– Eric Whitacre

The New World of Choral Expression
At the heart of the library are 245 experimental techniques performed by 19 members of the Eric Whitacre Singers (Soprano 5, Alto 5, Tenor 4, Bass 5) recorded with a comprehensive range of mic positions in the stunning acoustics of AIR Studios, home of countless blockbuster scores. Each technique, curated with the awe-inspiring expertise of Eric Whitacre, is presented with two contrasting tones — 'Light' and 'Dark' — Light created with an open vowel shape, and Dark with a closed vowel shape. This seemingly subtle change creates a completely different tone and timbre. The techniques themselves — aptly named fragments, shards, divergences, murmuring, prisms — have been carefully curated to subtly (and sometimes dramatically) dance and move beneath your fingertips, moving at different intervals and through varying shifts in dynamic, tone, and pitch.

Scale Mode & Evo Grid Technology
Spitfire Audio's Scale Mode technology allows music makers to select from any of the seven diatonic modes, or build their own scale. From there, it intelligently selects the samples that conform to that scale, split by velocity, developing these intervallic techniques and triggering wider intervals at higher velocities. All techniques can also be recombined and layered in Spitfire Audio's Evo Grid, mappable across the keyboard in endless combinations, either manually or in pre-made configurations of rich, evolving textures. Click 'Feeling Lucky' to randomise these combinations for instant inspiration, breathing new life into your music.
Pushed to Powerful Extremes
The eDNA synth engine moves these stunning choral performances into the electronic sphere to create rich, multi-tonal synth textures that haunt and glisten, offering limitless inspiration for producers, beat makers. sound designers or composers writing their next sci-fi, horror or game score.
Harnessing sophisticated technology and innovative processing techniques, it features 24 warps and 92 synth presets created from the organic material, as well as a huge range of in-built controls and FX for maximum creative control and endless sound design possibilities within the plugin. The synth engine also features bespoke presets from three outstanding guest sound artists — Oscar-nominated composer Ryan Lott (Son Lux), Clark, and Kaitlyn Aurelia Smith.
Whether you're looking for instantly usable sounds straight out of the box or wanting to spend hours getting lost in unique sounds, Eric Whitacre Contrast will deliver exciting, unpredictable colours and textures to your sonic palette.
"The library is something special and I know I'll make use of it in countless ways. I'm particularly excited about the ways the eDNA engine allowed me to come up with stuff that flirts with the edge of recognition of the raw materials as vocal-based. I feel like this will allow me to imbue non-vocal based textures with an elusive sense of humanity, and also the other way around; explicitly vocal textures can easily drift into abstraction. So fun!"
— Ryan Lott (Son Lux)
KEY FEATURES
19 singers – five Soprano, five Alto, four Tenor, five Bass – captured at Lyndhurst Hall, AIR Studios
Three GUIs – Standard, Evo Grid, eDNA synth engine
245 techniques
92 user presets
24 warps
Three mixes – Small, Medium, Big
11 signals – Close, Tree, Outrigger, Mid, Ambient, Gallery, Wide Stereo, Soprano, Alto, Tenor, Bass
61,442 samples
~66GB download size