LONDON, UK: Spitfire Audio is proud to announce availability of KEPLER ORCHESTRA — originally putting German astronomer Johannes Kepler's discovery of the three laws governing orbital motion into musical motion as an aptly-named odyssey of orchestral sounds, articulations, and playing styles recorded in the crisp, vibrant acoustic of London's legendary AIR Studios' Studio 1 and presented in the sound-specialising British music technology company's interactive Systems Grid articulation mapping tool based on its innovative Evo Grid technology to allow anyone to easily write and create complex polyrhythms a la late-20th Century composers like John Adams, Steve Reich, and Terry Riley, realising ultra-realistic, dynamic polyrhythmic scores with ultimate control while the orchestral tools themselves take care of the hard work.
Features
DOPPLERS
The Doppler Effect is the change in frequency of a wave as the source and observer move toward or away from each other, for example, what you hear when an ambulance passes by, or the red shift in light observed by astronomers. We have recreated this by recording notes that grow, bend down by a semitone and die away, so they sound like they are shooting past you.
SHARDS
Our shards grid is inspired by light particles, reminiscent of shards of light, or the light spun out at the creation of an accretion disk. The result is swells of sound that rise dramatically in dynamic until they stop dead.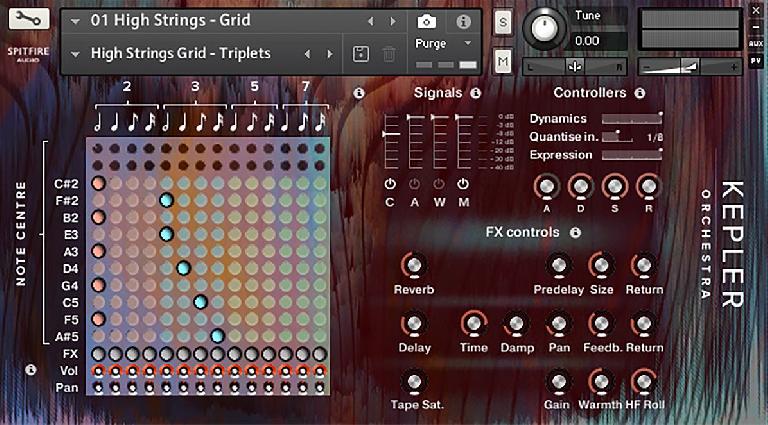 MOMENTUM
Our momentum grid is inspired by light wave interference theory — notes that increase and decrease in both speed and dynamic, from pulsing to accelerating.
WARPED
The Warped section contains thirty contrasting sounds to add an extra layer of cosmic depth and atmosphere to your polyrhythmic compositions. Each of these sounds was produced using the organic sample content from the library, designed to add unique depth, texture and atmosphere to any composition. Some samples were made using granular synthesis, while others were pumped through outboard gear, distressors, reverbs, saturators, and guitar FX pedals to create something completely new and original. Presented in our Mercury synth, all of the controls are assignable to your control surface, giving you the immediate ability to make our sounds your own.