Spectrasonics have been teasing their 4th software instrument this past week. We understand this new instrument, Keyscape - Collector Keyboards, has been 10 years in the making and needless to say, considering the reputation of the other instruments Spectrasonics have created (Stylus RMX, Trilian & Omnisphere 2), this news has caused a massive amount of interest.
So, are we talking about just another sampled keyboard collection? With Spectrasonics, probably not... Spectrasonics tell us that Keyscape features the largest selection of collector keyboards in the world. 36 to be precise. They traveled far and wide to find and then restore these keyboard instruments and sampled them with "authentic tone and inspiring playability" in mind.
As you'll see in this video, a lot of pro players testing out Spectrasonics Keyscape - Collector Keyboards. It's impressive and worth watching! You'll hear comments like "this is it". "It's the best piano out of a computer ever". And "I want to play this all the time". And these are from some of the most respected keyboard players in the world...
Keyscape – Collector Keyboards is a Steam engine product, so there's plenty of authentic and unusual sound design and sound manipulation to be had. Plus it includes integration into Omnisphere 2. So it appears as a library inside Omnisphere's browser for users of both plug-ins. "This allows Omnisphere 2 users to harness the full synthesis power of the STEAM Engine® to explore endless new sonic possibilities and combinations!"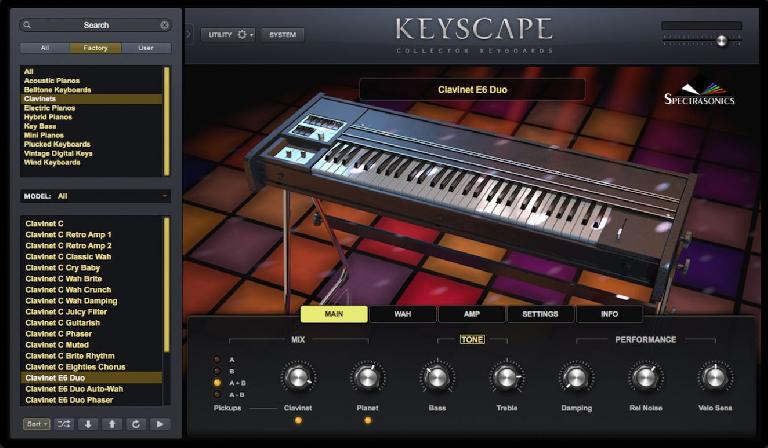 You'd almost expect Spectrasonics to have setup morphed sounds, right. They call it DUO Mode. Here's what they tell us about it:
"Along with the hundreds of patches based on the 36 instrument models, Keyscape includes special hybrid "Duo" sounds, which combine two of the instruments to create something entirely new. The unique timbre of these Duo patches make them some of the most creative and inspiring sounds in Keyscape!"
Overview:
Huge 77 GB library with over 500 sounds, 36 Instrument Models and Hybrid "Duo" Patches
Deeply Multisampled sounds with up to 32-way velocity switching, Round Robins, etc
Mechanical Noise, Pedal Noise and Release Noise behavior modeling
Patches feature authentic circuit modeled amps and effects
Optional "Lite" installation (30 GB) for stage use
Omnisphere® 2 integration
Keyscape - Collector Keyabords will be available on 12 September 2016. It'll be compatible with Mac & Windows as a 64-bit AAX, AU, VST plug-in, plus requires 80GB disk space and 8 GB RAM.
Keyboard Models included in Keyscape:
Hohner Clavinet C
JD-800 Crystal Rhodes
LA Custom C7 Grand Piano
MK-80 Contemporary Rhodes
MKS-20 E Piano
MKS-20 Electric Grand
MKS-20 Vibes
Rhodes - Classic Mark I
Rhodes - LA Custom "E"
Wurlitzer® 140B
Wurlitzer® 200A
Wing Upright Piano
Wing Tack Piano
Vintage Vibe® Electric Piano
Electric Grand CP-70
Pianet M
Pianet N
Pianet T
Weltmeister® Clavinet
Celeste
Chimeatron
Dulcitone
Clavinet® C
Clavinet® / Pianet Duo
Vintage Vibe® Vibanet
Clavichord
Dolceola
Electric Harpsichord®
Mini Student Butterfly Piano
Rhodes® 1946 Pre-Piano
Toy Piano - Classic
Toy Piano - Glock
Toy Piano - Grand
Toy Piano - Saucer Bell
Harmochord
Rhodes® Piano Bass
Vintage Vibe® Tine Bass
Weltmeister® Basset 1
Weltmeister® Basset 2