In previous articles, I've mentioned Animoog as being a high quality app that can be modified to suit the needs of even lower functioning students. The 'abcdefg...' app, by Jörg Piringer, while not being a serious music app, can provide a fun way to engage students in learning the alphabet and some phonetics, while they enjoy some rhythmic and sonic fun. Here I will explore both apps in terms of creating fun lessons for students with a range of abilities, and how Logic can add to and enhance these lessons.
Taking the Pulse of Crickets - in Unison
In the 'abcdefg…' app (it's full name comprises all 26 letters of the alphabet), there are four modes: gravity, crickets, vehicles, and birds.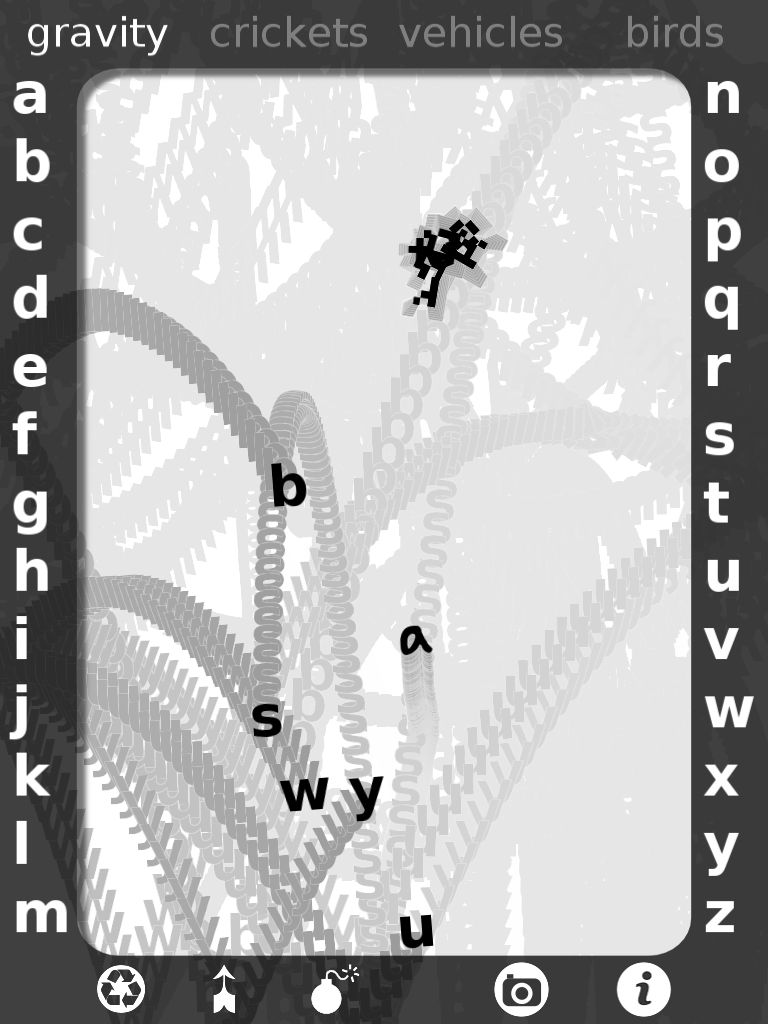 'abcdefg…'……..alphabetizing!
Each offers its own brand of phonic fun and sonic scapes that I recommend the reader look into. For this article I will be focusing on crickets.
In 'crickets' mode, letters start to sound when next to each other. The pulse for these sounds is a constant 120bpm. Having 3, 4, or more iPads running the 'abcdefg…' app in crickets mode can produce some crazy, entertaining, and interesting results. Students who start off having some fun with letters come away considering some very entertaining and ear opening sonic possibilities. It's best to record the session into Logic and play it back so the students can focus on listening to what they've just done. Here's an example:
Taking the Next Logical Step
In the above example, Logic was used to align each track of audio so that the student performance was in sync, thereby providing a strong, unison beat. Once in Logic, these audio tracks can be manipulated ad infinitum to provide great variety and interest. Here's just one basic example. (Don't listen to it too much - you may start to hear strange words…..)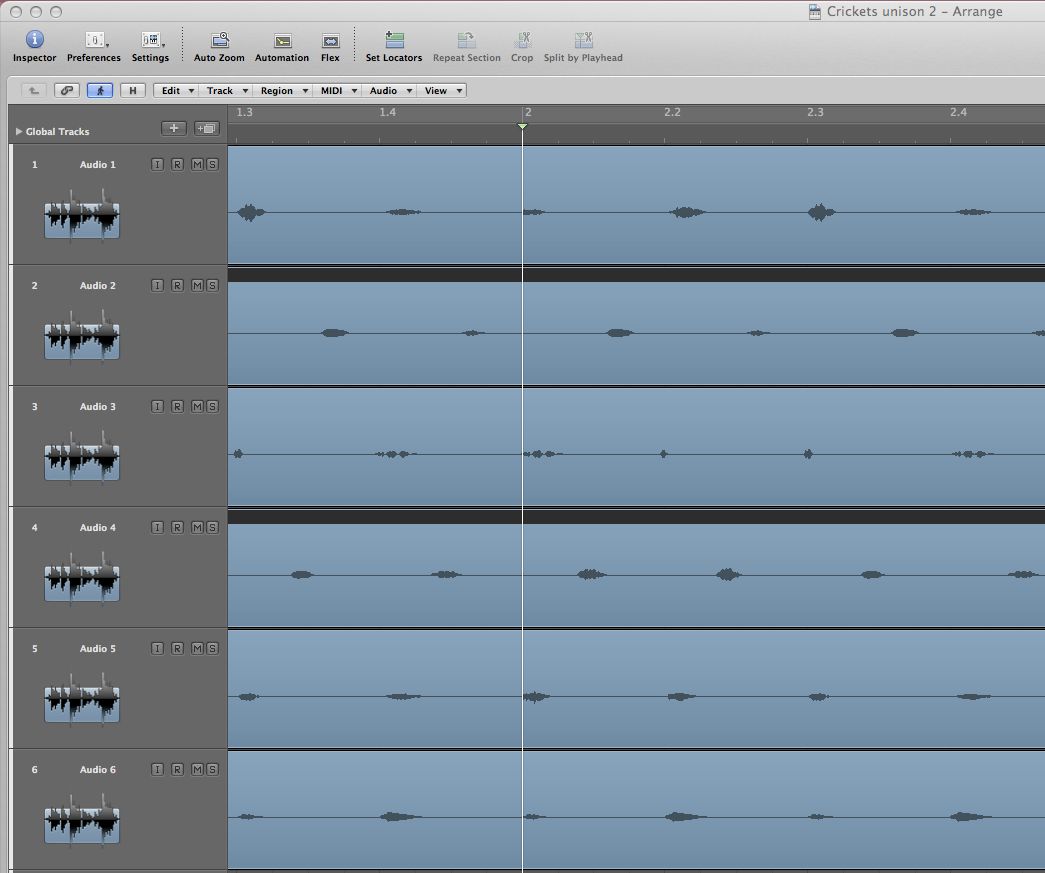 In Logic, two of the six tracks (those selected) were moved along the timeline
to create the feel heard in the above audio clip.
As an introduction to this, I use Logic's mixer to teach the students how to listen more carefully to each individual part, and how mixing can totally change the overall sound of a production. This is done hands on, as each student gets to do their own mix.
With some of my more advanced classes, I teach them how to use Logic to chop up, time stretch, reverse, and otherwise mangle the basic beat, similar to the way these two excellent Hub Articles have demonstrated here and here. This is an example of what one of my students did:
Animated Soundscapes with Animoog
The following audio example will demonstrate how Animoog can be an amazing app that all can access in very fun, creative ways. The clip is of four students playing different presets in Animoog. Mostly they were instructed to just hold one note and move the green voice location dot to alter the sound. In one or two cases I modified the keyboard so that it was easier for the student to play the correct notes, and this is an example of the result:
Animoog and 'abcdefg…' in Combination = Many Times the Fun.
In closing, I'd like to offer a brief excerpt of a student using Animoog to play a bassline to the chopped up 'abcdefg…' groove. The 'GrittyAttack' preset is being used.
Start Your Own Fun Explorations to Share With Your Students!
So, as you can see, this all can be lots of fun. Don't forget that only one of the modes in 'abcdefg…' was explored here. The other three can also yield some crazy results, and they can all be used in combination. What other apps can be used for some creative fun?