For its size, the Vertigo offers unprecedented power. It has three onboard tremolo effects, stereo inputs and outputs, tap tempo (with Source Audio's external tap tempo switch), and MIDI functionality when coupled with the Neuro Hub (formerly the Soundblox Hub). If you want to dive in and really sculpt your sound, you can do it with the Neuro Mobile App ( A free download for iOS and (coming soon) Android). The App gives you an additional set of adjustable parameters as well as access to our free library of downloadable hybrid effects.

Click here to learn about the Vertigo Tremolo...
Check Out Our Official Vertigo Tremolo Demo:
The Vertigo offers three distinct tremolo effects. Normal tremolo delivers a devine renewal of the thumping "opto trem" amplitude modulation found in vintage Blackface Fenders. Harmonic tremolo revives the gentle sway of the Fender Super's "Vibrato" effect from the early 60s - this vintage tremolo ping-pongs between a low and high frequency boost, creating a swinging phaser-ish effect. The mildly overdriven Bias tremolo creates the swampy "bias wiggle" of early tube bias modulation. The Vertigo takes the tonal possibilities a step further with its Shape knob that allows users to morph the tremolo's wave shape from square, to sine or opto, to sawtooth.
Out of the box, the Vertigo Tremolo offers tremendous tonal range, but when connected to the Neuro Mobile App, the Vertigo gains additional functionality and effect possibilities. The Neuro App provides access to Source Audio's free library of progressive tremolo patterns and hybrid modulation effects - each additional effect can be tweaked and stored in the user's personal library of presets, shared with other Vertigo owners, or burned directly to the pedal. The App also offers an extended set of adjustable parameters including parametric EQ, wet/dry mix, tap tempo, low cut, and stereo separation. Click here to learn more about the Neuro Mobile App.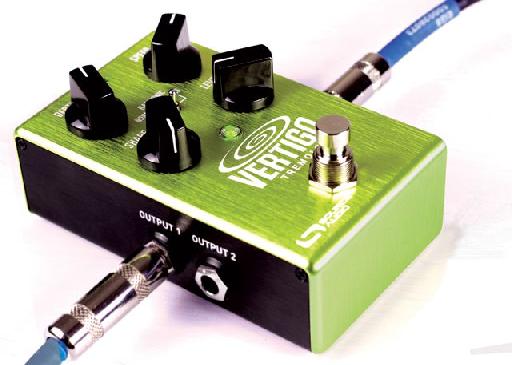 The Vertigo also works with several of Source Audio's external controllers and can receive MIDI messages. Plugging the Source Audio Tap Tempo Switch into the pedal's Sensor Input engages the Vertigo's tap tempo function. The tap tempo rate can also break down into beat divisions: quarter notes (one pulse per tap), eighth notes, triplets, and 16th notes. Similarly, the Vertigo's tremolo rate will sync to MIDI clock messages sent from digital recording software via the Vertigo's USB port or the Neuro Hub. External expression control is also possible with Source Audio's Dual Expression Pedal as well as the Hot Hand 3 Universal Effects Controller. Expression control can be assigned to a single parameter or multiple parameters simultaneously.
When coupled with the Neuro Hub, the Vertigo is fully MIDI compatible, giving the pedal the power to save up to 128 presets easily recalled via MIDI program change (PC) messages.
For the moment, the Vertigo is only available in select dealers - click here to buy the Vertigo online.