Woburn, MA - Source Audio ha rilasciato il controller Espressione Reflex universale . The Reflex è un pedale di espressione estremamente versatile e programmabile che permette agli utenti di inviare contemporaneamente fino a tre segnali standard di espressione o CV, MIDI messaggi di controllo continuo, oltre a sei forme d'onda LFO. "Abbiamo passato gli ultimi dieci anni a studiare come gli artisti usano pedali di espressione", dice Source Audio presidente, Roger Smith. "Circa due anni fa abbiamo sognato il concetto per Reflex: il sistema di pedale di espressione più potente e flessibile mai concepito.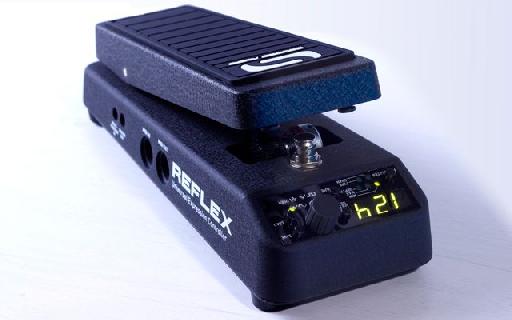 Fonte controller Expression Audio The Reflex universale.
The Reflex presenti tre prese di espressione standard "con una serie separata di DIP switch per ciascuna, che consente agli utenti di selezionare le configurazioni dei plug singoli o CV (Control Voltage) modalità di uscita per accogliere qualsiasi pedale effetti che ha un ingresso espressione. Reflex comprende anche un MIDI 5 connettore DIN pin per l'invio di messaggi MIDI CC e di una porta USB che permette al pedale di essere utilizzato come un dispositivo compatibile di classe USB-MIDI con il software audio digitale.

Anteriore e centro è pannello di controllo potente e facile da usare del Reflex. I controlli consentono agli utenti di programma quali uscite sono attivi, la profondità e la direzione del segnale di espressione, e la curva dei coni. E 'anche possibile assegnare una delle sei forme d'onda LFO del pedale con il controllo di espressione sulla profondità LFO, velocità , o battere divisione. The Reflex può memorizzare fino a 128 configurazioni di pedali, richiamabili tramite i controlli a bordo o dei messaggi di program change MIDI esterno.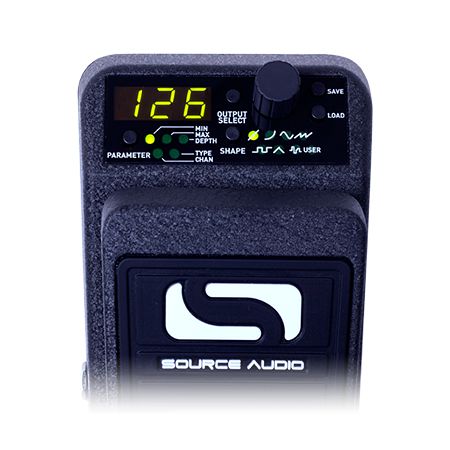 Il controller Expression Reflex universale in grado di inviare CV, MIDI LFO messaggi forma d'onda e CC.
"La mancanza di uno standard a pedali d'espressione è stata una fonte di frustrazione per molti dei nostri clienti nel corso degli anni", dice Jesse Remignanti, CTO di Source Audio. "La nostra esperienza con Hot controllo dell'espressione mano [Hot Hand 3 Controller Universal Effetti Wireless di Source Audio] è stata perfezionata su più generazioni di prodotti al punto in cui abbiamo creato un approccio flessibile e potente per l'interfacciamento controllori digitali con ingressi analogici di espressione.
Reflex Expression Controller Universal Demo Video:

MSRP per il controller Expression Reflex Universal è $ 299 ($ ​​219 strada). Per ulteriori informazioni e un elenco di rivenditori autorizzati, visitare il sito o chiamare www.sourceaudio.net sorgente audio direttamente a 781.932.8080 (ext. 206).