Soundwhich is a new service that aims to take the hassle out of generating music beds and tracks without even requiring you to use a DAW. It's aimed at musicians and also those who may not be geared up for music production, for example film makers. Entirely brower-based, a subscription takes care of licenses and also access to the tools and audio library. Here's what the developers told us about it.
"Soundwhich is an online library of synchronized stem tracks and sound effects. Instead of downloading everything to your computer and then arranging in your DAW, now you can accomplish all the tasks within your browser and export one single audio file. You can even import a video file to your browser to synchronize music and effects to it."
Features
Directly transform your client's requirement to a finished work.
Save yourself from music theory headaches.
Access to 10,000+ professionally recorded instrumental and vocal tracks.
Features like auto-mastering and crossfade can free you from hours of studio work.
No additional software is needed.
Stop polluting your computer with unrecognizable audio files.
Bundled royalty-free license for full access ($21.99/month or $199.99/year).
There seem to be two main options available. The Online Creator Package is $21.99/month or $199.99/year and allows the creation of up to 50 songs per day, and a license for up to 200,000 plays of the end product. A single song license varies from $0 to $499.99 depending on usage.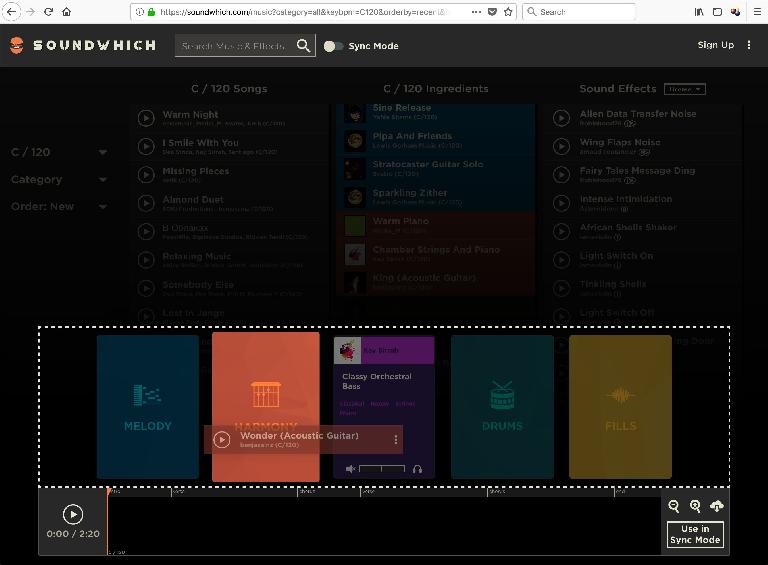 Soundwhich is an interesting idea - though there are of course other online content libraries like Splice and NI's Sounds, and it's debatable how much of a bugbear most music producers really find loading stems into a DAW to be. For those not familiar with music production it could be a time saver though.
While monetising a service these days is tricky, some may find this service slightly pricey compared to the competition, and we found the website to be a little buggy, which is a problem when your whole offering is browser-based. It's a new service, so it's likely these issues will be resolved over time. What do you think - is this the kind of service you'd use? Let us know in the comments.