Here's more details in his own words
-Analog Heart-
The MODULÖR114 shows its lineage with its raw, organic and sometimes uneducated analog sonic character. The heart of the modular synthesizer is a full set of analog blocks that allows the musician to be inspired and experiment with a real, no compromise machine. More than twenty freely patchable analog modules lets you deep dive into the world of synthesis with the added bonus of the many other characteristics of the MODULÖR114.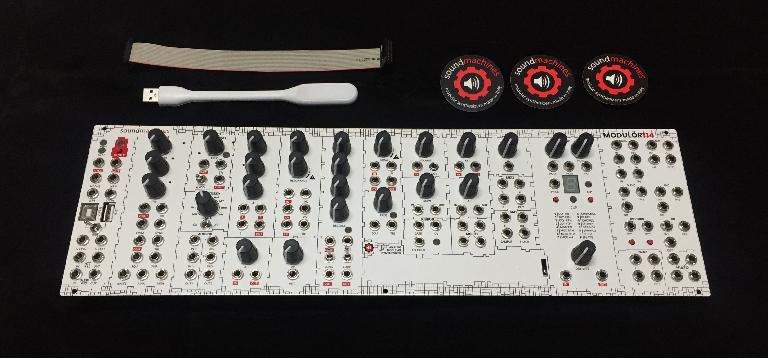 -Workflow Integration-
A modern all-in-one modular machine like the MODULÖR114, just gives no compromises on the side of connectivity. Today we implemented many advanced features that will benefit any kind of user from their presence. The integral USB MIDI to CV interface sports many features that are yet to be found on the majority of eurorack modules. Apart from the classic pitch and gate signals we can derive a 16th clock, the modwheel amount to CV and, finally, Parameter Change control over two CV, an attenuator and a slew controller. The possibilities are wide.
A great addition is the USB HOST capability of the MODULÖR114: By selecting the HOST interface you can plug in a usb midi keyboard or control surface and have your complete synth working without a support pc!
Last but not least, MODULÖR114 is made to be a slim, portable unit and it can be powered also by the USB device port!
-Maximum Playability-
The MODULÖR114 includes a couple of hard-to-find functions in many competitor's machines: a ribbon controller and an internal quantizer. Those two functions, together or not, make for a great deal of playability in a modular synth environment and sets a new standard in self-contained machines.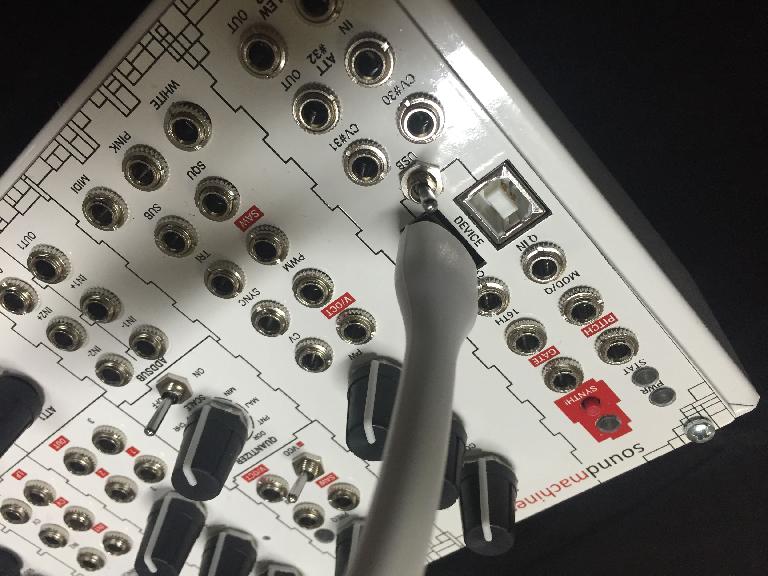 -Digital Spark-
Orthodox things give us the hitch. We are all for contamination, infection and cross breeding, so we put a good deal of digital stuff into our analog machine: A complete fx unit based on a 24bit DSP is available to either enrich the sound or properly shape it with delays, chorus and reverbs, all controllable with CVs and taptempo inputs. On the rightmost part of the synth you can find a plethora of simple yet effective digital blocks, like logic gates, clock dividers and trigger buttons. From rhythmic duties to digital ringmods....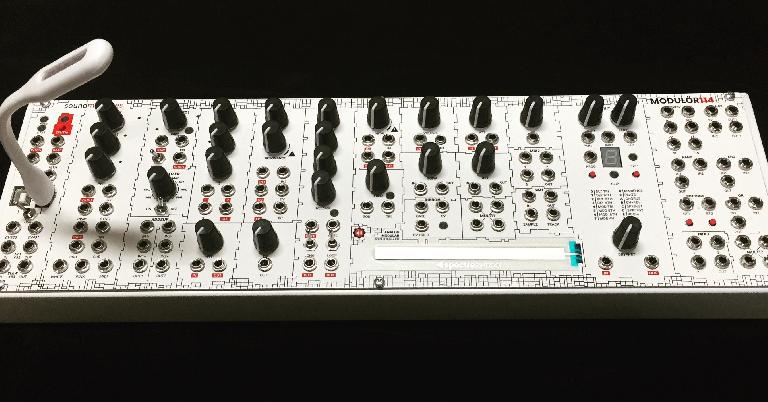 -the SYNTH! button-
We designed the MODULÖR114 as a perfect entry door to the eurorack modular world by putting together a great assortment of modules with the added functionalities of digital fx and advanced connectivity.
As the cherry on the cake we implemented a hidden monosynth that you can recall at the touch of a button! This innovative capability matches perfectly with one of the potential uses of the MODULÖR114 synth, the lead and bass monosynth. All the red labeled jacks will be connected together in the classic monophonic synthesizer signal flow. Without using patchcords you can start playing just by plugging a usb keyboard in!
Web: http://www.sound-machines.it