20th December, 2015–Sound Particles, a new groundbreaking software for immersive sound design was just released. This CGI-like software uses particle systems to create up to millions of sound sources over a 3D space. Although particle systems are widely known for their use on computer graphics and visual effects (VFX), their use in audio is almost inexistent.
Nuno Fonseca, the creator of the software, gives an example of application "To create the sound a battlefield, a user can pick up 100 war-related sounds from a sound library, and based on those files, create 20.000 particles (sound sources), spread over a square mile, capturing the overall sound using a 5.1 or a 9.1 virtual microphone".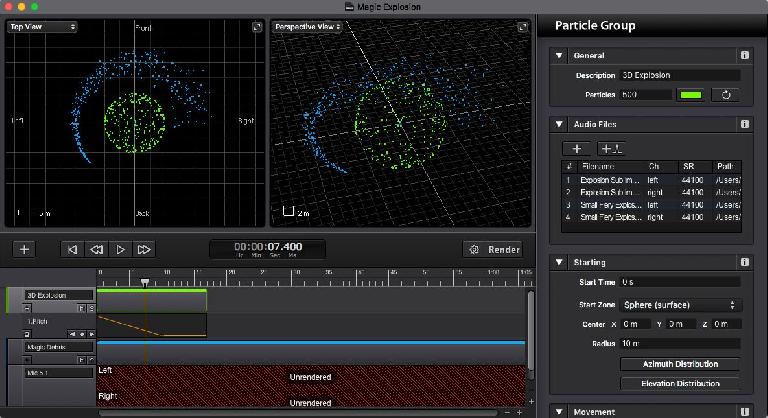 One of the advantages of the software is its ability to render audio for the new immersive formats, including support for Dolby Atmos 9.1 beds or Auro-3D 11.1/13.1.
"Imagine a traditional CGI software like Maya or Blender, but replace the 3D objects by sound sources and replace the virtual camera by a virtual microphone. That is the concept behind Sound Particles", says Nuno Fonseca.
By adding movement and audio modifiers, random audio effects are applied to each particle, making sure that each sound source is different from all other sources. These audio modifiers can range from simple gain and delay modules, to more complex random EQ/band filters or even random pitch-shifters. Also, a granular modifier is available, reproducing only a small audio fragment of an original audio file on each particle.
The beta version of the software was already used on some movies (e.g. the remake of "Poltergeist") and is currently under tests in all major audio post-production studios, including Skywalker Sound, Universal Studios, Sony Pictures, Warner Bros, Fox, Technicolor/Paramount, Formosa, Park Road Post (NZ), and Pinewood (UK).
"The feedback from "Hollywood" has been great. This is a completely new way of doing sound design, which fires up the imagination of those fantastic sound designers – what would be the sound of an immersive 3D fire? Or the sound of 1000 flying violins?"