In my first 'Sound Like Skrillex' tutorial I covered how to create your basic Skrillex style break. In the article I covered how to create layered synths that sound similar to Skrillex, and made use of Ableton's Chains to create interesting 'talking' style basses. I will expand on Skrillex's sound in this article and explain how to build up an arrangement by making use of Ableton's Resampling and editing techniques. Skrillex definitely spends a lot of time on his editing and productions, through these techniques interesting effects and arrangements can be had. Let's dive in and see how this is done.

Step 1 – Resampling
What is really a great feature in Ableton is Resampling. I will show you how to resample elements of the production, and manipulate the resampled audio file elements into the mix.
Create a new Audio Track (Cmd-T). From the Audio From menu select Resampling. This will record any audio that is going to the Master track onto the resampled audio track.

You can solo specific tracks if you only wish to use a few, but I will be resampling all the tracks. Record Enable the track and record as much of the audio as you wish. I have recorded a few bars.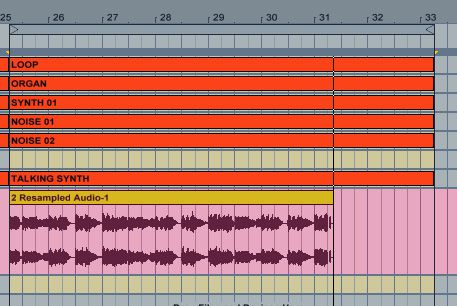 Now the trick is to cut away elements of this resampled audio. I have cut away most of the resampled audio and have used the first 1/8 of the audio file. I have repeated this audio piece over the next few ¼-note, and then after that I have repeated it over the next 4 x 1/8-notes to create a glitch-style speed up effect.

To make this work in the production, I have edited out the other tracks so that only this resampled audio file plays. The rest of the elements come back in after this repeat glitch-style effect.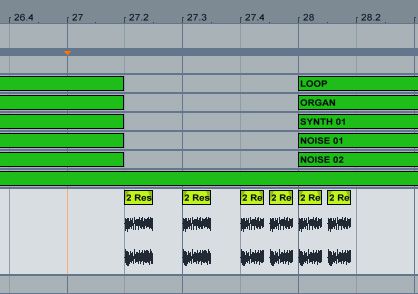 You can go quite crazy with your resampling and edits. I have done a second edit near the end where I have resampled another segment of the tracks. It is a repeated audio snippet, but slightly different than the previous edit. Take a listen to what the piece sounds like:
Step 2 – Organ Intros
Let's start getting into creating an arrangement for this project. Skrillex normally starts out his tracks with simple synths or key patterns. I have started with the Organ pattern that I created in the first tutorial. This Organ part plays for 2 bars, after that the drum loop comes in. Skrillex's verse sections are quite simplistic as this allows for him to have a drastic contrast with his drops and chorus sections, which include insane edits and resampling techniques.
Step 3 – The Lead
What is also quite common in Skrillex's productions are catchy lead lines such as in his 'Scary Monsters and Nice Spites' and 'First of the Year' tracks. I am going to write a simple but catchy lead line that I can place on top of the Drums and Organ in the introduction. I have pulled up the Harpsichord Lite preset in the Simpler (Live Devices > Simpler > Piano and Keys > Harpsichord Lite). Next I have inserted an EQ Eight. I have low cut up to 152Hz. I have done another cut at around 620Hz, and have a slight peak at 2.4kHz. Lastly I have high cut from 5.9kHz.
After the Simpler I have inserted a Saturator and have increased the Drive to 2.86dB. Next is an Overdrive to color the sound a bit more. There is a Drive of 76% and I have set the Tone to 40%. Last is a Ping Pong delay to bounce the Lead sound around the stereo field.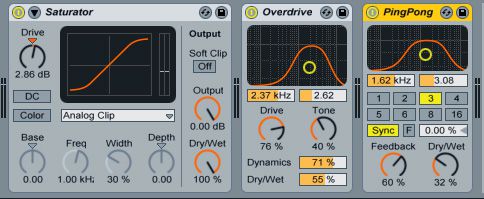 I have programmed in a simple pattern that will overlay the Organ and Drum Loop nicely.

Step 4 – Build Up Before the Drop
Next up is the classic Skrillex 'Drop'. I am going to create a simple Kick build up before the Drop hits. After the verse section everything drops out except for the Lead, Organ, and Kick pattern.
The Kick pattern starts first by being played on every ¼-note. It then moves up to every 1/8-note, and then every 1/16-note. Just before the Drop there is a big Snare hit. I have added a huge dose of Reverb onto the Snare hit to make it ring out just before the Drop. I have also layered up different snares for a bigger impact.

Step 4 – The Arrangement
From these steps I have created a simple arrangement. There is the Organ Introduction. The Drum Loop then comes in with the Lead line. I have automated the Volume of the Lead line so that it increases over the verse section. After this the Drum Loop stops, and there is only the Kick build up. A big reverberated Snare hits before the Drop kicks in. Within the Drop/Chorus I have added some resampling audio edits to diversify the section.
Here is what my arrangement looks like:

Here is what the final piece sounds like:
Conclusion
As you can see, you can go as far as you want when building up a Skrillex-style track. Feel free to go wild with your productions. The more tweaks and edits, the better. Having the big contrast between the Verse and Drops is what makes his style so unique. So go and start building up some massive Drops in your next tracks. I hope you can incorporate some resampling and edit techniques as well into your future productions.