iZotope's Iris is a remarkably powerful resynthesizer that is able to generate sound using imported samples as the basis for new textures. That's not unique in the music technology world, but its ability to provide unprecedented access to the way the sound is shaped definitely is. Taking cues from the company's innovative RX audio processor, Iris gives you amazing control and lets you create sounds the likes of which have never been heard before…

Step 1 – Load a sample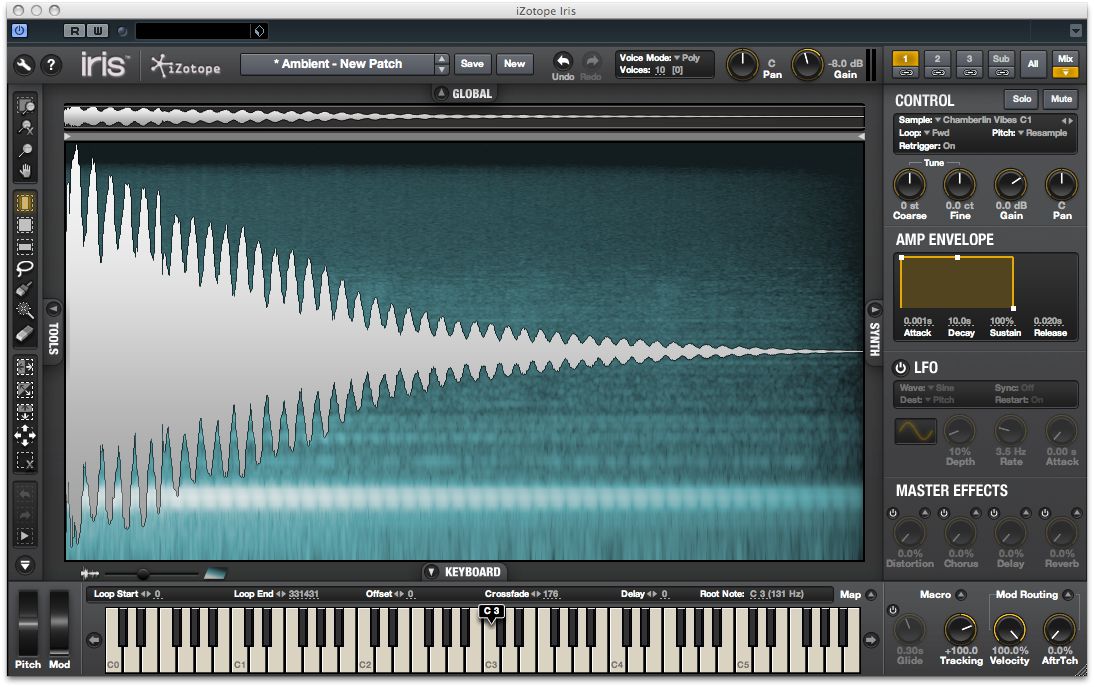 A sample can be loaded or dragged into Iris to begin resynthesis.
Load up an instance or Iris and select the first of the four layers. Then either drag and drop a sample into the sample area, or click on the Browse button to be taken to the synth's sample library. Select a sample to load and it will appear in the main sample area. Pressing a key on your MIDI keyboard should trigger it back, and it may loop, depending on its embedded settings.
Step 2 – Start drawing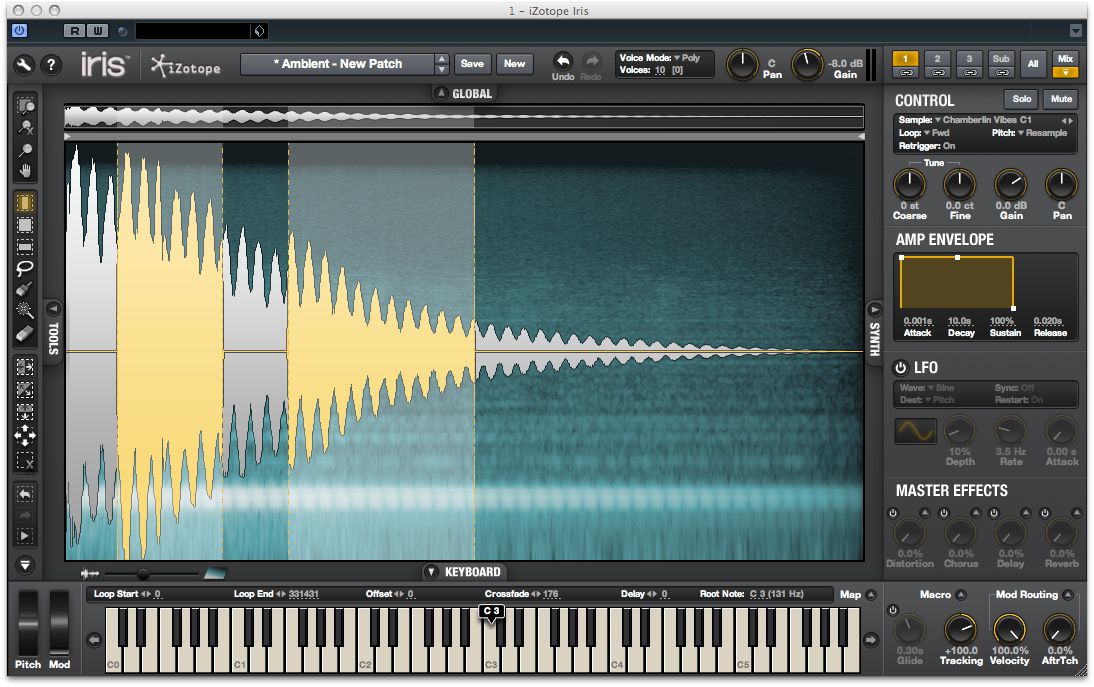 Select areas of a sample to use for playback, based on time.
With the Time Selection tool, you can select one or more areas of the waveform to be used for playback. By deselecting the start of this particular waveform, we remove most of the attack from the sound, producing something more muffled. By selecing non-continuous sections, we can make the sound rhythmic.
Step 3 – Get creative with selection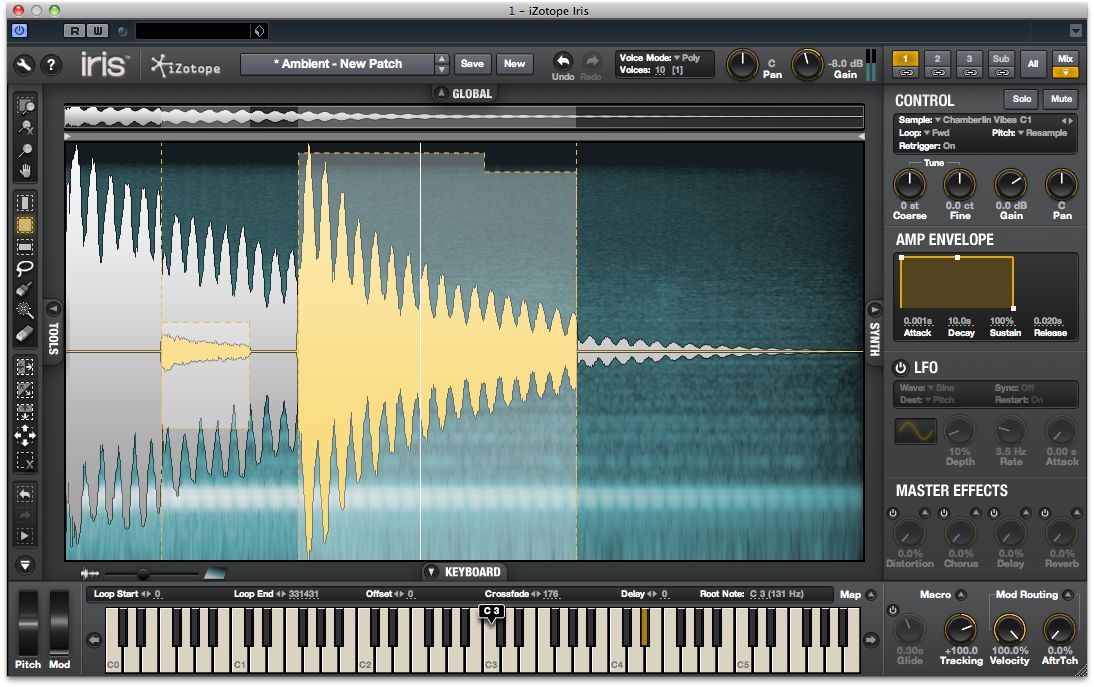 Selecting by frequency and time allows you to get more creative.
The Time and Frequency tool is even more useful since it lets us draw in two directions at once, and move parts of the waveform around. This might feel very experimental and there is a degree of just trying stuff and seeing what happens, but the results are rarely less than interesting and often very useful.
Step 4 – A crazy child's drawing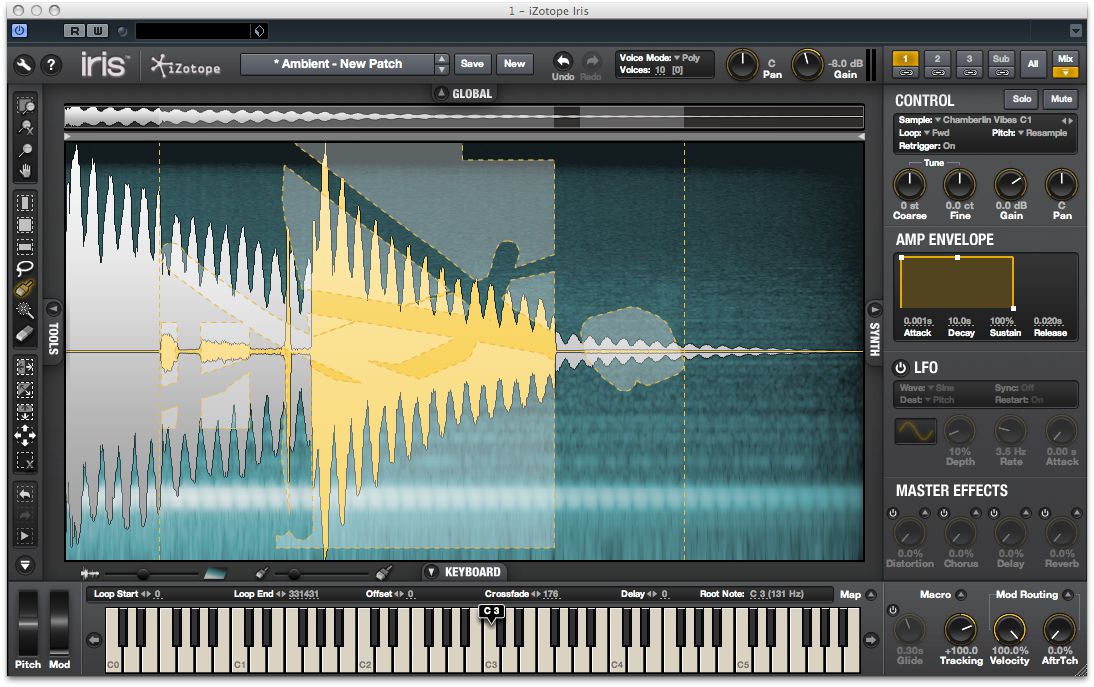 OK so this may be a bit much, but it demonstrates that you have complete freeform control over selection.
Using the paintbrush, lasso and eraser tools you can draw freehand into the waveform, adding or removing areas to be included in the sound. This lets you reach inside a sound and choose or remove specific bits that you want to, with far greater accuracy than any EQ module could ever offer. What you're doing is not EQing the audio, you're choosing which parts of it are used to generate the sound in the first place. At this point, your waveform can start to look a bit like a Salvador Dalí painting.
Step 5 – Add more layers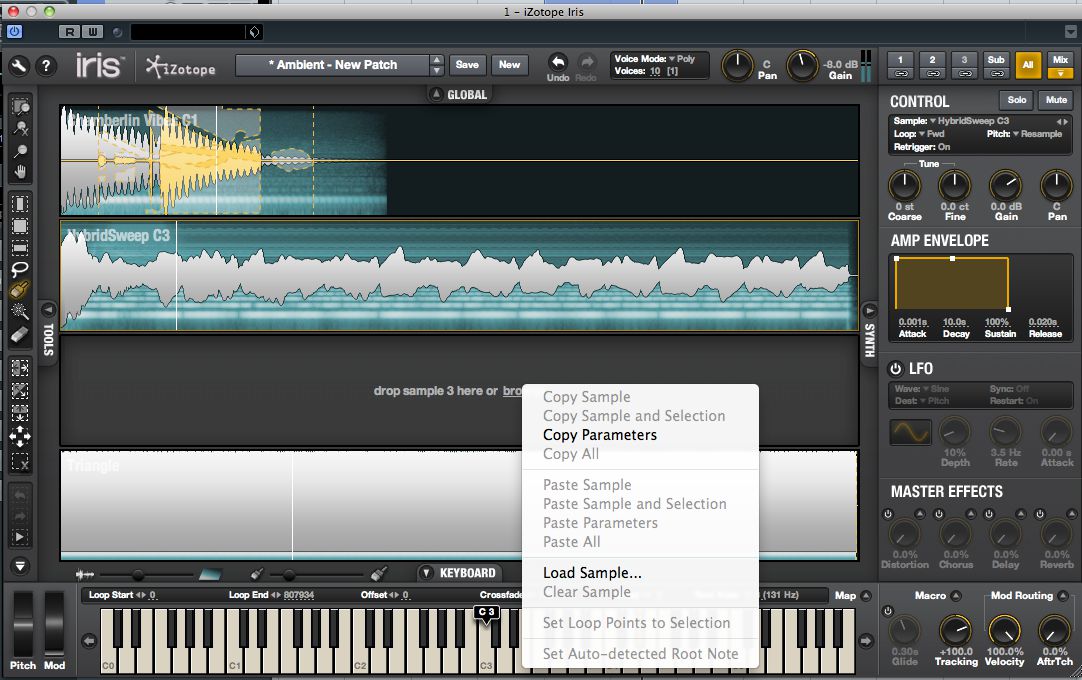 Add up to four layers including a sub to add weight to your patches.
To make things more interesting, at the top right corner, click the All button. This reveals the remaining two empty sample layers, plus a sub layer. Try loading up samples into the remaining two slots and on the sub layer by right-clicking and choosing Load Sample or Load Sub Shape. For the three sample layers you can go in depth as you did with the first and draw in areas to play back as well as affecting looping.
Step 6 – Mix it up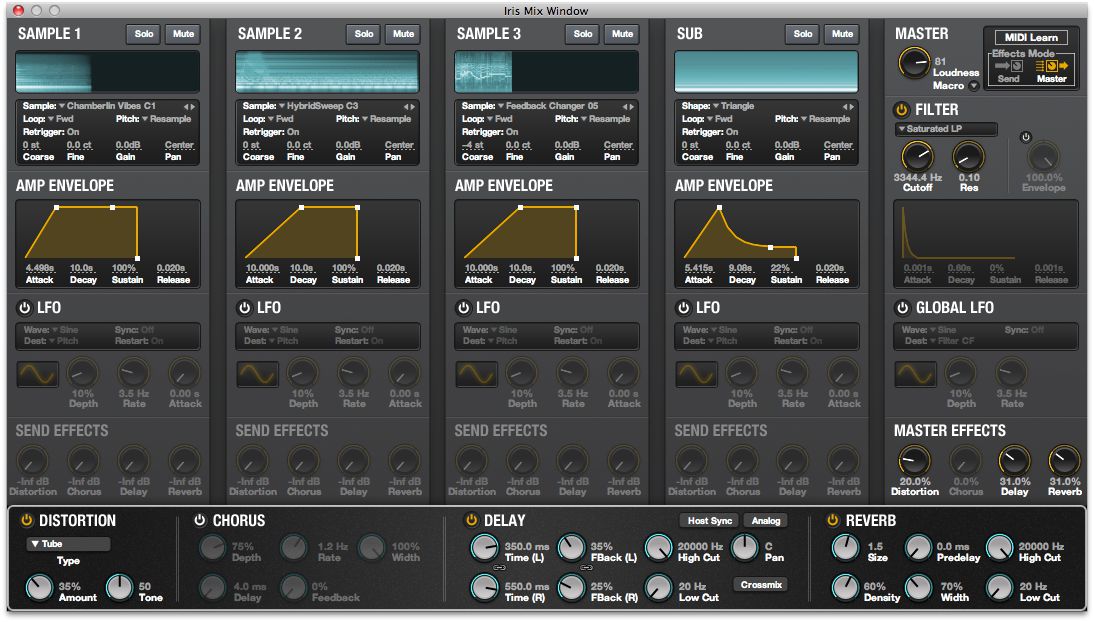 The mixer lets you make more detailed settings as well as controlling global sound shaping parameters.
Hit the Mix button to go into the mixer section and for each layer you can change all sorts of parameters, providing loads of sound shaping options. Change levels, amp envelopes, LFOs and multiple effects for each layer and globally to really add depth and interest to the sound. Here's an example of what we achieved by simply making some more interesting settings in the mixer. We also played with the pitch settings of a couple of layers. Essentially, everything is up for grabs in Iris, so why not try the free demo and see what amazing sounds you can come up with?