Neste QuickTutorial, estaremos recriando o som synth principal acorde stab-de Benny Benassi de "Cinema":

(Há de fato três versões diferentes do som apresentado na pista, nós vamos estar reproduzindo a curto, som do acorde stab-embargada que aparece no 0:29 no vídeo, um pouco antes da voz, mas sem o baixo linha, que soa como uma pista diferente.) Nós estaremos usando ES Logic 2 para este. Vamos começar.
Passo 1 - Configurar o projeto Logic
Como de costume, o lançamento Logic, e começar com um novo projeto vazio contendo uma faixa de Instrumento vazio Software: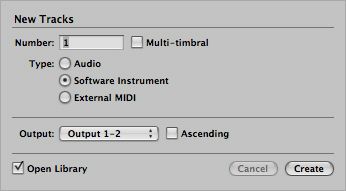 Clique e mantenha o padrão EVP88 instrumento no topo da faixa de canal e escolher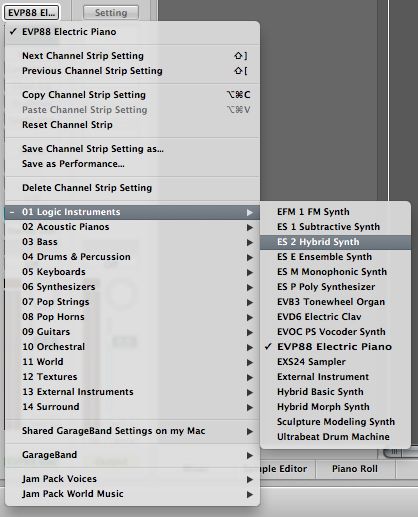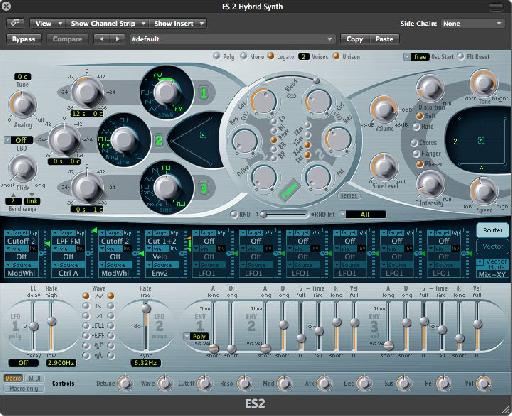 Passo 2 - Analisar o Som
Aqui está a minha transcrição da progressão de acordes em questão, como eu ouvi-lo: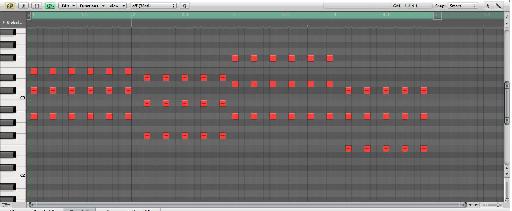 Ritmicamente tem
Passo 3 - Criar o Som
OK, aqui está o meu ES 2 versão do patch: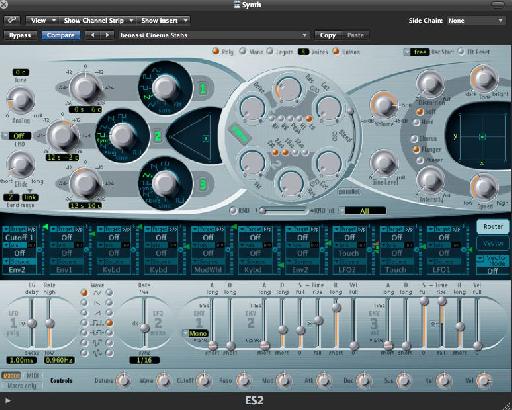 Faça o seu melhor para emular essas configurações como exatamente como você pode reproduzir o meu patch, ao experimentar com essas configurações para ver o efeito que têm sobre o som geral. Também vamos tomar a olhar para algumas dessas configurações com mais detalhes para que você possa entender o que está acontecendo neste patch:
First, note that we have all three oscillators enabled. 1 & 3 are set to sawtooth waves, which gives us our basic buzzy sound. Osc 2 is set to rectangular sync. Oscillator 1 is set +6c Oscillators 2 to 12s -2c, and Oscillator 3 is detuned 12s and 10c to add a little more fullness to the patch.

From there, the mixed oscillators go through a low-pass filter, with the Cut almost all the way down and the Res (resonance) a little over quarter way. The other filter is mixed out, as set in the Blend slider.

After that, in the Effects stage, I've left the settings at heir default values.

Next, in the Router, the first Router slot's Target is set to Cutoff 1 (the Cut frequency of the first filter), with the Source set to Env2 (Envelope 2). The Control Amount slider (the green arrowhead) is set to the top of the positive value range, so the filter cutoff sweeps over a fairly wide range. (The other Router slots are disabled, as we don't need them for this patch.)

Below the Router, Envelope 3, which is controlling the amplitude of the patch, is set to a short attack (A) and decay (D), with a medium release (R), to create the short stabbing envelope for the chords. Envelope 2, which is controlling the cutoff frequency of the first filter (as set in the Router), has similar settings, but with a somewhat longer Decay and Release, so the filter closes down just a bit faster than the amplitude.

Depois de definir o seu ES duas configurações para coincidir com o meu, você deve ouvir um som muito parecido com isso (à qual eu adicionei um bumbo simples 04/04):
[Audio id = "8367"]

(Atenção: no final da amostra de áudio acima da 2 Env Decay é automatizado para abrir o som).
E é isso. Como sempre, eu encorajá-lo a ajustar as configurações neste patch para chegar a suas próprias variações no som. E se você sentir vontade de tirar este conceito um pouco mais, tente começar com essas configurações e veja se você pode recriar o som em primeiro lugar na faixa de vídeo (dica: tente o filtro passa-alta), bem como o som mais cheio de acordes antes do vocal começa (dica: tente uma decadência envelope mais amplitude e filtro).
E para saber mais sobre o cheque ES2 fora Logic 206 - ES2 Exposed .