इस QuickTutorial में, हम मुख्य राग - वार Benny Benassi "सिनेमा" से synth ध्वनि पुनः बनाने का हो जाएगा:

(वास्तव में इस ट्रैक में विशेष रुप से प्रदर्शित ध्वनि के तीन अलग अलग संस्करणों, हम संक्षेप में, दम घुट ध्वनि राग - वार है कि वीडियो में 0:29 पर प्रकट होता है reproducing vocals बस से पहले, जा रहे हैं, लेकिन बास के बिना लाइन है, जो एक अलग ट्रैक की तरह लगता है.) हम इस एक के लिए तर्क ES 2 का प्रयोग करेंगे. चलो शुरू हो जाओ.
चरण 1 - तर्क परियोजना सेट
हमेशा की तरह, तर्क लांच, और एक नया खाली परियोजना जिसमें एक खाली सॉफ्टवेयर साधन ट्रैक के साथ शुरू: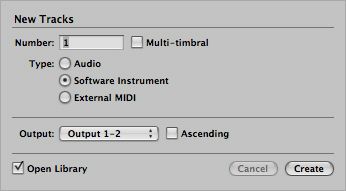 क्लिक करें और चैनल पट्टी के शीर्ष पर डिफ़ॉल्ट EVP88 साधन पकड़ और चुनें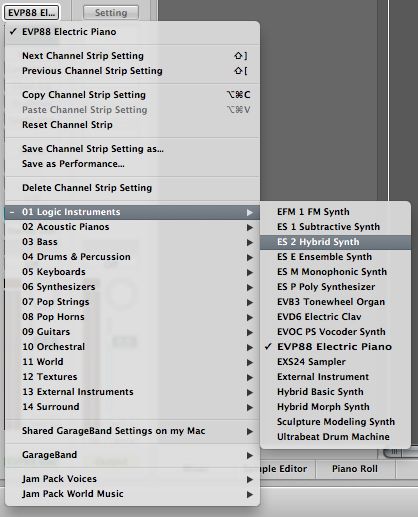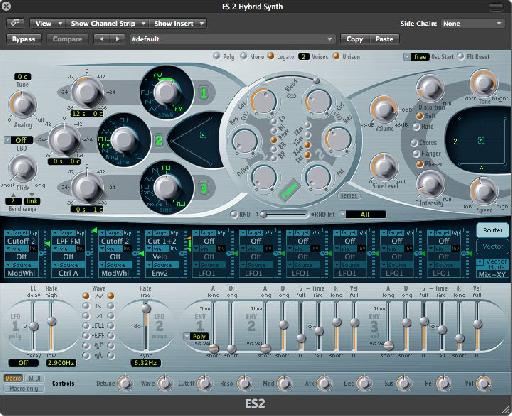 चरण 2 - ध्वनि विश्लेषण
यहाँ प्रश्न में तार प्रगति की मेरी प्रतिलेखन के रूप में मैं इसे सुनना है: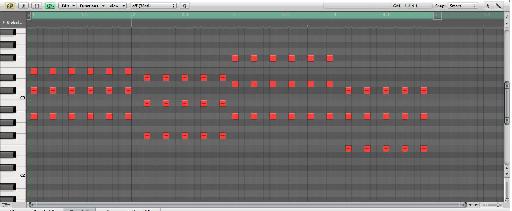 Rhythmically यह है
चरण 3 - ध्वनि बनाएँ
ठीक है, यहाँ पैच के मेरे ES 2 संस्करण है: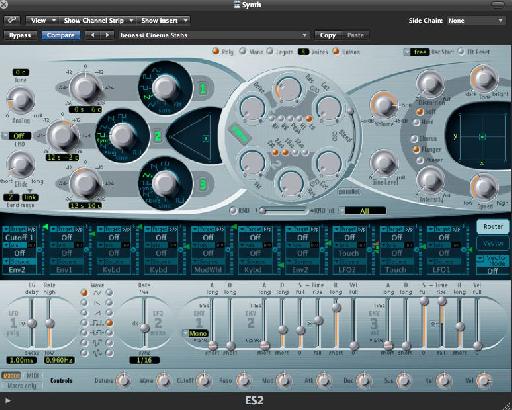 तुम्हारा सबसे अच्छा क्या इन सेटिंग्स के रूप में बिल्कुल के रूप में आप मेरी पैच पुन: पेश कर सकते हैं अनुकरण, जबकि उन सेटिंग्स के साथ प्रयोग करने के लिए देखने के लिए वे समग्र ध्वनि पर क्या असर है. हम भी करीब विस्तार में उन सेटिंग्स में से कुछ को देखो पर ले तो आप समझ सकते हैं पर इस पैच में क्या हो रहा है:
First, note that we have all three oscillators enabled. 1 & 3 are set to sawtooth waves, which gives us our basic buzzy sound. Osc 2 is set to rectangular sync. Oscillator 1 is set +6c Oscillators 2 to 12s -2c, and Oscillator 3 is detuned 12s and 10c to add a little more fullness to the patch.

From there, the mixed oscillators go through a low-pass filter, with the Cut almost all the way down and the Res (resonance) a little over quarter way. The other filter is mixed out, as set in the Blend slider.

After that, in the Effects stage, I've left the settings at heir default values.

Next, in the Router, the first Router slot's Target is set to Cutoff 1 (the Cut frequency of the first filter), with the Source set to Env2 (Envelope 2). The Control Amount slider (the green arrowhead) is set to the top of the positive value range, so the filter cutoff sweeps over a fairly wide range. (The other Router slots are disabled, as we don't need them for this patch.)

Below the Router, Envelope 3, which is controlling the amplitude of the patch, is set to a short attack (A) and decay (D), with a medium release (R), to create the short stabbing envelope for the chords. Envelope 2, which is controlling the cutoff frequency of the first filter (as set in the Router), has similar settings, but with a somewhat longer Decay and Release, so the filter closes down just a bit faster than the amplitude.

एक बार जब आप अपने ES 2 मेरा मैच सेटिंग्स निर्धारित किया है, तो आप इस तरह बहुत (जो मैं एक साधारण किक ड्रम 4 / 4 जोडी है) ध्वनि सुनना चाहिए:
[ऑडियो आईडी = "8367"]

(कृपया ध्यान दें: पर्यावरण क्षय 2 ऊपर ऑडियो नमूने के अंत की ओर ध्वनि खोलने के लिए स्वचालित है).
और यह बात है. हमेशा की तरह, मैं आप इस पैच में सेटिंग्स tweak करने के लिए ध्वनि पर अपने खुद के रूपांतरों के साथ ऊपर आ प्रोत्साहित करते हैं. और अगर तुम इस अवधारणा के एक छोटे से आगे लेने की तरह लग रहा है, इन सेटिंग्स के साथ शुरू की कोशिश करो और देखो यदि आप विश्राम कर सकते हैं वीडियो ट्रैक (संकेत: उच्च पास फिल्टर की कोशिश) में पहली ध्वनि के रूप में के रूप में अच्छी तरह से मुखर पहले फुलर राग ध्वनि शुरू होता है (संकेत: अब आयाम और फिल्टर लिफाफा क्षय का प्रयास करें.)
और बाहर ES2 चेक के बारे में अधिक जानने के लिए ES2 उजागर - 206 तर्क .