Dans ce QuickTutorial, nous allons recréer le son de synthé principale corde coup de Benny Benassi "Cinéma":

(Il existe en fait trois versions différentes de ce son en vedette dans la bonne voie, nous allons reproduire le court, étranglé corde poignarder son qui apparaît à 0:29 dans la vidéo, juste avant le chant, mais sans la basse ligne, qui sonne comme une piste différente.) Nous allons utiliser ES Logic 2 pour celui-ci. Commençons.
Étape 1 - Configurez le projet Logic
Comme d'habitude, de lancer Logic, et de commencer avec un nouveau projet vide contenant une piste vide d'instruments logiciels: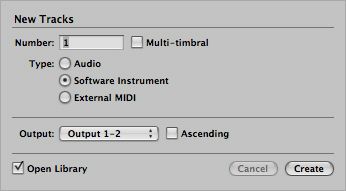 Cliquez et maintenez le défaut EVP88 instrument au sommet de la bande de canaux et de choisir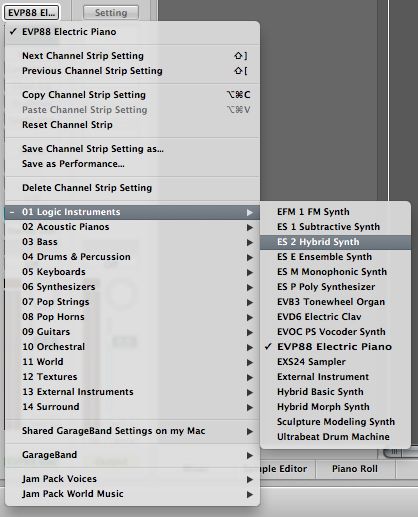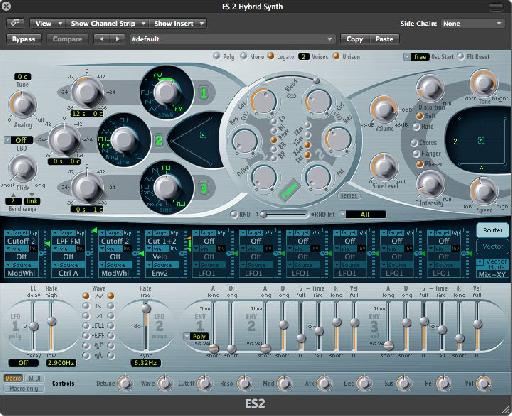 Etape 2 - Analyser le Sound
Voici ma transcription de la progression des accords en question, comme je l'entends: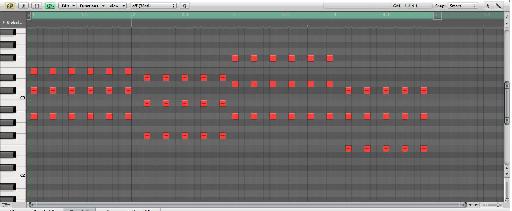 Rythmiquement il a
Étape 3 - créer le son
OK, voici mon ES version 2 du patch: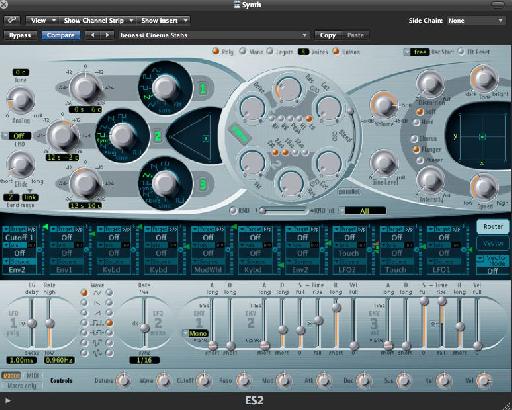 Faites de votre mieux pour émuler ces paramètres aussi exactement que vous pouvez reproduire mon patch, tout en expérimentant avec ces paramètres pour voir quel effet qu'ils ont sur la qualité sonore globale. Nous allons également prendre à examiner certains de ces paramètres plus en détail afin que vous puissiez comprendre ce qui se passe dans ce patch:
First, note that we have all three oscillators enabled. 1 & 3 are set to sawtooth waves, which gives us our basic buzzy sound. Osc 2 is set to rectangular sync. Oscillator 1 is set +6c Oscillators 2 to 12s -2c, and Oscillator 3 is detuned 12s and 10c to add a little more fullness to the patch.

From there, the mixed oscillators go through a low-pass filter, with the Cut almost all the way down and the Res (resonance) a little over quarter way. The other filter is mixed out, as set in the Blend slider.

After that, in the Effects stage, I've left the settings at heir default values.

Next, in the Router, the first Router slot's Target is set to Cutoff 1 (the Cut frequency of the first filter), with the Source set to Env2 (Envelope 2). The Control Amount slider (the green arrowhead) is set to the top of the positive value range, so the filter cutoff sweeps over a fairly wide range. (The other Router slots are disabled, as we don't need them for this patch.)

Below the Router, Envelope 3, which is controlling the amplitude of the patch, is set to a short attack (A) and decay (D), with a medium release (R), to create the short stabbing envelope for the chords. Envelope 2, which is controlling the cutoff frequency of the first filter (as set in the Router), has similar settings, but with a somewhat longer Decay and Release, so the filter closes down just a bit faster than the amplitude.

Une fois que vous avez défini votre ES 2 paramètres pour correspondre à la mienne, vous devriez entendre un son très semblable à la présente (à laquelle j'ai ajouté une grosse caisse simples 4 / 4):
[Audio id = "8367"]

(S'il vous plaît noter: vers la fin de l'échantillon audio-dessus de l'Env 2 Decay est automatisée afin d'ouvrir le son).
Et c'est tout. Comme toujours, je vous encourage à peaufiner les réglages dans ce patch à venir avec vos propres variations sur le son. Et si vous vous sentez comme prendre ce concept un peu plus loin, essayez de démarrer avec ces paramètres et de voir si vous pouvez recréer le son d'abord dans la piste vidéo (astuce: essayer le filtre passe-haut) ainsi que la sonorité plus riche accord avant que la voix commence (indice: essayez une décroissance plus l'enveloppe d'amplitude et de filtre.)
Et pour en savoir plus sur la vérification ES2 sur Logic 206 - ES2 Exposed .