In diesem QuickTutorial, werden wir Neuerstellung der wichtigsten Akkord-stab Synth-Sound von Benny Benassi "Cinema":

(Es gibt in der Tat drei verschiedene Versionen von diesem Sound in der Spur featured; wir gehen zu reproduzieren den kurzen, erstickten Akkord-stab Sound, der am 00.29 erscheint im Video, kurz bevor der Gesang, aber ohne Bass Linie, die wie eine andere Spur klingt.) Wir werden mit Logic ES 2 für diese ein. Lassen Sie uns anfangen.
Schritt 1 - Einrichten der Logic-Projekt
Wie gewohnt starten Logic, und starten Sie mit einem neuen leeren Projekt mit einem leeren Software-Instrument-Spur: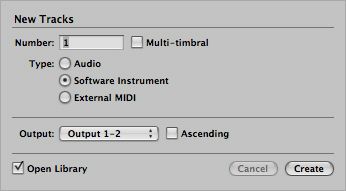 Klicken und halten Sie die Standard-EVP88 Instrument an der Spitze des Kanalzugs und wählen Sie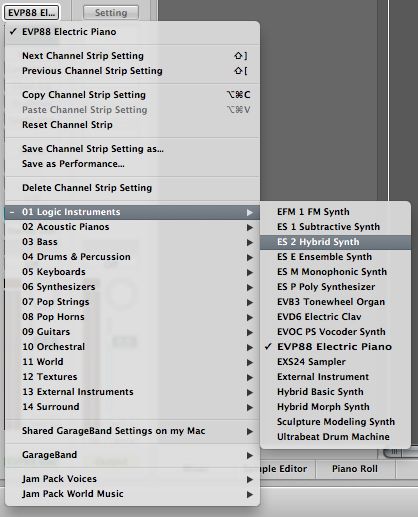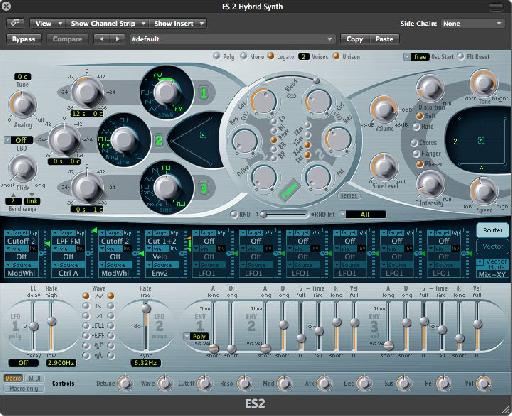 Schritt 2 - Analysieren Sie die Sound-
Hier ist meine Transkription der Akkordfolge in Frage, wie ich es hören: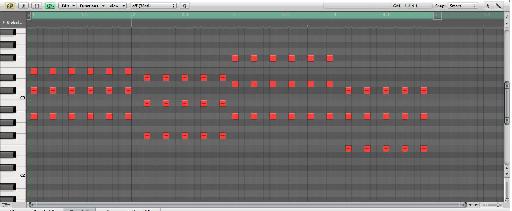 Rhythmisch hat
Schritt 3 - Erstellen des Sound
OK, hier ist mein ES 2-Version des Patches: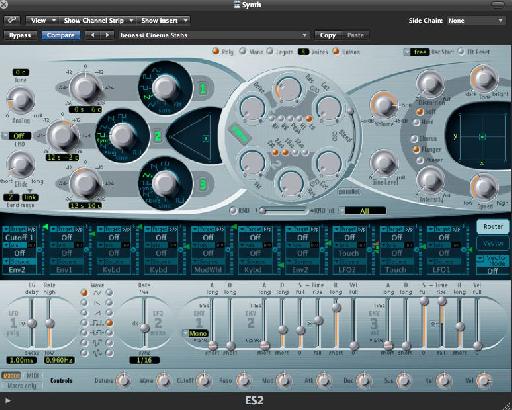 Geben Sie Ihr Bestes, um diese Einstellungen so genau wie möglich, um mein Patch reproduzieren zu emulieren, beim Experimentieren mit diesen Einstellungen zu sehen, welche Wirkung sie auf den Gesamt-Sound zu haben. Wir werden auch bei uns einige dieser Einstellungen näher zu ergreifen, damit Sie wissen, was los ist in diesem Patch:
First, note that we have all three oscillators enabled. 1 & 3 are set to sawtooth waves, which gives us our basic buzzy sound. Osc 2 is set to rectangular sync. Oscillator 1 is set +6c Oscillators 2 to 12s -2c, and Oscillator 3 is detuned 12s and 10c to add a little more fullness to the patch.

From there, the mixed oscillators go through a low-pass filter, with the Cut almost all the way down and the Res (resonance) a little over quarter way. The other filter is mixed out, as set in the Blend slider.

After that, in the Effects stage, I've left the settings at heir default values.

Next, in the Router, the first Router slot's Target is set to Cutoff 1 (the Cut frequency of the first filter), with the Source set to Env2 (Envelope 2). The Control Amount slider (the green arrowhead) is set to the top of the positive value range, so the filter cutoff sweeps over a fairly wide range. (The other Router slots are disabled, as we don't need them for this patch.)

Below the Router, Envelope 3, which is controlling the amplitude of the patch, is set to a short attack (A) and decay (D), with a medium release (R), to create the short stabbing envelope for the chords. Envelope 2, which is controlling the cutoff frequency of the first filter (as set in the Router), has similar settings, but with a somewhat longer Decay and Release, so the filter closes down just a bit faster than the amplitude.

Sobald Sie Ihre ES eingerichtet haben 2 Einstellungen zu mir passen, sollten Sie einen Ton hören sehr gerne diese (zu denen ich einen einfachen 4 / 4 Bassdrum hinzugefügt):
[Audio-id = "8367"]

(Bitte beachten Sie: gegen Ende des Audio-Samples über dem Env 2 Decay ist automatisiert, um die Öffnung des Ton).
Und das ist es. Wie immer möchte ich Sie ermutigen, um die Einstellungen in diesem Patch zwicken, um mit eigenen Variationen über den Klang. Und wenn Sie Lust auf dieses Konzept ein wenig weiter fühlen, beginnen Sie mit diesen Einstellungen und sehen, ob du der erste Ton in der Video-Spur (Tipp: Probieren Sie die Hochpassfilter) neu zu erstellen sowie die volleren Akkords vor dem Vokal- beginnt (Tipp: versuchen Sie eine längere Amplitude und Filter-Hüllkurve Verfall.)
Und zu lernen, mehr über die ES2 bitte zuerst Logic 206 - ES2 Exposed .