Dans ce tutoriel, nous allons regarder comment reproduire un son de synthé à partir d'un hit pop des dernières années, Lady Gaga "The Edge of Glory»:
Dans ce cas, parce que c'est un bruit assez simple, nous allons utiliser Logic ES 1 synthétiseur pour recréer le son de basse synthé lourd que vous entendez à propos 01h05 dans la chanson. Commençons.
Étape 1 - Configurez le projet Logic
Logique Open, et de commencer avec un nouveau projet vide contenant une piste vide d'instruments logiciels: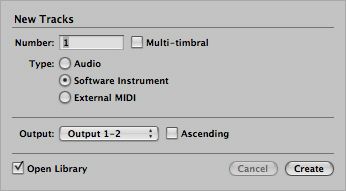 Cliquez et maintenez sur le défaut EVP88 instrument au dessus de la voie et choisir 01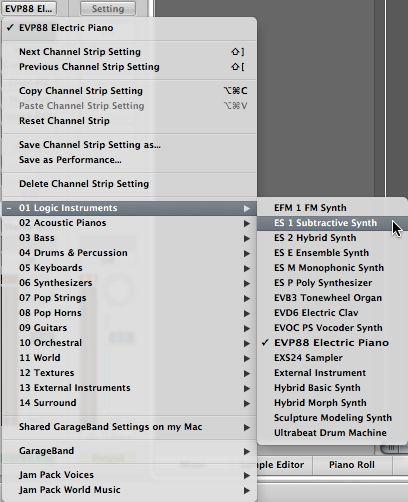 ... Pour ouvrir la fenêtre d'une ES par défaut: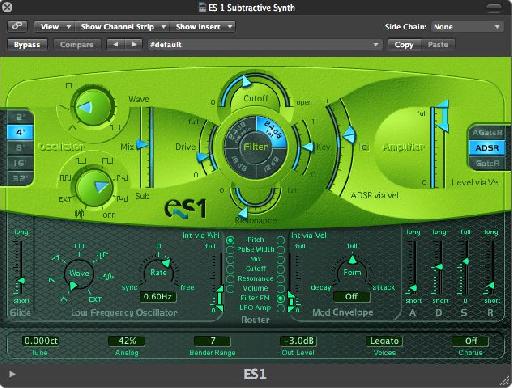 Etape 2 - Analyser le Sound
Ensuite, nous allons écouter le son: c'est un peu difficile de faire clairement, parce que de toutes les autres couches de la chanson, mais la basse joue simples notes ensemble (AEF #-D) en utilisant un son assez sombre et sans balayages de filtre ou de wah-wah, contrairement à de nombreux sons de basse synthé. L'attaque et la décadence sont courtes, mais ne vous approchez pas un bruit pincées ou percussion. Closer révèle que l'écoute des sons se compose de deux dents de scie ou des ondes carrées d'une octave d'intervalle, avec un chorus léger, et que les notes sont jouées legato, afin qu'il n'y ait pas d'écart entre eux.
Étape 3 - créer le son
Alors, voici ma ES 1 version: (cliquez sur l'image ci-dessous pour voir une version agrandie)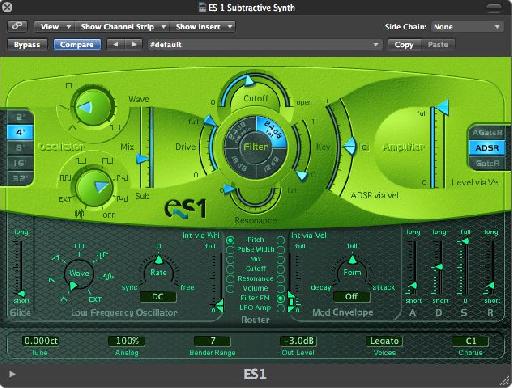 Vérifiez les paramètres de près et faire de votre mieux pour reproduire entre eux aussi exactement que vous pouvez, si vous le faites, vous devriez entendre une version convaincante de son Lady Gaga.
Regardons certains de ces paramètres en détail afin que vous puissiez comprendre ce qui se passe:
First, the Sub oscillator is set to a staircase wave, which is a little richer than a sawtooth.
We're using a straight sawtooth for the primary wave, which plays an octave higher than the Sub oscillator.
Note that the Oscillator Mix slider is set so that we hear a bit more of the Sub than the Primary.
Next, Drive is all the way up, to add a little more edge to the sound.

The Filter is set to 24 dB, with no Resonance.
The Cutoff to about 11 o'clock or so, to darken up the sound.
Key is set to zero, so the filter stays at the same level throughout the keyboard range, and...
Amplifier is set to Full to give us the maximum level. All the other modulation settings are set to zero, as we don't want any vibrato or tremolo in this sound.
For the same reason, the Mod Envelope is set to zero.

Next, note that the ADSR is set to a short Attack and Release, although neither are set to zero, which would add too much "snap" to the sound.
The Decay is also fairly short, while the Sustain is set to its maximum, so the sound level doesn't drop off after the attack.

Below that, Analog is set to 100% to add a little richness to the bass, and
Voices are set to Legato, so to be sure that there are no gaps in the sounds when it's played.
We've also added a little Chorus to add just a little motion to the sound.

Le Résultat

Voici ce que cela ressemble à :
[Audio id = "7575"]
Notez que ceci est joué legato, qui est, chaque note est enfoncée tandis que la note qui suit est joué, il n'ya donc aucune différence de performances entre les notes, et je joue ce départ sur la "A" d'une octave et un tiers en dessous du milieu C .
Vérifiez la logique ES2 tutoriel Exposed d'obtenir une poignée sur la synthèse dans Logic et le Live 8 Sons Designing for Dance Music et de Live 8 Faire de la musique de danse électronique par Olav Basoski pour vous donner une longueur d'avance dans la conception sonore pour le royaume de musique électronique.