En este rápido tutorial, vamos a estar buscando la forma de reproducir un sonido de sintetizador de un éxito pop reciente, Lady Gaga "The Edge of Glory":
En este caso, porque es un sonido bastante simple, vamos a utilizar Logic ES un sintetizador software para recrear el sonido de bajo sintetizado fuerte que se escucha en alrededor de 1:05 en la canción. Vamos a empezar.
Paso 1 - Configurar el proyecto Lógica
La lógica abierta, y comenzar con un nuevo proyecto vacío que contiene una pista vacía de instrumentos de software: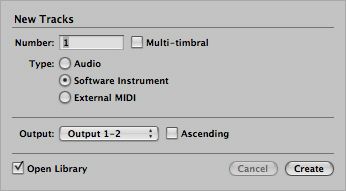 Haga clic y mantenga en el valor predeterminado EVP88 instrumento en la parte superior de la canal y elegir 01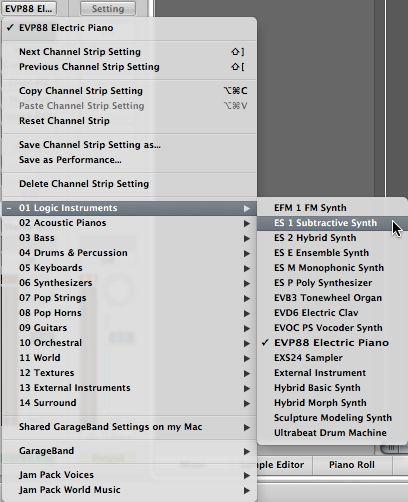 ... Para abrir la ventana de un defecto ES: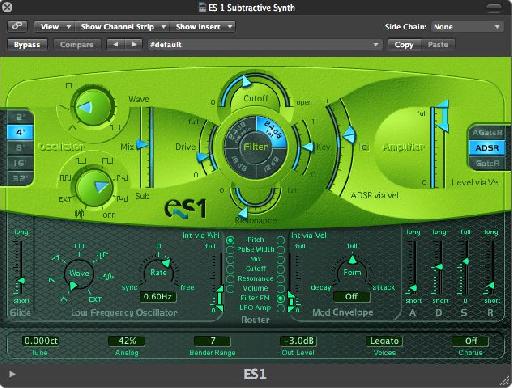 Paso 2 - Analizar el sonido
A continuación, vamos a escuchar el sonido: es un poco difícil de distinguir con claridad, porque de todas las otras capas de la canción, pero el bajo toca simples notas de conjunto (AEF #-D) con un sonido bastante oscuro, sin barridos de filtro o wah-wahs, a diferencia de muchos sonidos de sintetizador de bajos. El ataque y la decadencia son cortos, pero no acercarse a un sonido de percusión o arrancados. Más cerca de escuchar revela que los sonidos se compone de dos dientes de sierra o de ondas cuadradas separadas por una octava, con un coro pequeño, y que las notas se tocan legato, por lo que no hay diferencias entre ellos.
Paso 3 - Crear el sonido
Así que aquí está mi versión ES 1: (click en la imagen de abajo para ver la imagen ampliada)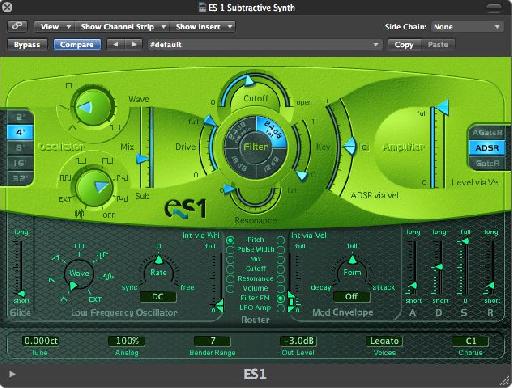 Compruebe la configuración de cerca y hacer lo mejor para reproducirlos con la mayor exactitud posible, si lo hace, usted debe oír una versión convincente de que el sonido de Lady Gaga.
Echemos un vistazo a algunos de estos aspectos en detalle para que pueda entender lo que está pasando:
First, the Sub oscillator is set to a staircase wave, which is a little richer than a sawtooth.
We're using a straight sawtooth for the primary wave, which plays an octave higher than the Sub oscillator.
Note that the Oscillator Mix slider is set so that we hear a bit more of the Sub than the Primary.
Next, Drive is all the way up, to add a little more edge to the sound.

The Filter is set to 24 dB, with no Resonance.
The Cutoff to about 11 o'clock or so, to darken up the sound.
Key is set to zero, so the filter stays at the same level throughout the keyboard range, and...
Amplifier is set to Full to give us the maximum level. All the other modulation settings are set to zero, as we don't want any vibrato or tremolo in this sound.
For the same reason, the Mod Envelope is set to zero.

Next, note that the ADSR is set to a short Attack and Release, although neither are set to zero, which would add too much "snap" to the sound.
The Decay is also fairly short, while the Sustain is set to its maximum, so the sound level doesn't drop off after the attack.

Below that, Analog is set to 100% to add a little richness to the bass, and
Voices are set to Legato, so to be sure that there are no gaps in the sounds when it's played.
We've also added a little Chorus to add just a little motion to the sound.

El resultado

Esto es lo que parece:
[Audio id = "7575"]
Tenga en cuenta que esto se juega legato, es decir, se lleva a cabo cada nota abajo mientras que la siguiente nota se juega, así que no hay diferencia de rendimiento entre las notas, y estoy jugando a este a partir de la "A" de una octava y un tercio por debajo del Do central .
Echa un vistazo a la lógica ES2 tutorial expuesto a tener una idea de síntesis en la lógica y el Live 8 Sonidos Diseño de la música de baile y Live 8 Hacer música electrónica de baile por Olav Basoski para darle una ventaja en el diseño de sonido para el reino de la música electrónica.