The Joué and Specialwaves Mine are two high-profile modular MIDI / music controllers that have recently been announced. Judging by the reaction across the web, modern music producers want a MIDI controller that is modular. A controller that is flexible, that will match your production workflow or favorite plugin.
While the above two hardware modular controllers are both highly innovative in different ways, it's hard for hardware to beat the pure, instant adaptability that software can offer. Like Sonic Logic 2 for iPad. In this app you can completely alter the layout, types of controls, use touch gestures and connect wirelessly. Sure, you'll lack the tactile feel of real controls… but we think Sonic Logic's latest update to 2.0.1 makes this an easy buy if you really are looking for a powerful, modular MIDI controller for iPad.
Here's what Uri Nachmias told us when he contacted us yesterday about Sonic Logic:
Sonic Logic is a modular MIDI controller that allows you to edit and control MIDI setups from your iPad. Connect over WiFi, Bluetooth(*), USB (*), MIDI cable or use Virtual MIDI to control other iOS apps internally. Control DAWs like: Ableton Live, Logic Pro, Cubase, Protools, Traktor, and other many more.
Create and edit on your iPad! Super easy and fun interface to create, edit, control, manipulate, assign MIDI controllers and notes live, using touch gestures. (No external editor needed).
Add Buttons, knobs, toggle buttons, XY pads, sliders and text objects.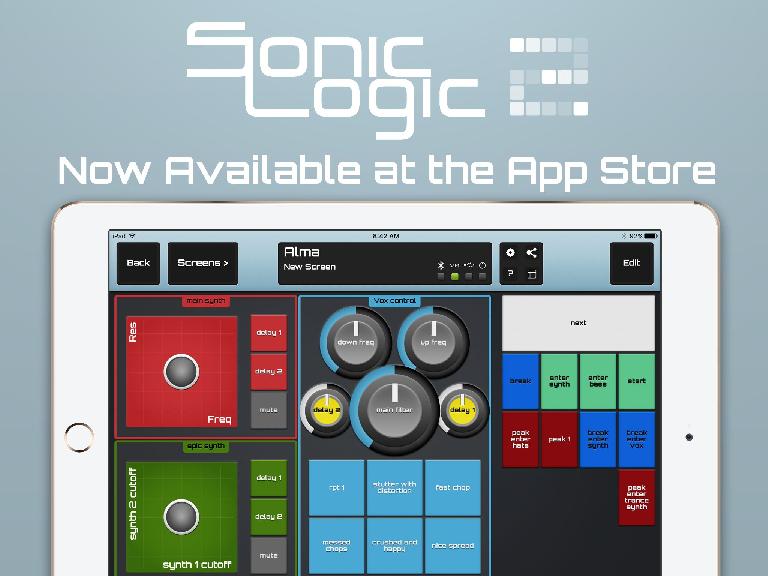 What's New in Version 2.0.1
Version 2.0.1 resolves some issues when upgrading from older versions of Sonic Logic Sonic Logic 2.0 is the most comprehensive update Sonic Logic has ever received.
Here's a summary of ten new features in Sonic Logic 2:
New User Interface - Everything has been redesigned.
Import and Export - Share your Sonic Logic files with other users.
Easy New Element Assignments - Create elements faster! More presets and easy configurations for new elements.
Copy & Paste - Copy elements between screens and configurations and paste them with intelligent MIDI mapping.
Knobs - Sonic Logic now has rotor control.
New Note and MIDI CC Assignment screens - easily map and change note and CC elements, broadcast the new values right from the edit screen for fast mapping.
Improved Bluetooth Performance - Sonic Logic 2 sends data faster and more efficiently over Bluetooth.
Group Edit - Group edit screen can change the appearance of groups and perform bulk MIDI changes (like transpose or MIDI channel change).
iPad Pro Support - iPad Pro devices with large screen are fully supported and can take full advantage of the large screen creating large MIDI setups.
Improved Edit Screens - Edit screens have been rethought and redesigned to provide a simple but powerful experience.