Here's what Isotonik Studios tells us about the new SONG:MODE Push edition from KB Live Solutions.
I regularly get sent ideas and new products to consider releasing through the Isotonik Studios store, sometimes they're so complex that i struggle to work out how i'd explain them to someone else let alone use it myself, SONG:MODE was not one of those.
The brainchild of Ableton Certified Trainer Krazy Baldhead (Pierre-Antoine to his friends), SONG:MODE changes the paradigm of Lives Session view, simplifying it down to the selection and playback of scenes from the Push 1 or 2's button matrix.
As a control surface script it's installed and configured to take its input from when you switch into the blank User Mode of the Push. The top half of the button matrix is assigned to selecting the songs in your live set, the bottom then displays the colours of the scenes within each song.
Your songs are defined by including (SONG1), (SONG2) within the scene name, you can do this by typing or directly from the controller by selecting the chosen scene, pressing the New button and selecting the song button in the top half of the button matrix that you want to want to assign the scene to.
With a song selected, the bottom half of the controller then displays each scene, with the button taking its colour from the scene itself, allowing you to trigger or select the scene. For songs with more than 32 scenes you're able to switch between the banks of scenes by using the Page buttons.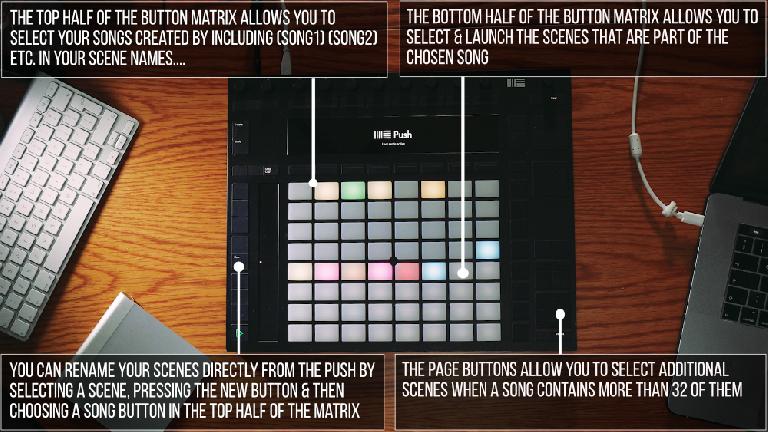 The order of the scenes is respected so you can have them separated ac ross your whole live set, for example i use (SONG5) that contains my ClyphX Pro X-Clips, these are spread out all over my live set so i'm able to quickly select them and trigger them without having to leave the focus of my current Session View. Another use case for this would be to group together a range of dummy clips that sit on their own scenes.
I've read back what i've written above so many times, and the one thing i don't think i can convey in words is how gloriously simple this whole principle is, watch the walkthrough video and see if I'm right!