Linköping, Sweden, May 4th, 2020: Weiss Engineering's EQ1 has been world champ of digital mastering equalizers since its release in 1996. The triumphant sonic qualities of EQ1—combined with its flexibility as a Minimum Phase EQ, a Linear Phase EQ, or a Dynamic EQ—have made it the most highly-prized equalizer out there. A line-by-line code port of the original hardware—with added functionality and ergonomics—the Weiss EQ1 plug-in is the latest and greatest of Softube's successful partnership with Weiss Engineering. An association that kicked off with the plug-in version of a processor with a place in every mastering studio worldwide, the Weiss DS1-MK3.
Released in 2018, the DS1-MK3 plug-in was quickly embraced by the top producers and engineers in the field. Now, as we usher into the ring the best of digital mastering by bringing the Weiss EQ1 into the DAW, it's finally possible to have both EQ1 and DS1-MK3 from the Weiss Gambit Series in plug-in form.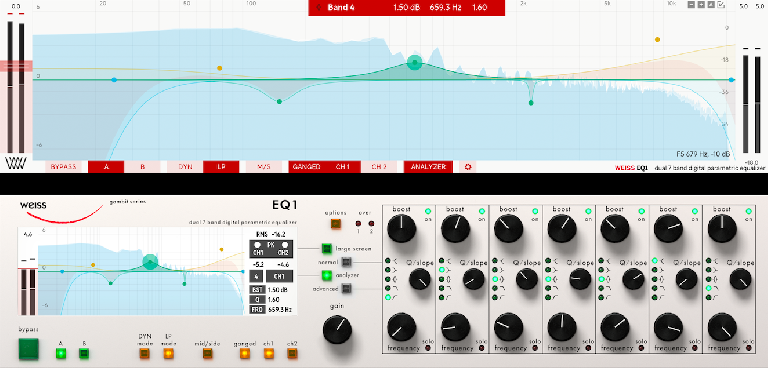 Weiss Gambit Series for Console 1
Next to enter the arena is the Weiss Gambit Series for Console 1. Based on the 1:1 code ports of Weiss DS1-MK3 and Weiss EQ1, the Gambit Series channel strip combines core processing elements from these two hero units into one knockout channel strip for the software/hardware hybrid Console 1. The top features of the most admired digital processors, combined with characteristic Softube extras, make Weiss Gambit Series for Console 1 the precision channel strip that engineers everywhere have been on the edge of their seats waiting for.
Weiss Complete Collection
For those who want it all and want it all to be Weiss, Softube is releasing the Weiss Complete Collection. The Complete Collection includes our six collaborative Weiss products: the all-new EQ1 and Gambit Series for Console 1, the prized DS1-MK3, plus MM-1, Compressor/Limiter, and Deess. This winning collection gives you indispensable, high-end Weiss mastering at a fraction of the pricewhen purchased separately. Developed closely with and fully endorsed by Weiss Engineering and Daniel Weiss, these products prove that Swiss and Swedish engineering make a stellar team. Every mastering house worldwide will want this bundle of plug-ins in their collection.
Weiss EQ1–549 USD (Intro price: 499 USD until June 5th)
Weiss Gambit Series For Console 1–299USD (Intro price: 169 USD until June 5th)
Weiss Complete Collection–999 USD (Intro price: 820 USD until June 5th