Let's start off looking at the new Softube Weiss DS-1MK3 which they say includes the same processor as the $10,000 hardware version used in the vast majority of professional mastering studios worldwide.
Softube Weiss DS-1MK3
Linköping, Sweden, March 5th, 2018: Mastering compression, limiting, and de-essing without compromise. Every mastering engineer's fondest dream is about to come true.
Since its launch in the 1990s the Weiss DS1 has become an absolute gold-standard unit, indispensable in mastering studios around the world despite a premium price tag. Its transparency, unparalleled versatility, and exceptional sound quality make it a must-have, heard (or rather not heard) on pretty much any major record you'd care to mention from the last twenty years. And in that time updates and improvements by Weiss have led to the near-perfection of the DS1-MK3.
And now for the first time ever, it is available as a plug-in from Softube, offering more exibility than ever in a modern DAW environment, at a fraction of the cost.
What Is The Weiss DS1-MK3?
This digital compressor/limiter/de-esser performs tasks no analog unit ever could, across a wider range of settings. World-renowned mastering engineer, Bob Katz, author of Mastering Audio (hailed by Sound on Sound magazine as 'the definitive work on mastering'), and three times Grammy winner, described the original hardware unit as 'impeccable', saying 'it is the most transparent and least "digital-sounding" dynamics processor I have ever used.'

Working in collaboration with Weiss Digital Audio, this latest addition to the already rich and desirable Softube product range has been almost three years in development. Porting the code perfectly, line by line, from the original unit so that the plug-in sounds identical was just one task. Recreating the workflow and characteristic broad and useable functionality that made the Weiss such a legend was another.
Running at 32 bit/192 kHz (an upgrade on even the hardware original) the plug-in opens up the absolute pinnacle of sound quality to everyone. And with two all-new advanced limiter algorithms in addition to the Weiss original, nothing touches this processor for sheer excellence.
Mastering like the masters is open to all for the first time, with all the loudness, clarity and precision, and none of the drawbacks.
In Short:
Officially licensed and endorsed by Daniel Weiss himself

Not an emulation, but a line-by-line code port of the original digital hardware

Exactly the same processor as the $10,000 original, at a fraction of the cost

Three processors in one; de-ess, compress, and limit, with the industry standard tool

Processes at resolutions of up to 32 bit/192 kHz for exceptional sound quality

Advanced metering - waveform view

Featuring all new presets from Bob Katz

Truly versatile de-essing. Choose your own lters, adjust frequency, and tailor the process to your needs working in stereo or mid-sides

Digital compressor can operate at speeds no analog unit ever could, and offers you total control.

Two brand-new limiter algorithms included, as well as the Weiss original

Run multiple instances of this legendary unit on the same mix at no extra cost

Nothing sounds as clean, as transparent, as good. That's why the hardware is in every major mastering studio in the world
Price: $549 (intro o er $499)
Softube Weiss MM-1
OK! Here's the info on the new MM-1, also from Softube and Weiss:
Linköping, Sweden, March 5th, 2018: Some brands become synonymous with their fields. They so revolutionise and define their product or process that true experts can't see beyond them. When it comes to audio mastering, the one-and-only name is Weiss.
Based on the legendary Weiss DS1-MK3, the centerpiece of mastering studios the world over (and also now available as a Softube plug-in), the future of fast and professional mix maximizing is now here - the MM-1 Mastering Maximizer.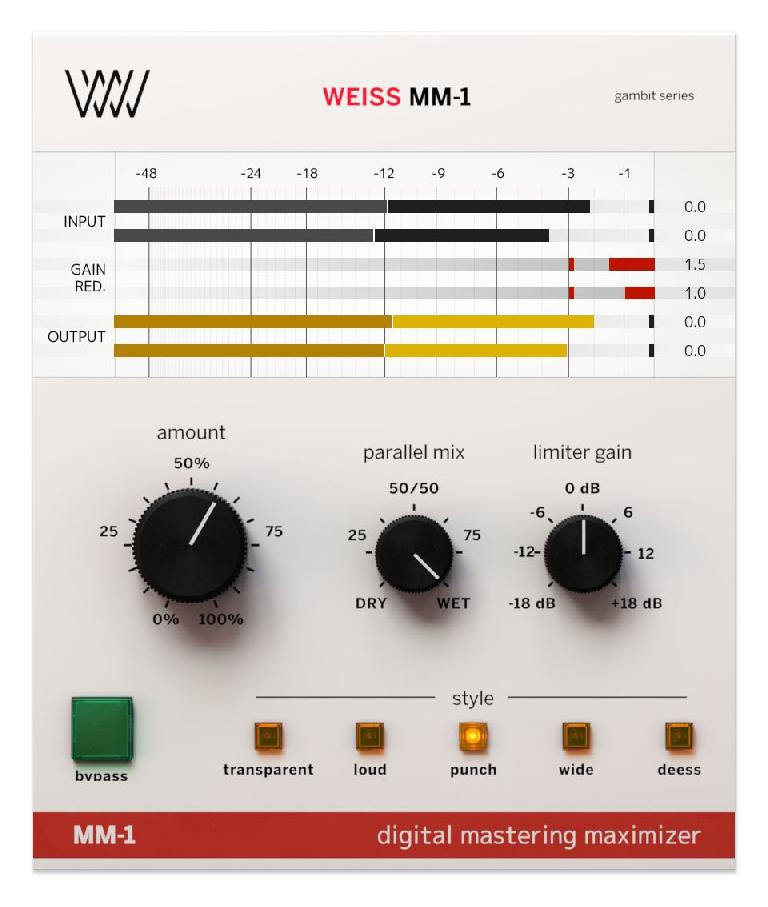 Featuring the very same algorithms as the original digital hardware unit, the MM-1 offers five flavours of limiting; Transparent, Loud, Punch, Wide, and De-ess; intelligently progressing as the 'amount' knob turns, and blendable with the mix control, to give users precisely the right amount of power over the feel of their masters.
Crucial to this plug-in is that it can't sound bad - the intelligent processes happening under the hood as the amount knob turns; the filtering, compression, de-essing, and so on; have been carefully designed by highly experienced mastering engineers using the industry standard DS1-MK3 as a foundation.
And there's no better mastering limiter out there. This product allows users to get their mixes exactly as loud as they want, with exactly the sound they want, without sacrificing dynamics and musicality.
In Short:
Simple interface controlling detailed expert mastering processes.

Five ' flavours' of limiting available.

Contains the very same technology as the legendary hardware mastering processor, the Weiss MM-1.
Fully licensed and endorsed by Daniel Weiss himself.

Great for maximizing your mix-bus quickly and effectively.

Go as loud as you want; louder than any other product out there; without sacrificing desirable tone and dynamics.

Impossible to get it wrong. Be the master of your own masters!