LINKÖPING, SWEDEN: in a major musical move, Swedish high-end software developer Softube set pulses racing when showcasing Heartbeat — its innovative software drum synth with comfortably familiar, yet special sound characteristics — at Musikmesse 2015, April 15-18 in Frankfurt, Germany...
Come its scheduled summertime release date, however, Heartbeat is likely to cause severe palpitations! Why? Well, by bringing back classic drum synthesis with a vengeance, Heartbeat harkens back to yesteryear's much-loved modeled analog synthesis approach, but brings a wealth of forward-thinking features and flexibility to bare on what could well be the ultimate dream drum synth software solution suited to satisfying (almost) anyone's beat-making needs! Now if that still sounds like a tall order... read on!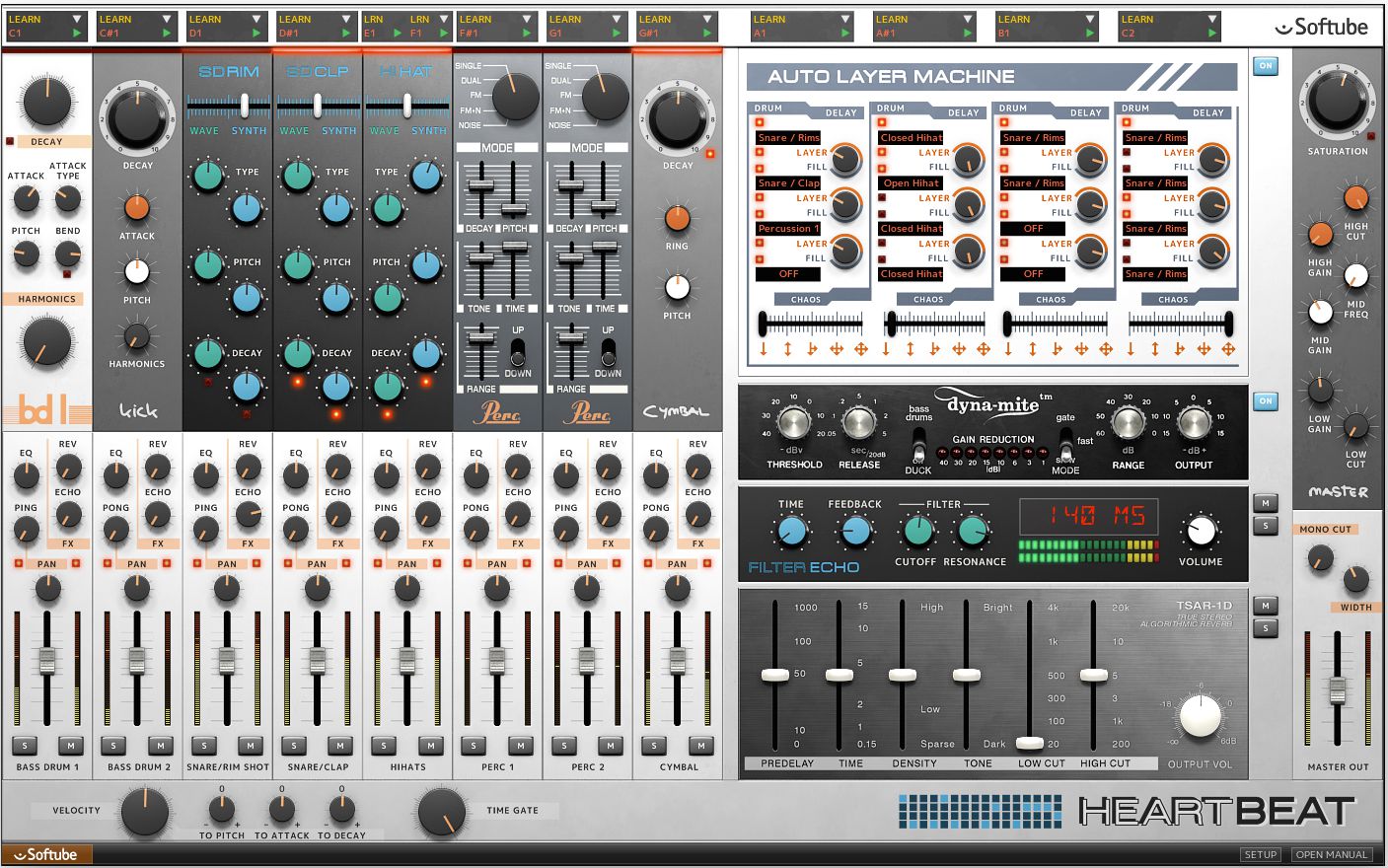 Softube Heartbeat software drum synth.
So what makes Heartbeat so special? Well, while it draws its inspiration from the best Eighties-vintage analog drum machines, it does not emulate any existing drum machine. The superlative sound beating at its rhythmical heart mostly originates from Softube's proprietary analog-modeled synthesis engines, engineered to drive the resulting rhythms to wherever the user wishes to take them.

The core consists of eight individual instrument channels. Here Heartbeat users will find two different bass drum channels (BASS DRUM 1 and BASS DRUM 2) — perfect for producing punchy, deep kicks, but also perfectly capable of creating snappy and hard-hitting woody textures. Tonal adjustments abound, with several dedicated controls for both BASS DRUM 1 (DECAY, ATTACK, ATTACK TYPE, PITCH, BEND, and HARMONICS) and BASS DRUM 2 (DECAY, ATTACK, PITCH, and HARMONICS) positioned directly above their associated channels. The two dedicated snare drum channels (SNARE/RIM SHOT and SNARE/CLAP) have several identical parameters associated with each of them — WAVE SYNTH sliders, plus two TYPE, PITCH, and DECAY controls — to achieve anything from edgy rimshots, soft and whispery snare rolls, to machine-like claps. Correspondingly, those same flexible parameters are also available for the adjacent HIHATS channel. Time to applaud those proprietary analog-modeled synthesis engines, perhaps? Feel free to rev them to your beat-making heart's content! Continuing our eastward instrument channel journey, the two percussion channels (PERC 1 and PERC 2) are identical, and can be used to model Eighties-style toms to cowbells and (almost) anything in- between, thanks to their flexible controls — simply select the MODE (from SINGLE, DUAL, FM, FM•N, and NOISE), then adjust DECAY, PITCH, TONE, TIME, RANGE, and UP/DOWN parameters accordingly. At the end of the instrument channel row, the CYMBAL channel has its own flexible synthesis engine with dedicated DECAY, RING, and PITCH parameters. Take care not to crash!

Seriously, Softube has really put its collective pedal to the metal to make Heartbeat a driving force to be reckoned with. By adding a fully- featured effects section, it truly is a one-stop shop for beat programming par excellence. Excellent effects include slightly adapted versions of Dyna-mite, the much-admired model of Valley People's Dyna-mite — dynamic Swiss army knife processing, proffering limiting, compression, gating, and side-chained ducking with serious attitude — and TSAR-1, one of Softube's all-time top-sellers — simply one of the most gorgeous reverb plug-ins ever created, in fact! Furthermore, the all-new FILTER ECHO takes things to another level as a filtered delay effect with adjustable CUTOFF and RESONANCE parameters. Moreover, MASTER OUT channel SATURATION control goes from juicy to gritty and is not taken from any existing Softube product.

Pushing further onwards and upwards, each and every instrument channel has a dedicated mixer channel with PAN, PING (ping-pong/ auto-panning), EQ (adapted specifically for each instrument), and volume controls, together with FX sends to the REV (reverb) and ECHO (delay) effects. Excellence all round, then. Though there's more to Heartbeat than might first meet the eye (and ear)!

Heartbeat, however, is not only about sound. It's also about inspiration and interaction. Indeed, this is where its innovative AUTO LAYER MACHINE comes in. Its four channels can each be used to layer sounds or let the output of any of the eight instrument channels trigger a chain of events. Examples include creating new sound textures or automatic fill patterns in up to four steps. Should things get too predictable then moving the CHAOS sliders to the right adds an element of surprise randomness for each trigger, ranging from subtle variations to massive trigger-riot mayhem! Meanwhile, flexible global velocity parameter knobs TO PITCH, TO ATTACK, and TO DECAY help Heartbeat become responsive to VELOCITY changes while TIME GATE shortens the overall decay time to create a stuttering, stiffer, machine-like sound, so sounding like a 'Man-Machine' (or 'Woman-Machine') is both a breeze and a blast. But Heartbeat is much more than a machine, but rather a living thing with a mind of its own, thanks to AUTO LAYER MACHINE's magical mystery touring tools. Why not take a ride?

Back with a vengeance, never has classic drum synthesis sounded so good or been so musically flexible. For soon it will be time to set pulses racing closer to home when Heartbeat hits its scheduled summertime release date. So remember: must make a date with the ultimate dream drum synth software solution!

Heartbeat is scheduled to ship in summer 2015 as a Mac- and PC-compatible plug-in, priced at $199.00 USD. (Hardware USB dongle copy-protection is optional as Heartbeat can also be used with iLok's new machine-based license.)

For more in-depth information about Heartbeat, including some seriously ear-opening sound examples, please visit Softube's dedicated webpage here: http://www.softube.com/index.php?id=heartbeat