You might not think the Museum of Food and Drink (MOFAD) has anything to do with synthesis. It turns out that by creating an exhibit which is essentially a smell synthesizer... yes, one that can mix and output aromas, there is a cross-over.
Popular Science have reported that on 28 October MOFAD will open its debut exhibition in New York where visitors can interact with smells. The Smell Synthesizer is one such interactive display which Nadia Berenstein describes as "less like a Steinway, and more like a Moog modular synth, albeit one with fat, arcade-style buttons and corrugated tubes." So, visitors can create cusotmised smells using this synth.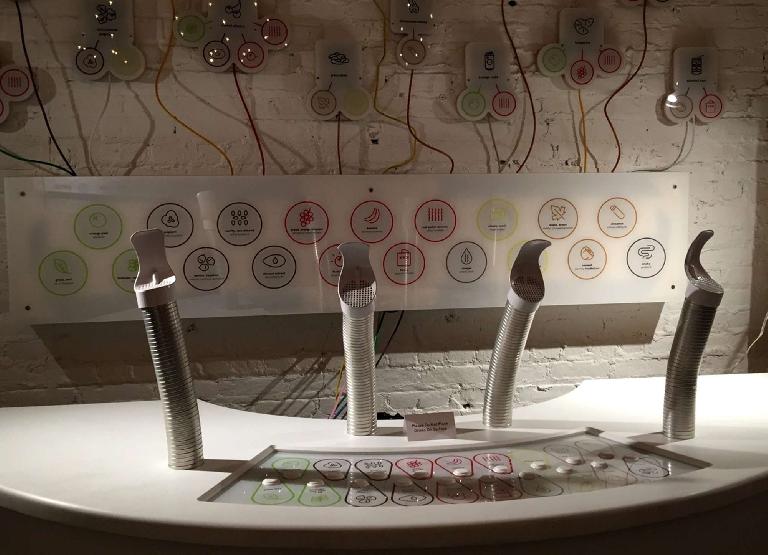 We can see 4 outputs from the smell synth, but no MIDI or CV Gate connectivity ;-) (photo: Nadia Berenstein / Popular Science).
Curious, eh!
There are precursors to the Smell Synthesizer going as far back as 1902 when Sadakichi Hartmann played a "perfume concert" with essential oils. It wasn't well received however. Then you can probably recall in more recent times how flavor strips have been available to impart perfumes and other synthesized smells away from their sources.
Interestingly, using an olfactometer which releases "volatile aromatic chemicals" (think waveforms from oscialltors) scientists are able to study how we perceive and react to odours. The Olfactometer is the basis of the Smell Synthesizer which was programmed by Jack Fastag who figured out how to use 20 bass compounds to create as many different smells as possible. These vary between coconut to nail polish remover as well as fruity flavors you might expect.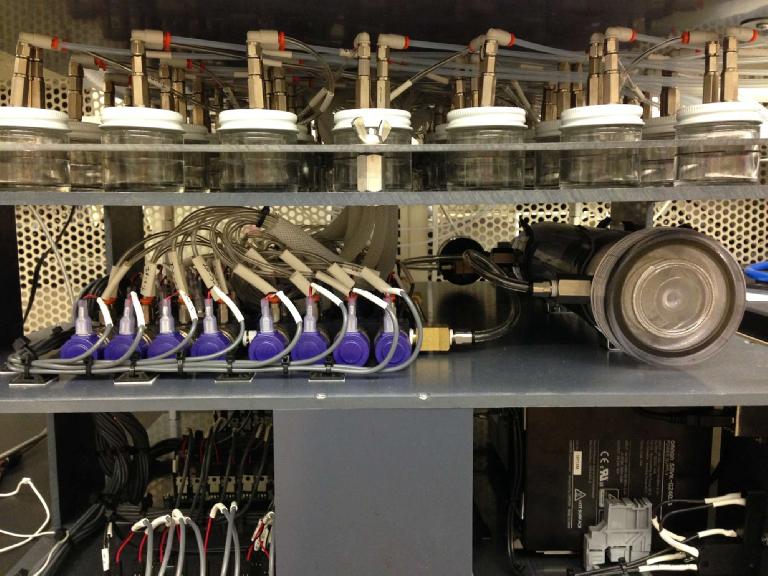 The Olfactometer is at the heart of the Smell Synthesizer. (photo: Nadia Berenstein / Popular Science).
But, being a synthesizer at heart, visitors are encouraged to use it as such and create their own combinations of smells using the keys as they wish. You can play this smell instrument to create unlikely combinations. So, you can be the ultimate aroma "taste" maker with your own unique performance.
Now what I'd be interested in is being able to map sounds to smell, harnessing the power of both senses.