The Slite is a new kind of electric guitar, building on years of traditions to create a new and innovative instrument, with expanded abilities, playability and refreshed design.
The electric guitar barely evolved since the last innovations in the fifties, with most models sold today being reissues of a selected few guitars. The constant need for external modules (amplifier or effect pedals) to make the guitar more polyvalent also greatly impacts its transportability. We developed the Slite to answer those issues.

"We think that the guitar should be good enough on its own, not needing any external modules to allow you to perform and express your creativity anywhere you like." Alexandre Albisser, Co-founder CEO
The Slite combines the best of what is possible for a modern instrument in a classical form factor. Out of its laptop-sized case and ready to play in 20s, it allows for music creation anywhere thanks to its collapsible design and assembly systems. Being collapsible, we made it modular to create an all-in-one instrument, capable of producing a wide variety of sounds on the go by swapping pickups or whole sections, thanks to embedded systems ranging from on-board effects to a whole amplifier with speakers, and much more.
"We want to change the way guitarists interact with their instrument to make it even easier to express themselves while playing the guitar." Alexandre Albisser, Co-founder CEO.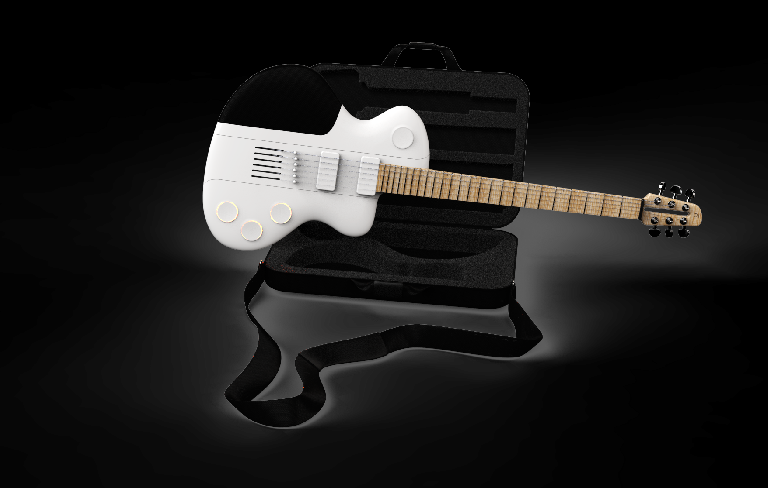 High quality assembly system, inspired by the most durable products, ensures the Slite feels as your usual guitar while being able to fit into a small transport case. It also allows you to swap modules to expand its abilities even further. A plastic shell combined with a maple neck and aluminium frame makes the Slite both lightweight and long-lasting while improving on the ergonomics of an electric guitar with a softer and minimalistic design. State of the art electronics puts powerful and premium audio quality in the Slite, whether you play on an external amplifier, with the built-in effects, headphone amplifier or the Slite's own amplifier.