Slidenjoy Turns Any Laptop Into A 3 Screen Mobile Music Production Studio
From as little as €349 Euros you can add two additional screens to your laptop that slide out from behind its primary screen. Never run out of screen space ever again!
Back in January 2017 Razer showcased Project Valerie, a bonafide 3-screen laptop with enough grunt to be a serious music production powerhouse, and enough screen real estate so you'd never miss your supersize studio screen again.
While having a triple screen laptop makes a lot of sense for gamers, it also makes life easier for those producing music. Innovations with laptops like super-shallow keyboards to allow for ever thinner computers and Apple's Touch Bar, which does away with physical keys in favor of dynamic touch screen controls are great. However, if you're constantly switching between applications or views of your software because they don't fit on a cramped single screen then it follows that your workflow is going to suffer.
One solution for practically any existing single-screen laptop is the Le Slide Slidenjoy.
Like its name suggests you simply slide out the two hidden screens. From there you can move, rotate, and tilt them for ergonomic goodness. In fact, should you wish you can create a triangle structure so those around you can follow what's on your screen. Potentially useful when recording musicians in the field or collaboratively mixing in the studio.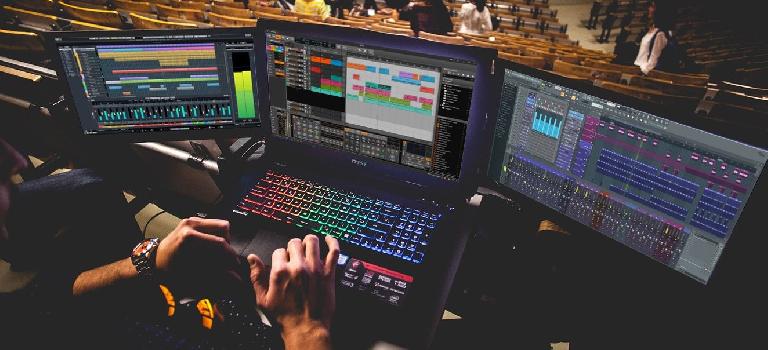 There are so many advantages with a 3-screen setup for musicians and producers, including editing audio, mixing, arranging, having tons more plugins open. The list could go on and on.
The Slidenjoy screens fit onto most laptops and are available in 13", 15" and 17" models. These extra screens come in three models: Slidenjoy, Slidenjoy Premium and Slidenjoy Limited. Prices start from €349 EUR and go up to €849 EUR. Slidenjoy is compatible with Apple MacBook Pros and many Windows PC laptops with a USB C, USB 3 or USB 2 connection port.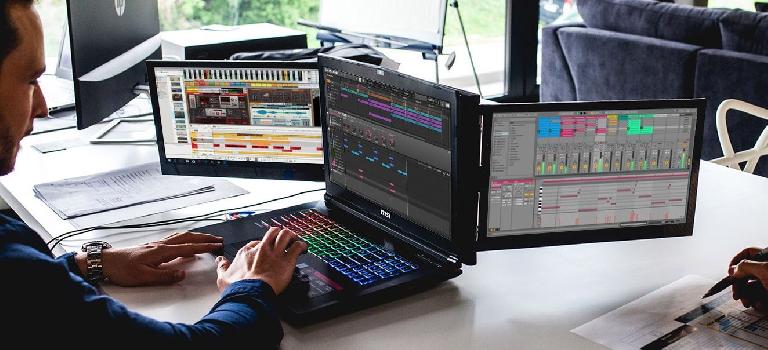 If you're hoping for two extra 4K screens you will be disappointed. These 16:9 slide out screens have a resolution of 1920 x 1080. Decent, but they likely won't be as sharp as most current medium to high-end laptop screens. The Razer Project Valerie from 2017 (see below) sported 4K screens, 32GB ram and a massive price tag: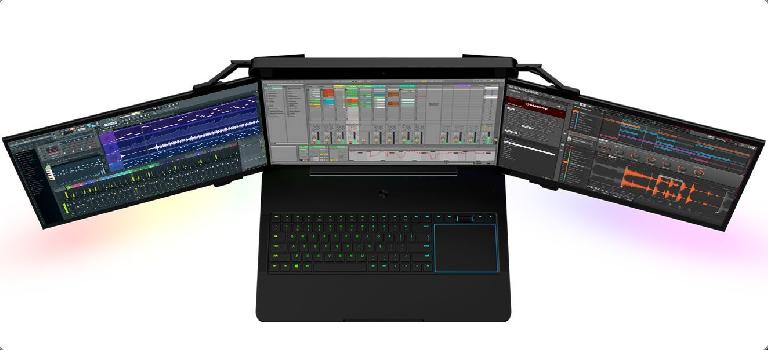 If your laptop is powerful enough but you're finding the lack of screen real estate limiting or a real drag on your production workflow, then Slidenjoy could be a viable and cost effective solution over purchasing a fixed screen for your studio or the Razer Project Valerie which was expected to cost in the region of $7K USD!