Compression is widely used in EDM production. A compressor controls the signal's dynamics; there's a threshold above which the sound's amplitude is reduced according to the ratio and the reduction occurs within a window of time determined by the attack and release values. Learning to apply compression effectively in your mixes is a process that takes time and practise to master. It also helps if you begin with the best tools to get the job done! So what are the best compressors for EDM production? Read on to learn more about six great software compressors that will help push your mixes to the next level.
#1 - Waves H Comp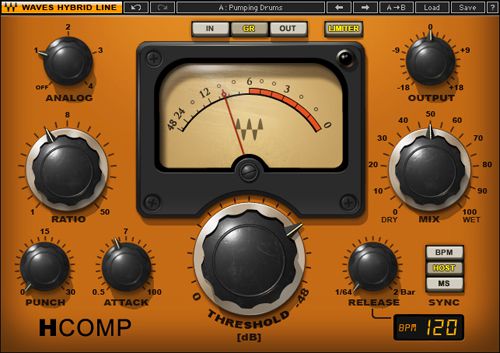 Waves H Comp
If you're looking for an easy way to add character to your mix, a vintage emulation compressor may be the way to go. Waves H Comp is a hybrid compressor plug-in that combines the modelling power of tubes, transistors, and transformers. It features a large, retro-styled GUI and one of the most prominent features is the Wet/Dry mix control for parallel compression (for those who would like to learn more about parallel processing, check out this AskAudio article). One of the more unique features of the H Comp is the transient punch control, which allows you to preserve a sound's initial transient even when using very fast attack times.
The Waves H Comp release stage can be set in seconds (3ms to 3s) or synced to the host using a special BPM sync release function. There are also four different analog coloration modes, each with their own signature sound but the results of the effects are dependent on the signal's incoming level.
Web: http://www.waves.com/plugins/h-comp-hybrid-compressor
#2 - Sonalksis TBK3 Uber Compressor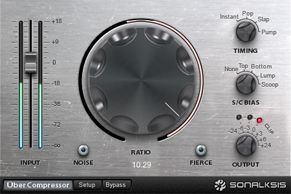 Sonalksis TBK3 Uber Compressor
The Sonalksis TBK3 is a unique compressor, that's able to 'push further and harder than you ever thought possible'. The TBK3 is from Sonalksis' Creative Elements line that is aimed at producers who want to use plug-ins that are simple and sound great. TBK stands for 'The Big Knob' and on the TBK3, the big knob is the compressors' ratio control.
If you're just getting into production and are overwhelmed by all the features on compressors, you'll feel comfortable using the TBK3. There are only seven controls:Input, Noise, Ratio, Fierce, Timing, S/C Bias, and Output. Although it's tempting to spend all your time turning the big knob, to achieve amazing results you'll need to tweak the input gain, clip, timing and sidechain on this compressor. The sidechain switch lets you set the compressor in four different modes, however there's not a true sidechain input. For those determined to create aggressive sounds, the Fierce mode (which creates the 'Uber' compression) and the Noise modes are two features you'll certainly want to experiment with.
Web: https://www.sonalksis.com/uber_compressor.htm

#3 - Cytomic The Glue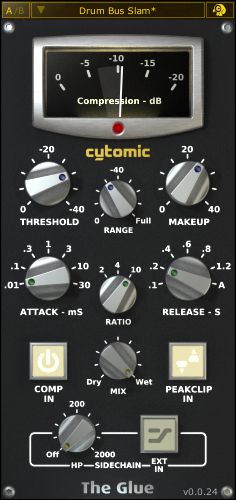 The Glue Compressor
The Glue is an analog modelled compressor plug-in that's based upon the stereo buss compressor found in famous British mix bus compressor of the '80s. Throughout this decade, engineers used the bus compressors on large consoles to 'glue' their mixes together, while controlling dynamics and creating a unique, sought-after 'hit record' sound. Cytomic's The Glue uses an analogue modelling approach to replicate the characteristics of stereo busses from yesteryear, while adding more features and making this coveted sound more affordable for EDM producers.
In the center of The Glue is the ratio control, with settings that range from 2:1 to 10:1. It features an ultra-fast attack time of up to 0.01 ms and release settings from 0.1 to 1.2 seconds. There's also an interesting 'peak clip in' feature, which gives you the power to optionally limit harsh transients. Lastly, The Glue features a great side chain section, where you input an external signal (e.g., a kick drum) to get the mix pumping or high pass filter the main signal. Perhaps one of the most unique features on this plug-in is the range knob, which allows you to affect the main part of your sound but leave the peaks untouched.
Web: http://www.cytomic.com/glue

#4 - Universal Audio dbx 160 Compressor/Limiter Plug-In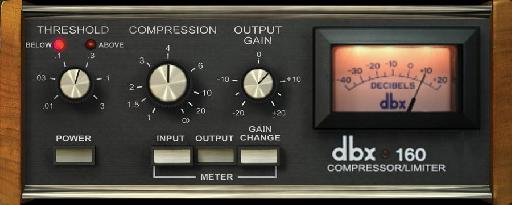 dbx 160
Here's another compressor on the list that's an emulation of a classic legendary hardware compressor/limiter. While it may not be widespread in EDM right now, this compressor is capable of packing a real punch. The dbx 160 compressor is considered by many to be one of the best VCA compressors ever made, and the dbx 160 does a very good job replicating its classic sound. It features the same simple control set as its analog predecessor, which include threshold, compression, output gain, power, input, output, gain change, and an input/output/gain change VU meter. Like many of the UAD plug-ins, it does require a UAD DSP Accelerator Card or Apollo interface.
Web: http://www.uaudio.com/store/compressors-limiters/dbx-160.html

#5 - Waves CLA-2A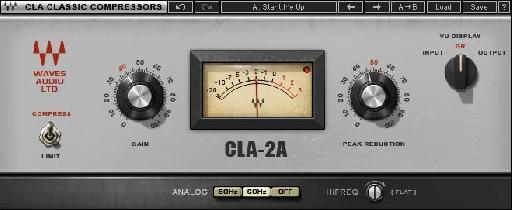 Waves CLA-2A
Modelled after the legendary electro-optical tube compressor, the CLA-2A accurately replicates the sound of the Teletronix LA-2A. The original was launched in the 1960s, and was immediately popular due to its gentle multi-stage release time. The Teletronix LA-2A was especially popular for compressing vocals, and many engineers have stated that it treats audio signals 'lovingly'. Like the hardware version, the CLA-2A is also a great choice for compressing vocals, and works well with guitars, basses and just about every other sound source as well. It features a clearly laid out front panel, with a straightforward and simple design.
On the CLA-2A, you'll find controls for gain, peak reduction, and a meter that switches from input to output or VU display. You can also choose to either compress or limit your signal, and there's a sidechain frequency filter too. To top it all off, this outstanding compressor comes with a selection of presets created by Chris Lord-Alge (who has worked with Muse, Smashing Pumpkins and Green Day) Best of all, there's zero latency. That's right, zero.
Web: http://www.waves.com/plugins/cla-2a-compressor-limiter

#6 - Audio Damage Rough Rider

Audio Damage Rough Rider
Rough Rider isn't a typical compressor; it gives audio a vintage sound while at the same time adding a unique warmth to your signal. It's well suited for adding compression effects to drum tracks, synth or bass parts or even backup vocals. Its great for delivering a pumping sound and giving your audio a bit of extra 'oomph. Its a free download, so it's certainly worth it to give it a try and see what kind of cool compression effects can be created with it. Download it and give it a go, you really can't beat the price.
Web: http://www.audiodamage.com/downloads/product.php?pid=ADF002