Released in June 2011, The original Lorelei suite by Siren Audio comprised of three applications that aimed to reduce the amount of times it took to generate new musical ideas and audio material. After receiving awards from Computer Music Magazine, and a favourable review from Sound on Sound, the developer worked in stages to create the new versions of the original Generative and Feedback applications. The new applications retain the same core ideas of generating drone and loop based audio material via delays and granular synthesis, but give much more control to the user over how the sound is created.
The Generative application has received the biggest overhaul, with a number of new features that make it a significant tool for generating evolving soundscapes and drones. Perhaps the biggest change is the ability to save and restore sessions, allowing the user to create complex sounds and restore them. The four granular players can now have independent pitch and filter settings, and a new 'states' dialog allows the user to save up to sixteen states within a preset that can be switched between.
Feedback has had many refinements internally to save CPU usage, and features new audio file playback modes which allow users more creative freedom when manipulating audio files. The delay times can now be controlled via MIDI, as well as the input and output effects, which further enhances Feedback's capabilities in as a live performance tool. Also included with this update are improved filters and a new reverb effect.
Both applications are available on Mac and Windows, and can be purchased through the newly designed Siren Audio website from February the 14th 2015. Users who bought the software after February the 14th 2014 will receive a free upgrade, and users of the first version of the Lorelei suite will receive a 50% discount on the new applications.
Generative 2
The Generative application takes audio from an audio file or an external input (such as a microphone, guitar, or synthesiser) and transforms it in to an evolving soundscape using granular synthesis. There are four granular devices that each produce their own audio stream, allowing you to change their pitch, filter, and gain settings independently of the other devices. The application has a number of internal states which it fades between, producing a subtle and evolving variation of the output audio.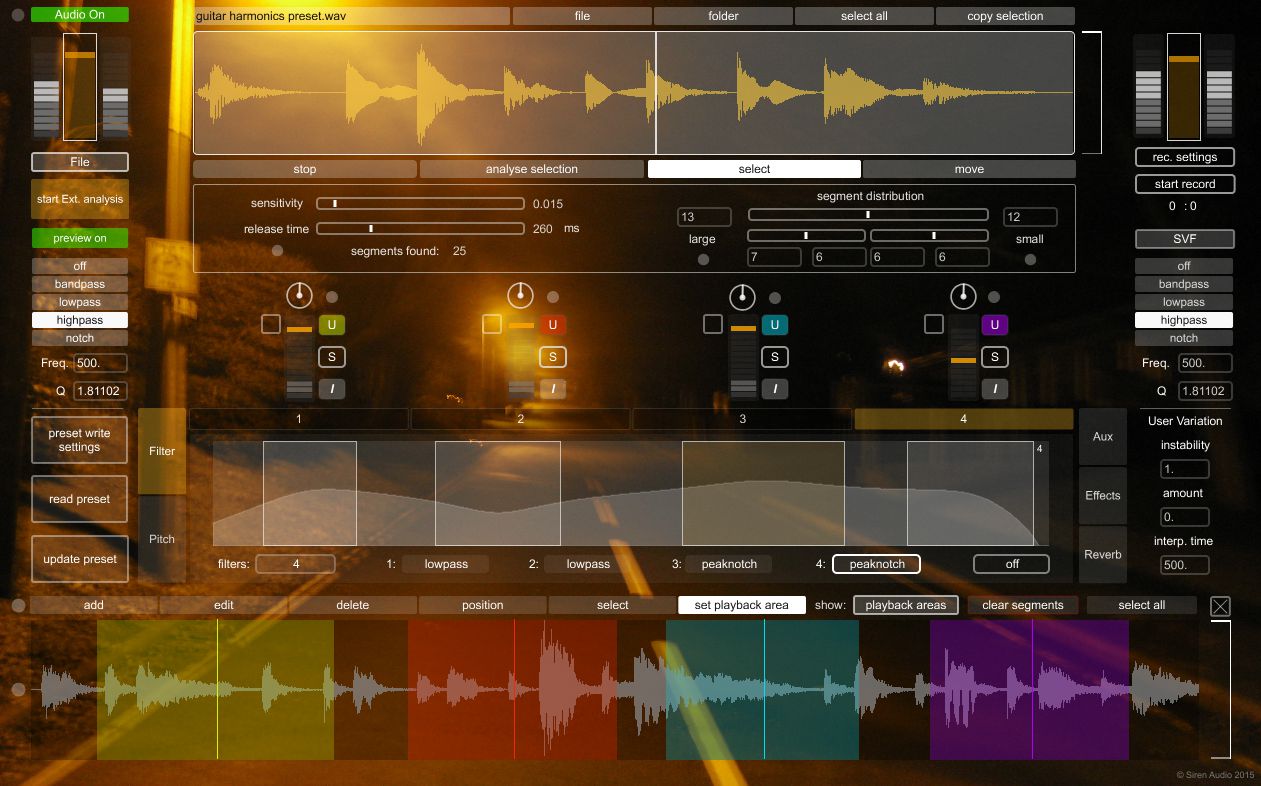 Generative 2 interface.
There are flexible options for recording the audio output of each granular device, or all devices combined. It is possible to record all devices with and without effects, as well as any external input audio. Many of the application's parameters are controllable via MIDI, and you can now play the application's devices as a four voice polyphonic granular synthesiser.
Although the Generative application is usable as a live performance tool, it is more suited to a studio environment.
New Features in Generative 2
Restore sessions. Recall analysed audio with all settings to completely restore a previous session.

'States' section to alter parameters via MIDI notes and the computer keyboard.

MIDI trigger section with amplitude envelope to set pitches and change state presets.

Ability to change each devices pitch using a sliding scale or keyboard values.

Graphical filter for each device, and a choice of state variable filter or graphic filter for the main output filter.

Improved user variation implementation for more precise variation control.

Aux send to effects for each device.

Effects channel with delay ramp, distortion, and delay effects.

'Random segments on copy' function to bypass the previous version's analysis stage.

'Random Segments' window to quickly create new segments, with space and length settings.

User options for CPU reduction: hide graphical playheads / set number of voices used by each device.

Direct control of granular parameters by suspending the applications internal synthesis engine.

'User Playback Area' for each device in order to give finer control of user playback position via MIDI.

Global Pitch tuning and variation settings.

Random pitch method by user defined scale or pitch range.

Option to alter pitches via MIDI by scale / range / keyboard interval.

Ability to view, add, edit, and delete segments.

Option to show segments of specific devices and/or user playback areas.

Better sounding state variable filters (by Tim Place of 74 Objects).

Reverb (by Tim Place of 74 Objects).

Ability to scale the application, for laptops with small screens.
Feedback 2
The Feedback application receives audio from an audio file or an external input (such as a microphone, guitar, or synthesiser) and sends it to 20 different delays, each with their own delay time, volume, and delay time variation setting. The delays are grouped in to 5 different banks, with each bank having it's own compressor, filter, panning, and gain control.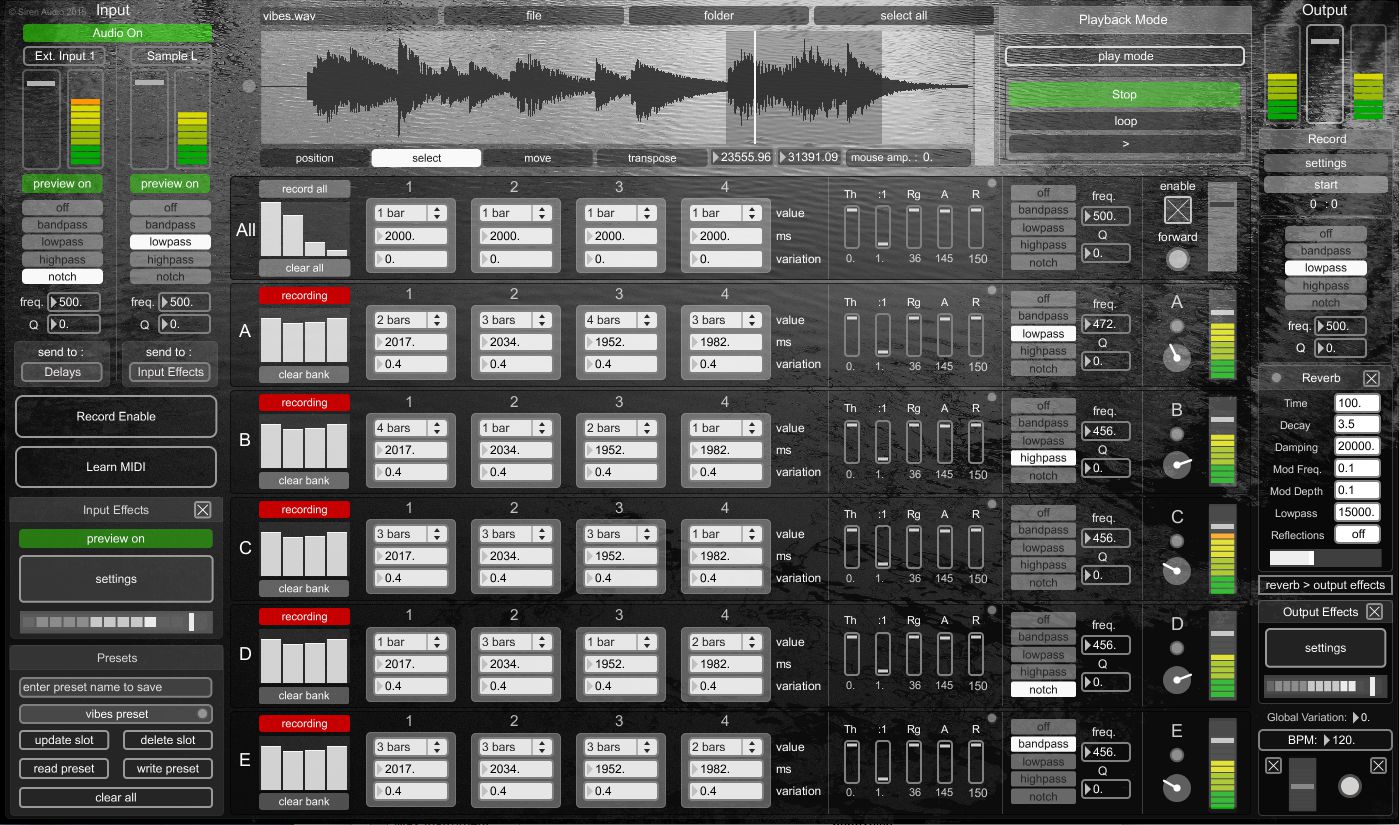 Feedback 2 interface.
The applications name comes from its main process - the output of each delay is passed through a compressor, then back in to the input stage of the delay, resulting in infinite feedback. This technique allows you to quickly layer sounds over each other, making it perfect for creating dense drones, loops, and textures. As the audio loops in the delay line it gradually loses high frequencies, producing an effect that is similar to tape saturation.
The Feedback application is well suited to live performance, with the majority of parameters controllable via MIDI.
New Features in Feedback 2
Expanded Random Settings dialog, with random delay times based on millisecond or measure ranges.

Improved Granular synthesis play mode.

Polyphonic Sampler file playback mode with up to 10 voices.

Output Effects Section.

New 'Play Free' playback modes for interesting pitched playback of an audio file.

Darker/Refined User Interface.

Reverb (by Timothy Place of C74 Objects).

Improved state variable filters (by Timothy Place of C74 Objects).

New Instability and Strength controls to control delay time variation parameters.

Various user interface and internal changes to save CPU usage.

More parameters controllable via MIDI.

Ability to change the order of Output Effects / Reverb.

Visual Feedback of BPM for live performance.

More options for recording input source.

Ability to scale the application, for laptops with small screens.

Ability to Update / Delete Preset slots.

Technical Details
Format
Standalone applications for creating drones textures and loops. Developed in Max/MSP. Available for Windows and Mac, and compatible with Propellerhead's ReWire technology.
Price
Feedback: £25 / Upgrade : £15
Generative: £30 / Upgrade : £15
Feedback + Generative: £50 / Upgrade : £25
File Types
Read: WAVE (.wav) / AIFF (.aiff). Write: WAVE (.wav).