February 2, 2011 - the beginning of an immense project for jazz vocalist Nikki Yanofsky, orchestrating an evening's concert of fifteen standards for full orchestra and nine-piece band. My collaborator is jazz pianist and composer Paul Shrofel, who is working with Nikki to set the program, and is doing a lot of preliminary sketches and some very tasty band arrangements. Paul's got some great suggestions and ideas for the orchestration of these standards, like the first song that I got e-mailed last night, I Got a Crush On You. And he's knocking me out with these awesome sub chords...take a look at these bars...

I can do something really colorful with that, contrasting the root harmony against the added notes while emphasizing some of the inner voices, and enhancing the cool overtones in places. So I set to work, thinking how great it is to be orchestrating right off of a chord chart, sort of like faking a lead in really slow motion with 70 pairs of arms each holding a different orchestral instrument. Now fast-forward to July 2012, on the eve of my macProVideo Sibelius 101 Lead Sheet Project release. That tutorial has got me thinking back to Paul's arrangements, and about Sibelius's chord symbol input. I wish that I could have put a lot more information about complex chords into the 101 course, but the timing is not quite right. Until my 103 course comes out, here are a few tips for inputting your own over-the-top chords.
First is the keyboard shortcut. To start a chain of chord symbol input, select your first note, and type Command-K (or Control-K on Windows). That gets you a blinking cursor over the first note.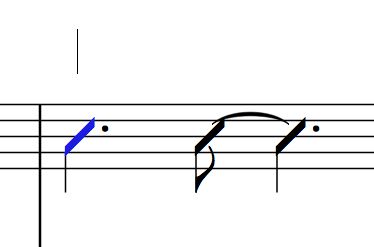 Now, to input the first of Paul's ultra-badass chords, type 'ebmaj6/bb'