The Serato Studio beta is open once again, introducing a raft of highly-requested features to the beatmaking software including Master Track Waveform, Library Preview, Stem Export, and more. The update also adds Glide for instruments and samples to get a 'bend' effect between notes, as well as improvements to the drum sequencer and overall stability.
Serato Studio Subscriptions
In addition to the software update, Serato today announced pricing for Studio: on release subscribers can access Studio for a monthly fee of USD 14.99/m, or USD 9.99/m billed annually.
Serato Studio - New Features
Master Track - See a live updating waveform of your track to get visual feedback 

Library Preview - Quickly preview sounds in your library before loading to a deck 

Triplets - Add triplets to your drums to get different patterns 

Master FX - Add FX to the master of your track including third party plugins 

Export Stems - Export your track as individual audio stems 

32-Beat Scenes - Extend your scene length to 32 beats (eight bars)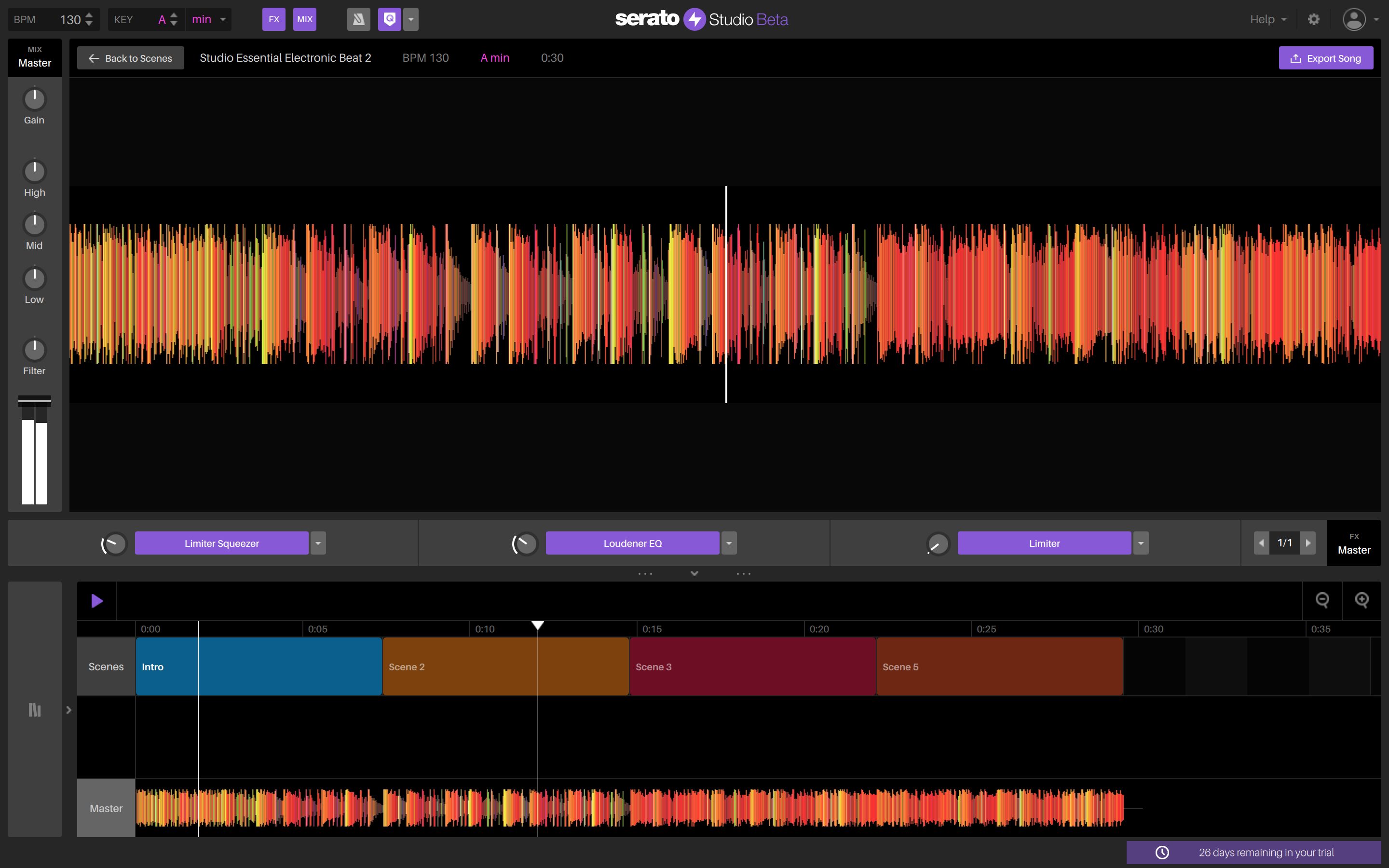 Glide - Add Glide to your instrument and sample deck notes 

Off-Grid Note Editing - Click and drag instrument and sample notes off-grid in your 
sequencer
Serato Studio - Existing Features 

DJ Style Library - Access your entire Serato DJ library with crates, cue points, BPM and key information. 

High Quality FX - Tweak your beats using over 30 built-in FX presets that will feel instantly familiar to DJs. 

Works with DJ hardware - Studio works with a range of DJ controllers and mixers, as well as MIDI controllers, or just your laptop. 

Make Beats - Get inspired with over 300 pre-made drum patterns across a range of different genres.
Master Key and BPM - Let the project key automatically update as you start making your beat. Adjust the BPM to extremes with world-class Pitch 'n Time stretching 

Play in Key - Play any instrument or plugin in key, without knowing music theory. 

Quality Content Built In - Studio comes with a huge amount of built-in drum kits, 
instruments, audio loops and samples, with frequent content updates for subscribers. 

Simple Sequencer - Get creative with your drum patterns using the simple and 
easy-to-use 808-style step sequencer 

DJ-style mixing - Mix your sounds using a familiar DJ channel mixing strip, with dedicated 
gain, EQs, filters and more. 

Serato Colored Waveforms - See your audio and MIDI sequences in Serato's famous 
colored waveforms.