The SX3 builds on the core features of its popular predecessors to add three dedicated mic inputs, dual USB inputs and built-in sound color FX. Other highlights include 16 backlit RGB pads with 11 performance modes, as well as dedicated Serato Flip and key controls for Serato Pitch 'n Time DJ.
Developed specifically for use with Serato software, the SX3 unlocks Serato DJ Pro and comes with free licenses for Serato Flip and Pitch 'n Time DJ in the box.
"We've focused on packing as much control and power as possible into this premium, four-channel controller," says Nick Maclaren, Chief Strategy Officer at Serato.
"The third mic input, in particular, will be an invaluable tool for mobile DJs - now you can simultaneously DJ with all four decks while you talk to the crowd, or use all three mics without interrupting your mix. Dual USB ports, meanwhile, take the hassle out of DJ changeovers and allow for seamless back-to-back performance," adds Maclaren.
For the first time the SX3 also includes familiar built-in hardware FX including Filter, Echo, Jet and Noise FX, mirroring the format of club-standard FX units.
"Sound color FX really narrows the gap between a club standard and home setup. It also renders the SX3 as a powerful standalone mixer for use with any custom hardware layout," says Maclaren.
The SX3 brings the power of Serato's advanced functionality, with dedicated Flip controls for censoring tracks and making edits on the fly. And Pitch 'n Time DJ for Pitch Play and harmonic mixing using key controls.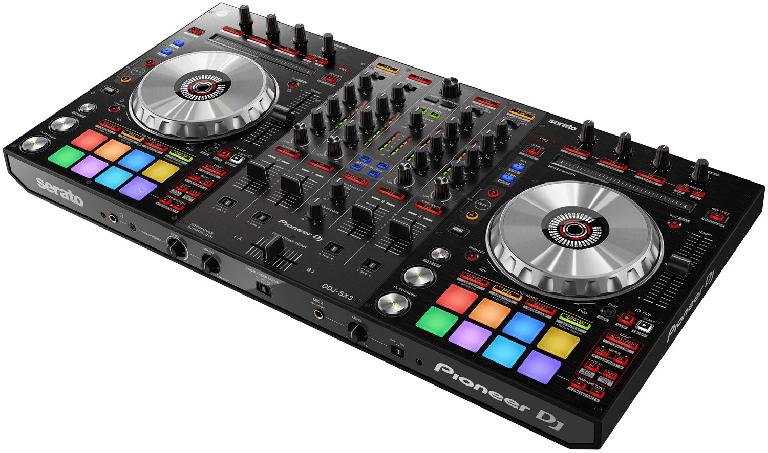 "Straight out of the box DJs can take advantage of pro Serato features. It's ideal for DJs accustomed to more complex routines, and DJs looking to step up from their entry-level setup," Maclaren says.
Support for the DDJ-DJ SX3 is included in Serato DJ Pro 2.0.3, now available to download.
Pioneer DJ DDJ-SX3 - Key Features:
Dual USB ports
Three mic inputs, including mic FX: Keep your channels free for music
Sound color FX with Echo, Filter, Noise and Jet options
Connect four multi players, analog turntables, and more
Paid upgrade to a Serato DVS license
16 RGB performance pads with 11 modes to control Serato DJ Pro features
Dedicated Serato Flip controls
Dedicated Serato Pitch 'n Time DJ controls
Balanced XLR, main out, balanced 1/4" booth out
Reduced latency jog wheels
Stand-alone DJ mixer with four channels
Needle search strip: Instantly jump to a specific part of a track