Bass und ihre Verwandtschaft mit der Kick-Drum ist das für ein Ding dürftig. Sie benötigen die Kick-Drum, um den Low-End-Knall geben, und Sie müssen den Bass um die Low-End-Rindfleisch in dem Song geben. Da beide Elemente in einer sehr ähnlichen Stelle sitzen in Ihrem Mix, ist es einfach einen zu haben, überwältigen den anderen. Wenn das passiert, verlieren Sie Definition im unteren Register Ihrer Mischung und man bekommt was ist allgemein als Schlamm bezeichnet.

EQ
Eine gängige Methode zur Bekämpfung von Schlamm und die Schaffung Definition zwischen dem Schützen und den Bass (sei es Gitarre, oder Synthesizer) ist durch Entzerrung.
Einige machen den Fehler zu denken, dass Sie verwenden, um Entzerrung Signale verstärkt und haben eine Idee, dass Schneiden Frequenzen ist eine schlechte Sache. Dies hätte nicht weiter von der Wahrheit entfernt. EQ ist eigentlich besser gedient als Schneidwerkzeug, insbesondere für den Low-End-Geräte in Ihrem Mix.
Denken Sie an EQ als eine Art Sonic Meißel. Man schneidet Frequenzen Arent, dass entweder dort, oder Arent benötigt, so dass Frequenzen, die mehr sind überwiegend in anderen Instrumenten kann durchscheinen.
Ill verwenden Sie den Visual EQ in GarageBand, um die hohen Frequenzen, die gerade nicht durch den Bass verwendet geschnitten. Ill schneiden auch einige der tiefen Frequenzen. Dies ist, wo Kompromisse, oder Side-Chain, die getroffen werden müssen. Der Bass hat einige der gleichen tiefen Frequenzen, dass mein Kick hat.
Letztlich
Auch scheint die Tritte Angriff durch bei etwa 1 kHz, so dass ich anfangen Regale aus um diese Frequenz, so dass der der Bass zupfen nicht Zusammenprall mit dem Angriff der Kick Drum.
Siehe meine Arbeit unter: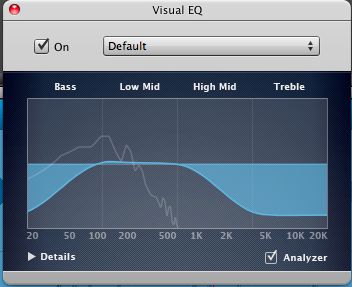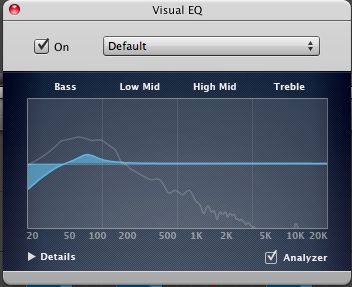 Bass-Gitarre
Hier ist vor:
[Audio id = "10002"]

Hier ist nach:
[Audio id = "10004"]
Komprimierung für Trennung
Natürlich ist die Kompression, allgemein bekannt als Ihre Go-to-Effekt zur Trennung von Kick und Bass, und seine hier nicht anders. Werfen wir einen mit und ohne Kompression zu hören:
Kick und Bass ohne Komprimierung:
[Audio id = "10001"]

Kick and Bass mit Komprimierung:
[Audio id = "10003"]

Beachten Sie in der komprimierten Version ist die Tritte Angriff viel präsenter und hörbar. Auch ist die Momentaufnahme der Bass-Gitarre nur ein wenig mehr als zuvor bissig wie auch.
Ich fand zwei Presets, die einen tollen Job in GarageBand, die Sie bauen können leicht aus zu tun.
Für Bass: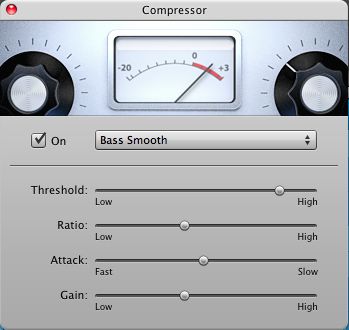 Für Kick: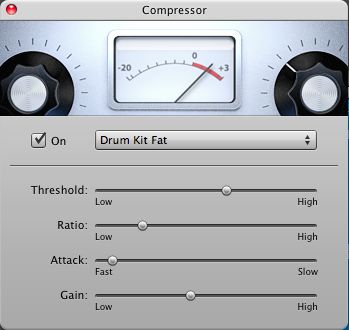 Nun
Vorher:
[Audio id = "10006"]
Lied nach:
[Audio id = "10005"]
Nun schneidet der Kick durch mit einem schönen 80Hz, dass man fühlen kann, und der Bass immer noch spürbar, sondern lässt Raum für den Synthesizer over the top, zusammen mit der Gitarre.
Alles ist viel näher an der Zusammenarbeit now!
Schlussbemerkungen
Denken Sie daran: Es gibt viele verschiedene Möglichkeiten, EQ und Kompresse. Sein ganz auf Stil und Vorlieben. Und wenn etwas gefunden youve Sie so wollen, achten Sie darauf, Ihre Einstellungen zu speichern!