See the New Roland V-DRUM Kit Updates
Roland has introduced new versions of its V-Drums kits: the TD17KVX2, TD17KV2, TD27KV2, VAD307, VAD504 and VAD507. And there's a great V-Drums course to help you get the most out of your V-Drum kit!
Roland is announcing new versions of its V-Drum kits, including new TD-17, TD-27, and V-Drums Acoustic Design models, each of which have significant hardware upgrades to previous-generation kits. In addition, the sound modules included with the kits have been updated with a variety of new features.

Specifics include:
TD-17 and TD-27 Drum Sound Modules – Version 2.0 Updates will bring players more advanced kits for a premium playing experience

All-new TD-17KVX2 and TD-17KV2 V-Drums Kits are perfect for developing drummers, while the all-new TD-27KV2 V-Drums Kit brings serious drummers an advanced option at an affordable price

Three new V-Drum acoustic design kits: VAD507, VAD504 and VAD307 – Each of which fuse the authentic look and feel of acoustic drums with Roland's advanced technologies
These new kits will each integrate with Roland Cloud, with new kits shipping with these Version 2.0 updates, while existing modules will be able to download Version 2.0 updates through Roland Cloud.
V-Drums Explained and Explored
Electronic drum kits, like the Roland V-Drums, are everywhere in modern music productions. Join trainer Matt Vanacoro in this V-Drums Explained and Explored course, and learn how to best integrate these amazing instruments in your music production setup.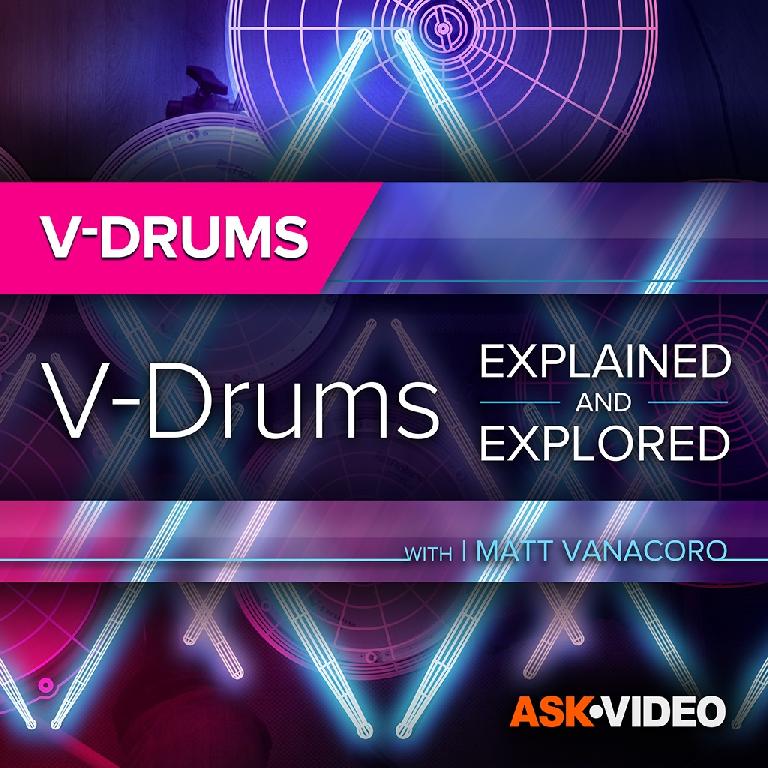 Electronic drumming has evolved so much since their introduction in the '70s. Electronic drums are now very common, both live and in the studio. Compared to acoustic drum kits, electronic kits are lighter, more portable, easier to set up... and they offer infinite sound possibilities! In this course, trainer Matt Vanacoro covers different techniques and workflows you can use to make these electronic instruments feel and sound exactly the way you want to.

Matt starts by covering a crucial (but often neglected) aspect of using a drum kit: how to place and set up the kit. You learn to connect the different pieces of your drum kit, and the importance of choosing the right beater and sticks for your kit. From there, Matt dives into navigating the drum module. He shows you how to create personalized kits by customizing the sounds, using effects, adjusting the trigger zones, using your own samples, and more. Connecting your drum kit with a computer, with third-party software such as Logic Pro X and Superior Drummer is also covered.

So grab your sticks and enjoy this 20-tutorial course by trainer Matt Vanacoro, and get the most out of your electronic drum instrument!