Asheville, NC - março 2015 ...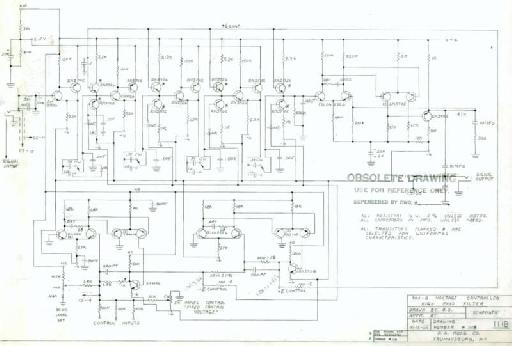 A recente seleção de esquemas abrange um período de 18 anos (1964-1982), diversos projetos, e vários engenheiros. Muitos dos esquemas anteriores foram desenhados à mão por Bob Moog e representam não só a evolução seminais na evolução do sintetizador Moog e personalizados designs únicos desenvolvidos especificamente para músicos experimentais. Seu conteúdo varia de osciladores de formação, filtros e fontes de alimentação para os relés de capacitância atuadas raras para projetos de layout para alguns dos sintetizadores modulares Moog mais emblemáticos.
Michelle Moog-Koussa, Diretor Executivo, observações ", a Fundação Bob Moog tem grande orgulho no seu trabalho de preservação. Somos mordomos de uma história notável, baseado em Bob gênio técnica e espírito de colaboração. Enquanto ele é uma figura central em muito do que descobrimos, tão importante são as extensas colaborações com colegas engenheiros, e uma amplitude de músicos pioneiros. Em última análise, os arquivos demonstram o poder do trabalho de uma pessoa para inspirar o trabalho de outra pessoa. Nosso objetivo é compartilhar este poderoso paradigma, na medida do possível, a fim de inspirar as futuras gerações de pensadores inovadores e criativos. "
Muitos itens de o Bob Moog Foundation Arquivos, incluindo esquemas, estão em exposição no Switched-on: The Birth of the sintetizador Moog, no Centro Histórico em Tompkins County em Ithaca, NY.
http://moogfoundation.org/schematics
http://moogfoundation.org/march-2015-schematics/
http://www.thehistorycenter.net/thc_events/2014/moogopening.php
Saiba mais sobre a síntese na AskVideo .