Asheville, NC - marzo 2015 ...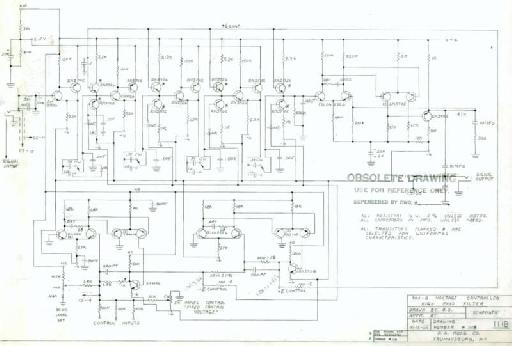 La recente scelta di schemi abbraccia un periodo di 18 anni (1964-1982), diversi progetti e diversi ingegneri. Molti degli schemi precedenti erano disegnati a mano da Bob Moog e rappresentano sia gli sviluppi seminali nell'evoluzione del sintetizzatore Moog e disegni personalizzati una tantum sviluppato appositamente per i musicisti sperimentali. Il loro contenuto varia da oscillatori formative, filtri e alimentatori per rare di capacità relè azionati a schemi di configurazione per alcuni dei più iconici sintetizzatori modulari Moog.
Michelle Moog-Koussa, direttore esecutivo, il commento, "The Bob Moog Foundation è orgoglioso nel suo lavoro di conservazione. Noi siamo amministratori di una storia straordinaria, sulla base di Bob genio tecnico e spirito di collaborazione. Mentre lui è una figura centrale in gran parte di ciò scopriamo, altrettanto importanti sono le ampie collaborazioni con colleghi ingegneri, e una larghezza di musicisti d'avanguardia. In ultima analisi, gli archivi dimostrano la potenza di lavoro di una persona per ispirare il lavoro di un'altra persona. Il nostro obiettivo è quello di condividere questo potente paradigma per quanto possibile al fine di ispirare le future generazioni di innovatori e pensatori creativi. "
Molti articoli di The Bob Moog Archives Fondazione, tra cui schemi, sono in mostra al Switched-on: The Birth of the Moog Synthesizer, presso il Centro di Storia di Tompkins County in Ithaca, NY.
http://moogfoundation.org/schematics
http://moogfoundation.org/march-2015-schematics/
http://www.thehistorycenter.net/thc_events/2014/moogopening.php
Per saperne di più su di sintesi a AskVideo .