Asheville, NC - March 2015... Today the Bob Moog Foundation releases 15 new schematics from its vast archives of hardware, conceptual drawings, photographs, vintage catalogs, design schematics and more. The release is the second of its kind, following 20 schematics shared on the Foundation's eighth anniversary, August 21, 2014. The Foundation's archival mission is to preserve the past to inspire the future. To that end, work on the expansive collection is implemented with the purpose of sharing the historical and technical information contained therein through collaboration on museum exhibits and online releases.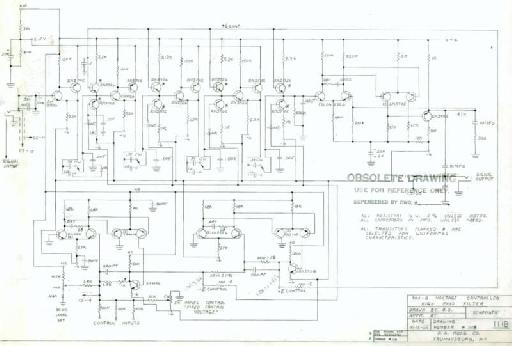 The recent selection of schematics spans an 18-year period (1964-1982), diverse designs, and several engineers. Many of the earlier schematics were hand-drawn by Bob Moog and represent both seminal developments in the evolution of the Moog synthesizer and custom one-off designs developed specifically for experimental musicians. Their content ranges from formative oscillators, filters, and power supplies to rare capacitance actuated relays to layout designs for some of the most iconic Moog modular synthesizers.
Michelle Moog-Koussa, Executive Director, remarks, "The Bob Moog Foundation takes great pride in its preservation work. We are stewards of a remarkable history, based on Bob's technical genius and collaborative spirit. While he is a central figure in much of what we uncover, equally as important are the extensive collaborations with fellow engineers, and a breadth of pioneering musicians. Ultimately, the archives demonstrate the power of one person's work to inspire another person's work. Our goal is to share this powerful paradigm to the greatest extent possible in order to inspire future generations of innovators and creative thinkers."
Many items from the Bob Moog Foundation Archives, including schematics, are on exhibit at Switched-on: The Birth of the Moog Synthesizer, at The History Center in Tompkins County in Ithaca, NY. The exhibit runs through May 30, 2015.
http://moogfoundation.org/schematics
http://moogfoundation.org/march-2015-schematics/
http://www.thehistorycenter.net/thc_events/2014/moogopening.php
Learn more about synthesis at AskVideo.