Say Hello To Behringer Model D Synth With Keyboard
What happens when you add a wooden casing and a keyboard to a Behringer Model D? Easy. It looks like an even more awesome analog synthesizer in the style of a Minimoog!
It's often the way. Those with handy woodcrafting skills can create wonderous enclosures, stands and mods for their beloved synthesizers.
In this instance, we're looking at a modern analog synth classic, the clone of the Moog Minimoog. Yes, we're talking about the Behringer Model D. If its authentic sound has wowed you, then you may be tempted to make it into even more of a Minimoog clone than it already is like Bucranium Beats have done.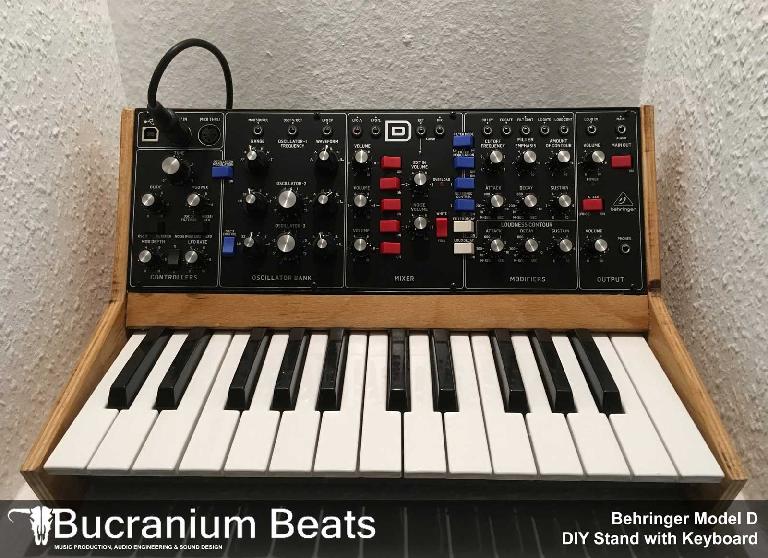 Two simple mods that took him a week of crafting have made this look even cooler. The Behringer synthesizer now has a wooden DIY-Model D stand with a two octave keyboard taken from a Midiman Oxygen 8. Neat!
We don't know what the materials would have cost Bucranium Beats, but would be very surprised if it's more than $50-100. Add that to the $299 price of the Behringer Model D and you have a ridiculously affordable mini... Minimoog that will be the talk of any studio.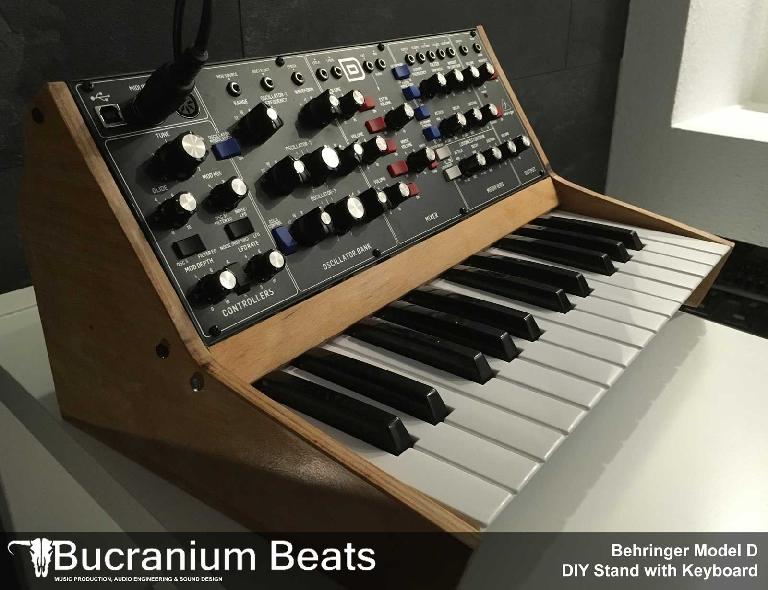 Here's the spec of the Behringer Model D:
Legendary analog synthesizer with triple VCO design allows for insanely fat music creation
Authentic reproduction of original "D Type" circuitry with matched transistors and JFETs
Ultra-high precision 0.1% Thin Film resistors and Polyphenylene Sulphide capacitors
Pure analog signal path based on authentic VCO, VCF and VCA designs
5 variable oscillator shapes with variable pulse widths for ultimate sounds
Classic 24 dB ladder filter with resonance for legendary sound performance
Switchable low/high pass filter mode for enhanced sound creation
Dedicated and fully analog triangle/square wave LFO
16-voice Poly Chain allows combining multiple synthesizers for up to 16 voice polyphony
Semi-modular design requires no patching for immediate performance
Overdrive circuit adds insane spice and edge to your sounds
Noise generator dramatically expands waveform generation
Complete Eurorack solution – main module can be transferred to a standard Eurorack case
48 controls give you direct and real-time access to all important parameters
External audio input for processing external sound sources
Low and high level outputs featuring highest signal integrity signal stages
Comprehensive MIDI implementation with MIDI channel and Voice Priority selection
3-Year Warranty Program*
Designed and engineered in the U.K.
Priced at $299 USD