Say Hello To Ableton Session Controller
They've got a wooden, steam punk look, and give you control over Ableton Live like no other controller can. Welcome to the new wonderful workflow world of Ableton Session Controllers.
It's not everyday you come across a hardware controller (or two) for Ableton Live that can do things no other controller can handle well. That's what we've discovered with the rather cool, wooden Ableton Session Controller created by Sté Thunus.
In a nutshell, The Ableton Session Controller focuses on the selected channel in Live and follows it, ensuring an efficient workflow as no mapping or bank-shifting is needed. It targets Mixing/Mastering (Panning, arm, mute, solo, 4 Sends, volume, DIM, magic encoder, prev/next track, Cue point management) and Editing (Scroll, Zoom, modifier keys, transport keys, most used editing moves, view changes, etc).
Check out this demo video showing the workflow benefits when using Ableton Session Controllers:
It also adds extra functionalities to Ableton (un-mute, un-solo, un-arm all tracks + The 'Sender' + variable DIM + Channel Lock + Cue point list + others).
The EQ and Dynamic Units also follow the mouse to recognise and auto-map their 52 parameters to stock, VST and Audio Unit plug-ins. They allow custom sensitivity for every single VST parameter and custom default values to jump to, for a tactile and efficient workflow.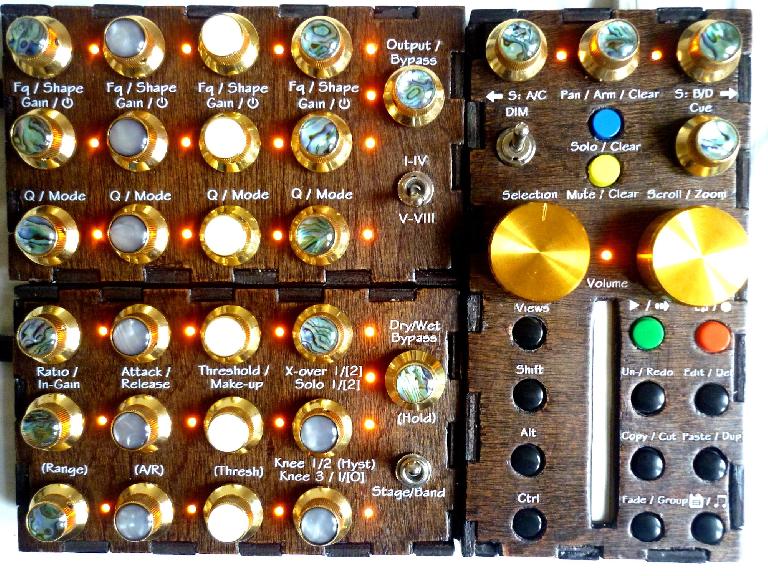 Sté is using fully working prototypes and he has no contract with anyone to produce those units. If you would buy one (or more) of the units, please comment it in this article, as with enough interested people, a company might choose to produce the Ableton controllers.
We spoke with Sté about the Ableton Session Controllers. Here's some highlights from our conversation we think all Ableton (and modern music producers and makers) will find especially interesting:
What was your inspiration for Ableton Session Controller (ASC)?
"I wanted to break free of the classical looks of controllers which are mostly grey or black. I wanted to make it visually stand out and give an elegant and refined high-class look, a bit like the furniture in Versailles (I swear look it up haha), which contrasts very dark wood with golden decorative elements. Steam Punk is also an influence as seen on the units."
"In addition, the fact that Ableton is a bit behind in editing capabilities compared to other DAWs, especially Pro Tools, played a big role in the integration of the entire editing arsenal of functions. The lack of tab to transient inspired the jog-wheel that allows to Scroll and Zoom.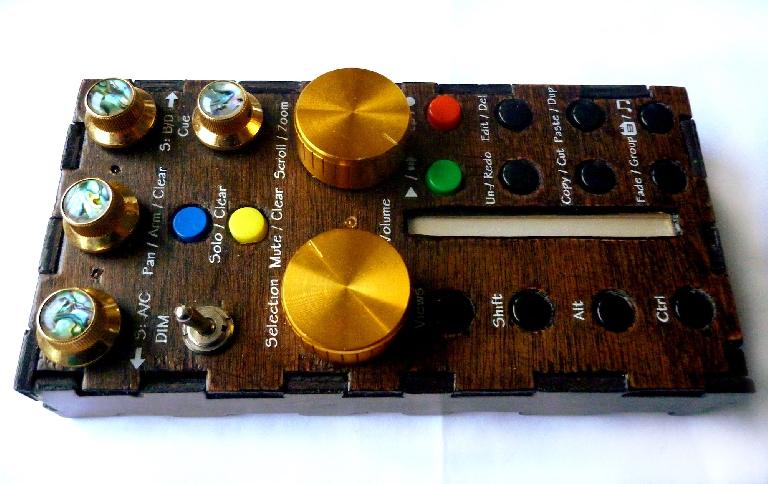 "Furthermore, an important aspect to me was portability (all 3 units together are roughly the size of an A4 sheet, nonetheless providing 149 functions) as many people use Ableton on laptops or while traveling. The units are small and light enough to all fit in a backpack (it's how I transported them to the presentation of my Thesis) and to be used on one's knees (I absolutely recommend composing tracks while sitting in the sun in a park next to a river). The units also don't require any power sockets to work, which makes the aforementioned possible."
What makes ASC different, unique, or better than existing Ableton Live controllers in your opinion?
"There are quite a few differences with the typical, standard MIDI controller, however some commercially available units might cover one or two features described here, with their own Ableton scripts.
As far as I know there are no editing controllers nor focus encoder units for Ableton Live, which differentiates the Ableton Session Controller from the rest of the market.
The advantages of Focus encoders over traditional desks are well known (portability, low cost, ability to write automation, changing the levels in the DAW which are saved in the session, etc), so I won't really go into detail here.
What was the most appreciated during user testing and feedback sessions were the "Magic encoder" - the left jog-wheel that maps itself to the currently clicked parameter and the Scroll/Zoom feature for editing, which are also features I haven't seen on other Ableton controllers (Push maybe, I don't know).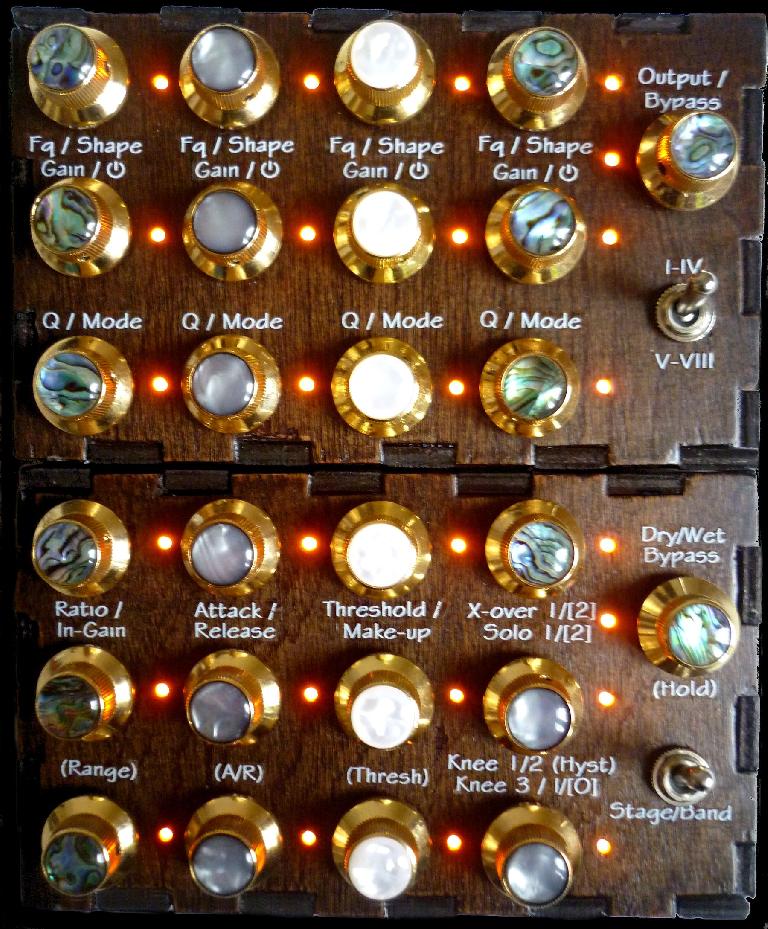 Even though you have units offering series of rotary encoders or potentiometers that do some sort of automatic mapping, the results are not necessarily very predictable because different encoders will be mapped to what is actually the same parameter on different plug-ins. To illustrate, the first encoder might get mapped to the frequency of band 1 on one plug-in and on the gain of band 1 on another. This can be quite misleading in addition to the fact that there is no labeling. The EQ and Dynamic units, however, are designed in a way that guarantees that parameters on the plug-ins will always be mapped to the accordingly labeled endless encoder.
Many controllers that use faders and pots require the user to use MIDI pickup or value scaling and also have a fixed sensitivity, as these types of controls are physically limited. My units allow user-customizable sensitivities for each parameter type for the session controller, such as volume, Pan, Sends, etc and custom sensitivity for every single parameter of every plug-in for the EQ/Dynamics. This means that no matter what plug-in of any different manufacturer you use, the band frequency will always react in the same way and, if desired, have the same preset jumping points.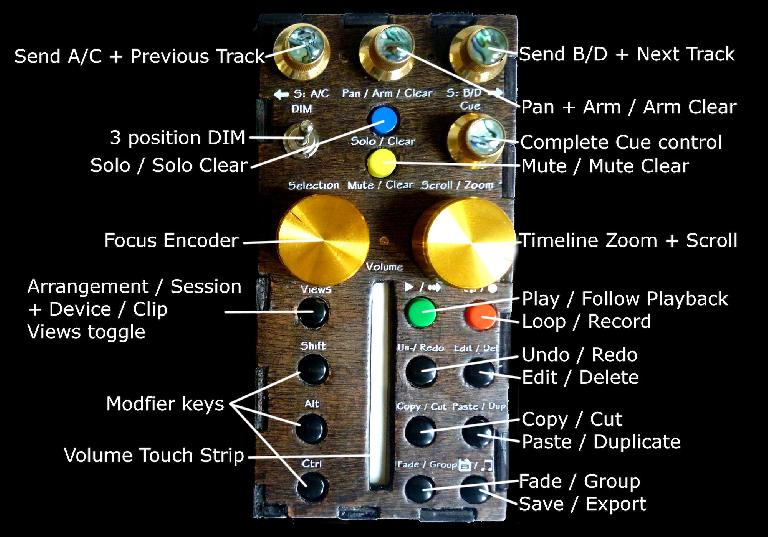 "Another feature I haven't seen on other controllers are the user definable jumping points as displayed in the video. To illustrate, I systematically use a low-cut on every sound source, whose position is right under the lowest fundamental. This is always done with band 1, thus my presets for this band will be at the most common values (30hz, 100Hz, 300Hz, 600Hz). In that way, I push the button to reach the closest preset and tweak from there, which gains a lot of time. The same can be done for any parameter from compression ratio to EQ gain. This is very practical, as it allows you to have very sensitive controls for great precision and use jumps to minimize scrolling time to reach the desired value. Per default, the units jump in intervals calculated to minimize the scrolling time to any possible value in the entire parameter range.
"In addition, this controller is modular, since all parts are standalone units, which allows people to fit the hardware to their needs. Some might buy only the session controller and others (being part of a post production team for example) might buy four EQ units allowing to reach all 52 parameters without flipping switches or long-pushing encoders to reach secondary functions.
"The Session Controller also adds supplementary features not present in Ableton like arm/mute/solo clear, DIM, the Sender, which allows to copy volume values between volumes and sends (see video) and an entire Cue point management system allowing to create,delete, jump to, and display as list all Cue points (see video).
And I believe your apporach to mapping EQ and dynamics is different to other implementations by other controllers?
The D-Control also has these amazing EQ and Dynamic sections that allow to control plug-ins (when that works), which combined with the AFM approach gave birth to the EQ and Dynamic units. I realized that the D-control doesn't recognize quite a few plug-ins, which is why I decided to give access to the user to the mapping database of the units, where you can literally copy and paste the mapping list of any plug-in the unit doesn't know and also modify values etc. There is also a small auxiliary window (shown in the video) that allows you to do your own mappings (or rewrite existing ones) so that you can use any plug-in the way you like. One could imagine a community of users that share their custom mappings for plug-ins (it's just an enormous list of numbers really) so that once a single person anywhere on the planet has mapped a plug-in, no-one ever needs to do that again and is free to modify it at will.
In that way, the users are not dependent on the units' manufacturers' implementation and support of plug-ins, which is an enormous freedom: it doesn't work? - takes around 5 minutes to map a plugin! (or less to find someone who has already mapped it).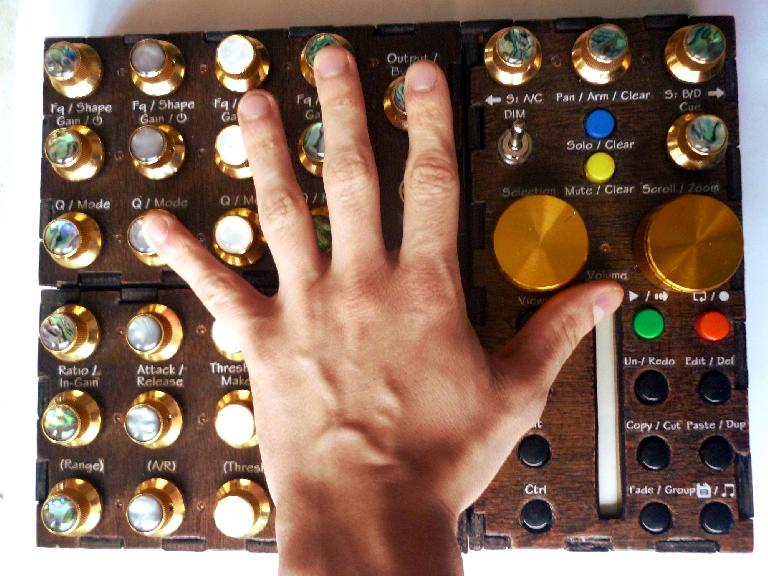 Would ASC compete with or compliment Ableton Push 2?
"Compared to Ableton Push 2, I would say that both units have different uses and targets, Push being rather focused on performance and creativity while my series is for the more classical studio work of editing, mixing and mastering."
What are your hopes for the future of ASC?
"I would be really happy to find a way to produce and distribute these units. I believe that would also greatly benefit Ableton Live, which is currently primarily perceived as a DJ/performance and composition tool, and could broaden the perceived horizons by offering an editing and mixing hardware suite, which could be used for example for post-production editing or in bigger studios.
Some of the new concepts brought by those units like value jumps or dedicated editing hardware might inspire some new controllers or workflows, as technology is about "standing on the shoulders of the giants" of previous generations and then improving it.
In an ideal scenario, Ableton themselves would take over the product since they could perfectly integrate the machines into their software and add their own ideas like they did with Push, but I don't know how likely that is."