In a turn of events that has sparked a flurry of interest, Sasha has put a piece of music history up for sale on eBay. Hi beloved and amazing Waldorf Wave that was the sound of Airdrawndagger could be yours. Sasha tells us it "needs a new home and some TLC".
Currently there are 5 days remaining for the sale and the current bid is $5000 on the nose. if you're wondering what state it is in, Sasha adds, "good overall condition, has wear on wooden endblock, some paint chips typical for this model, a few wobbly encoders (but they work), gas struts for panel do not hold (the) panel up anymore."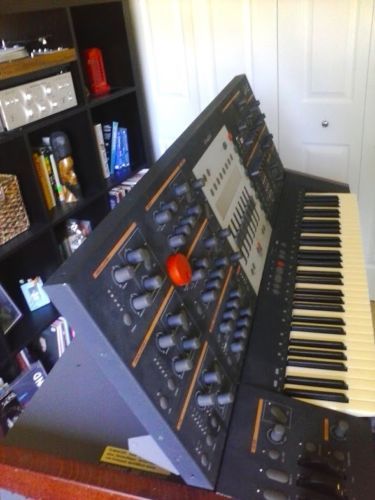 Sasha's Waldorf Wave synth used on Airdrawndagger.
The seller on eBay (a friend of Sasha's) adds, this "Waldorf Wave wavetable synth comes with a manual and a 220v power cord and a boot disk, possibly some sound disks if i'm successful in getting some sounds on disk.
"This was the absolute money-is-no-object top of the line synthesizer that Waldorf made in the early 90's. It nearly put Waldorf out of business and they lost money on every one of the roughly 200 they sold. It is considered by many to be the pinnacle of hybrid digital & analog synthesis, using wavetables for complex oscillator generation and Curtis and SSM chips for analog filtering and envelope control."