Earlier this month, the Samsung Soundcamp Team announced in a post in the Google Play store that as of December 28, 2018, the Samsung Soundcamp service will no longer be available. Although you can still use the Soundcamp app after the service has been canned, the team states "after device replacement or OS update, Soundcamp will not be available and not be supported any more."
While some music makers might say it's time to move to iOS, for the Android faithfuls (and there are plenty of users, Android is still experiencing serious growth globally) there are still some great Android music making apps out there.
Let's take a look at some alternatives Soundcamp users can migrate to - depending on your needs and willingness to part with a few quid.
BandLab
BandLab's Android app offers users an array of music creation tools together with unlimited cloud storage for your music projects. The features are impressive considering the app has no plans to move away from its free model. The twelve-track Mix Editor comes with more than 30 guitar, bass and vocal effects, and an array of MIDI instruments and sounds to get creative with. And for those who always wanted to put great-sounding beats together in no time, there's a Looper function. The best part – your projects are accessible through all devices, Android, iOS and web (which boasts an even more extensive set of features). You're also joining a community of millions, where you can engage, get your music heard and collaborate on music projects with other users.
Pros: If you want to record literally every idea instantly, then build from there (and keeping your data safe, thanks to the unlimited, free storage!).
Price: Free
Link: https://www.bandlab.com/
FL Studio Mobile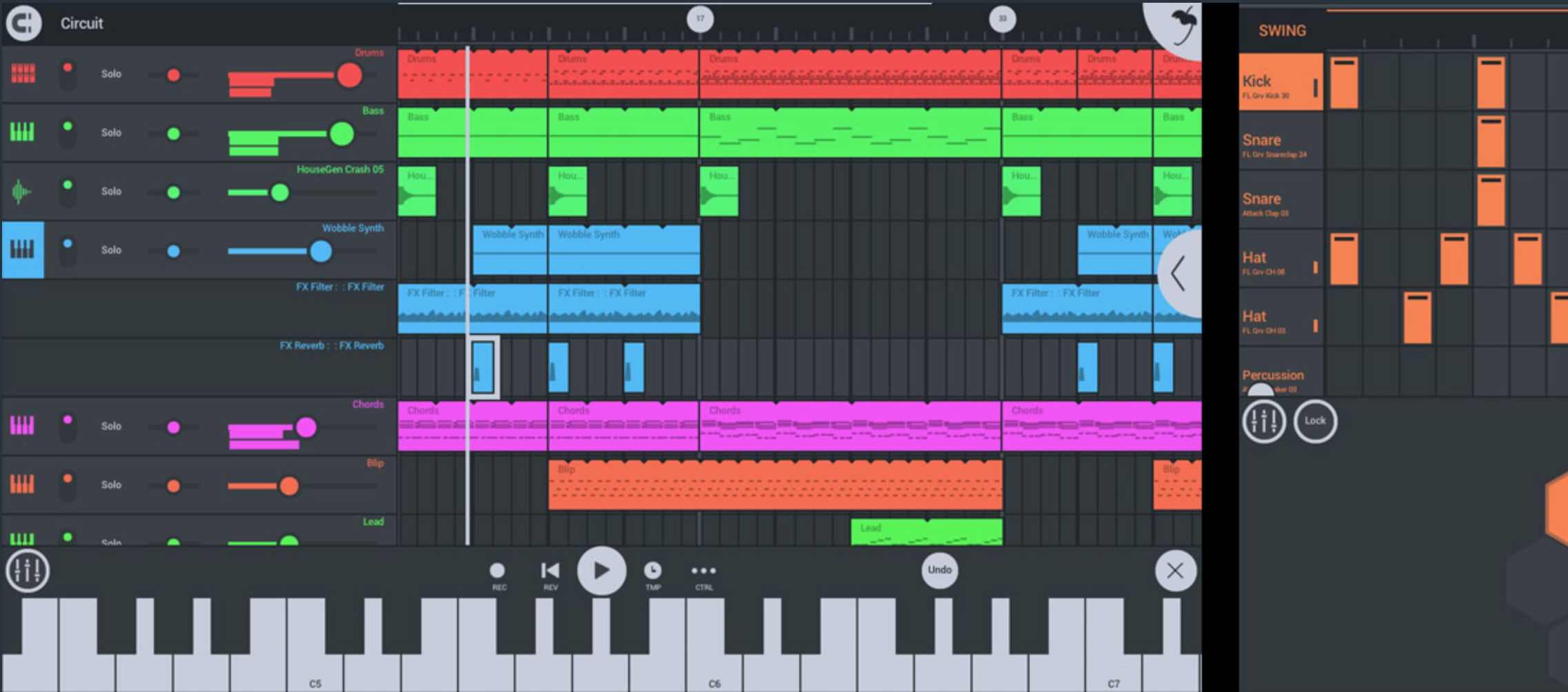 The Android version of Image-Line's popular FL Studio aka Fruityloops, FL Studio Mobile is another feature-rich app that lets you record, sequence, edit, mix and render complete multi-track music projects. You'll find a huge library of synths, FX and sample packs to start making music with. There's a step sequencer which lets you record one measure of a melody or beat at a time and turn it into a loop. You can then export your finished work as a wav or m4a file and even a MIDI file, ready to be imported to your computer for future projects.
Pros: For those looking to explore a wide range of sounds, samples and FX.
Price: £13
n-Track Studio 9 Pro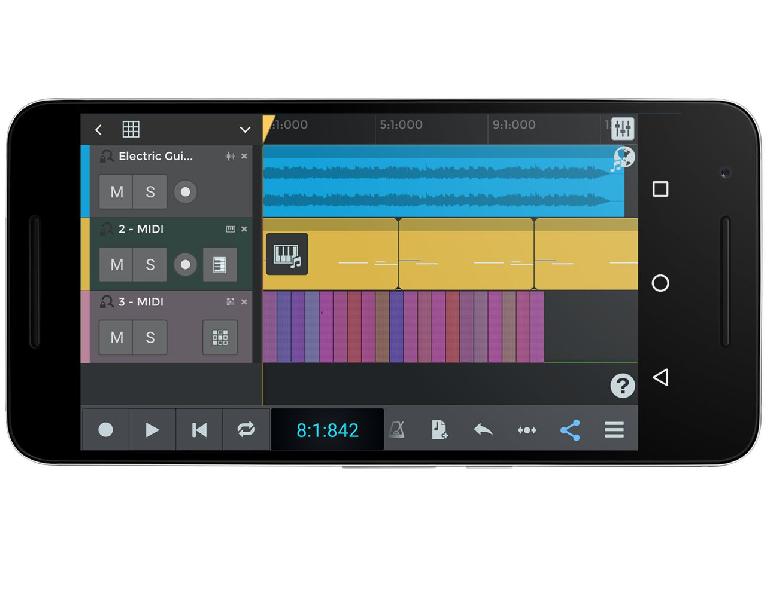 n-Track's Studio 9 Pro is a bold attempt at a complete recording studio on your Android device. You can record an unlimited number of tracks through your built-in mic or from external USB audio source like a MIDI controller. The 128 MIDI instrument sounds, a MIDI editor, and an on-screen MIDI keyboard make the app a serious option for those wanting to record great sounding tracks on the move. They've even included the highly regarded VocalTune plugin that goes from simple pitch correction to completely transforming your vocal tracks.
Pros: For those who are serious about recording with MIDI instruments or controllers.
Price: $0.99/month subscription, $29.99 one-time full unlock.
Best Of The Rest
There are some other notable, sometimes less fully-featured Android apps for music-makers. StageLight is a well integrated DAW for touch-screen and doesn't appear to have any limitations on mobile devices. It includes unlimited audio and instrument tracks and is available for $9.99.
Caustic takes a modular approach to music making. Here you can insert synths, effects, sequencers and samplers the way you want to. Like StageLight this app will set you back $9.99.
Nanoloop is a free app that turns your Android device into a 6-track synthesizer, sequencer and sampler workpad. Worth checking out even if it wasn't free.
Roundup
What do we recommend? Well, your number one priority is to protect your data before Soundcamp shuts in December. So before you whip out your wallet and commit to a new system, you can download BandLab to take advantage of their unlimited storage and free creation tools.
Many Android music making apps have free versions, with in-app purchases or subscriptions to unlock more features. We'd recommend taking the time to try out a range of options and find the workflow that suits you best.