Samplitude, from German developer Magix, continues to receive regular significant version updates and the latest is version 4. It comes in the Pro X4 version as reviewed here, in the Suite version which adds more bundled sample and instrument content, and in the Pro X 365 version which is essentially the Suite, but paid for by monthly subscription rather than in one go. It's a Windows-only application, with the Suite and 365 editions also including a copy of Sound Forge Pro 11, a wave editor also made by Magix.

Samplitude does most of what you'd expect from a DAW, though as a relatively young product compared to some of the industry's bigger names, it is still adding features that some others already possess. That's just an observation really, and all products take time to become all-singing and dancing. So there's audio and MIDI recording and editing, virtual instruments, mixing and mastering and the like, as you'd expect. But let's take a look specifically at what's new in version X4.
In With The New
First up is automation lanes, which can now be viewed and edited inside an audio track. As well as essentials like volume and pan, you can also control VST plug-in parameters, which is very useful for changing things like synth settings or effect levels as a track plays, for more dynamic and interesting results. Yes, other DAWs have had this for quite a while, but it's still a welcome addition for Samplitude users. Next is a new plug-in browser for finding and loading plugs, with an emphasis on using key commands to access functions, which does speed up your workflow once you become used to them.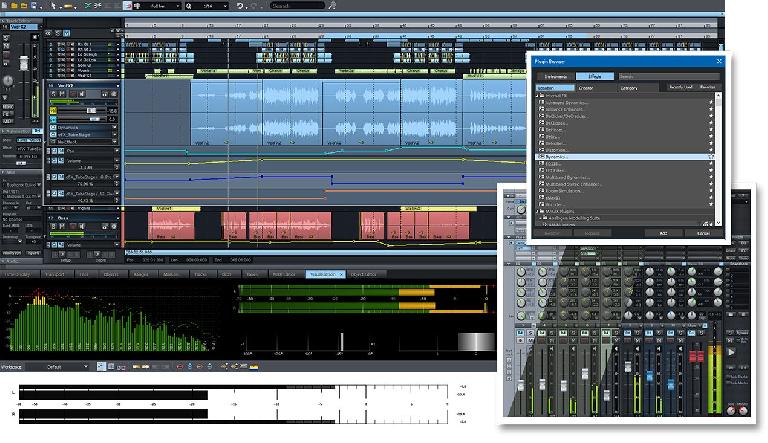 Editing MIDI is smoother too, with streamlined plug and play operation of external MIDI devices like keyboards and pads, with easier setup; MIDI automation has also been improved, particularly in the area of creating transitions and ramps for smoother automation results. MIDI automation data can now be edited, scaled, mirrored, stretched and shrunk more efficiently than before.
32-Core Marvel
Under the hood there's updates to the core of the application that mean it now supports up to 32 CPU cores for audio processing, and a new ASIO boost priority option in the settings can be used to ensure audio processing is always allocated the maximum amount of CPU power available. Not that I had any particular latency problems before, but this is good to have especially if your PC is very high-spec with a large number of cores.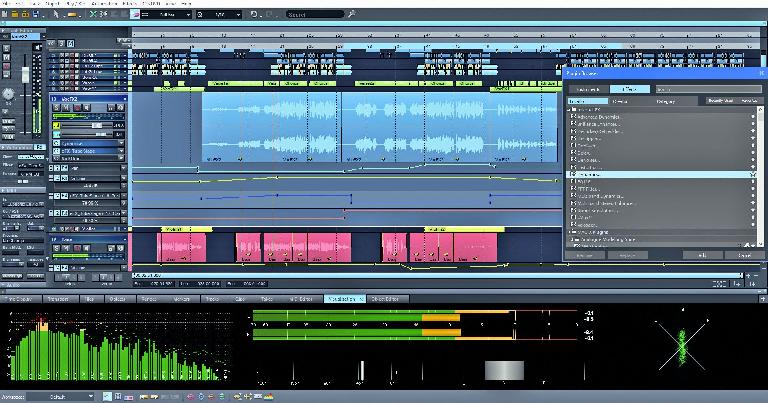 In the regular X4 version there's a very solid set of 21 virtual instruments covering synths, acoustic instruments and beats, as well as special editions of the Vandal amp sim, Melodyne Essential, Orange Vocoder and the Cleaning and Restoration Suite. You get a version of the Analog Modelling Suite, though not the rest of the mastering plugins as found in the larger bundles. of course VST plugs are fully supported, so any third party instruments and effects you have will work just fine. You can find a version comparison at https://www.magix.com/gb/music/samplitude/version-comparison
Conclusion
Samplitude Pro X4 is a solid DAW for Windows with a good set of tools for recording, editing and mixing audio and MIDI. The new features like automation lanes for audio and VST parameters, smoother MIDI editing, 32-core support and general workflow enhancements further add to its appeal. In use it worked very well, with low latency, clean audio takes and accurate MIDI timing. It's arguably still playing catch up with some of the bigger name DAWs in terms of sheer feature set, and might benefit from a moderate price drop until it can claim closer feature parity and / or slickness of user experience - but there's still much to like here for Windows music-makers. A free 30-day trial is available for you to try it for yourself.
Price: Samplitude Pro X4 £299.99. Suite edition £449.99. X365 subscription edition £11.99/month. Upgrade pricing available.

Pros: Very efficient, now with 32-core CPU support. Automation for audio and VST parameters. Improved workflow. Better MIDI editing tools. Suite edition comes with a lot of content and Sound Forge 11.

Cons: Feature-wise, still playing catch up with the bigger names. Arguably a little expensive as things stand. Graphically a bit clinical, if that bothers you.