Maschine V2 has a whole host of cool additions but one of my favorites has to be the new sampling engine. The changes made are pretty subtle, but all in all the whole system feels faster, slicker and most importantly more enjoyable to use.
In this walkthrough I'll sample some audio actually running inside Maschine. I'll then edit the sample, trim it and span it to the pads in a group. Once this is complete, we'll generate a MIDI file and create a new sequence with the samples.
Step 1: Prepping Your Source Material
The first step here is deciding what you want to sample. Maschine is capable of sampling external and internal sources. This means that you can sample anything you hear happening in your Maschine project without ever leaving the box, or if you prefer you can choose to pipe something from the analog domain in using your interface inputs.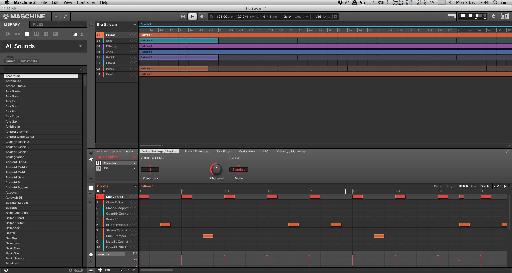 Prepping a loop to sample within a Maschine project.
Either way, you will need to isolate the part that is playing in Maschine and fine tune the loop. If you are sampling an external signal, you will also need to ensure that the MIDI or audio device is being routed correctly into your interface. When these steps are complete, you are ready to start setting up Maschine's internal sampler.
'