The launch date for Samplebot from A Tasty Pixel (the same people behind the hugely influential iOS app, AudioBus) was brought forward a week and so today we're super happy to let the world know that this app is now live. But what is Samplebot? Why would you even want another music app for your mobile devices?
Samplebot is a collector of sounds. It's a crafter of songs. It's a finger-drummable looping sequencer of rainbow glory, and it wants to be your friend. Come. Play. Robo-boogie.
Here's what A Tasty Pixel tells us about Samplebot:
Record or import sound clips, play them back on colorful pads and record and layer the results to build songs. That's the idea behind Samplebot, the playful new sampler app for iPhone and iPad from the developer of award-winning apps Loopy and Audiobus.
Samplebot, launching today, uses a grid of large colored pads to represent audio clips which can be recorded live or imported from elsewhere to create remixes of other material. Clips can then be played back with a touch, or recorded and layered with other sounds using the app's sequencer. Sequence looping allows users to build up songs quickly and easily.
"I've always loved finding ways to make music fun and immediate, to encourage creativity without having to wrestle with complex tools," said A Tasty Pixel director and developer Michael Tyson. "Samplebot's just good fun to play with. During development I was entertaining our 7-month-old little boy, recording and playing back his squeaky teether toy. I made a little song right there, out of the stuff around us: That's the kind of experience I strive for."
Samplebot was featured earlier this month in an Instagram post from The Tonight Show's Jimmy Fallon, with a playful cover of Shawn Mendes' "There's Nothing Holdin' Me Back".
Samplebot joins A Tasty Pixel's other widely-acclaimed and award-winning apps Loopy and Audiobus. It can be found on the App Storeat the special 50% off launch price of $US2.99 and is compatible with iPhone and iPad.
Device Requirements: iPhone 5s or newer, iPad Air or newer, or iPod Touch 6th Generation; running iOS 10 or newer.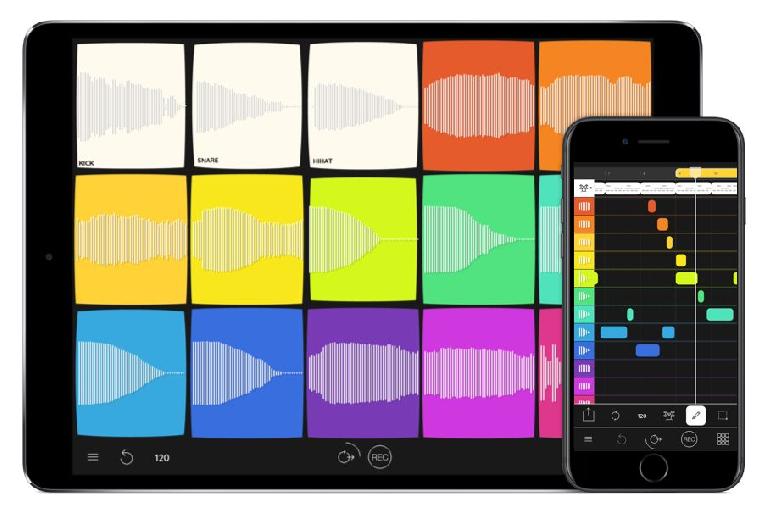 Samplebot Features
Record or import samples, then play them back on beautiful, sproingy rainbow pads!
Then record or input arrangements using the sequencer, featuring built-in drum patterns, loop record and playback, quantization and copy/paste
Trim samples, and adjust volume and balance for the perfect mix
Share your creations to Facebook, or export them to other music apps
Comprehensive MIDI control with velocity, for play using a grid controller like the Launchpad
Helpful and fun-loving intro tutorial