Na parte 1 do presente artigo , discutimos a possibilidade de Pro Tools 10 para reproduzir arquivos de áudio com diferentes taxas de amostragem na mesma sessão, e as opções oferecidas pelo Pro Tools, quando a importação de áudio de uma sessão. Em situações de música-only (isto é, não na pós-produção), o objectivo é acabar com todo o áudio reproduzir com a mesma velocidade, o uma em que foi gravada originalmente. Em pós-produção no entanto, às vezes é necessário para alterar a velocidade do áudio para lidar com as demandas de mudança de formato de imagem em movimento, especialmente quando se deslocam de filme para vídeo ou vice-versa.

Pull-ups e pull-downs
A fim de lidar com as limitações técnicas de cada imagem formatwhen movimento é transferido de película para vídeo ou vídeo para filmits velocidade tem de ser alterado. Isto significa que o áudio precisa de ser acelerada ou retardado para combinar. Pro Tools 10 oferece a capacidade de puxar para cima ou para puxar para baixo a taxa de amostragem, a fim de alcançar este objectivo. A tabela seguinte mostra as alterações de velocidade que precisam de ter lugar quando a transferência de áudio de um formato para o outro:


Como o Pro Tools exibe as mudanças de velocidade exigidos pela taxa de quadros mudando
Exemplo - Pull Down
Por exemplo, você foi fornecido com o som gravado no local de 48 kHz, onde a metragem do lugar foi capturado a 24 quadros por segundo (fps). Para editar em um computador as filmagens foi transferido para vídeo a 29,97 fps (NTSC adequado para broadcast). O vídeo será executado 0,1% mais lenta do que a sua fonte original (isto é, um segundo de timecode é de 0,1% mais de um segundo de tempo real) para o áudio requer puxando para baixo de outra forma seria muito rápido (no caso de importação sem ajuste).
In Pro Tools then, set the session sample rate to 48 kHz

Import the location audio to the session by using the Import Audio dialog (File > Import > Import Audio or Shift-Command-i)

You will be offered to either 'Add' or 'Copy' the audio; choose 'Copy' then tick the 'Apply SRC' checkbox

From the 'Source Sample Rate' drop-down menu choose 48 kHz (Pull Up/Down) and then 47, 952 - 0.1% Down (Film to NTSC)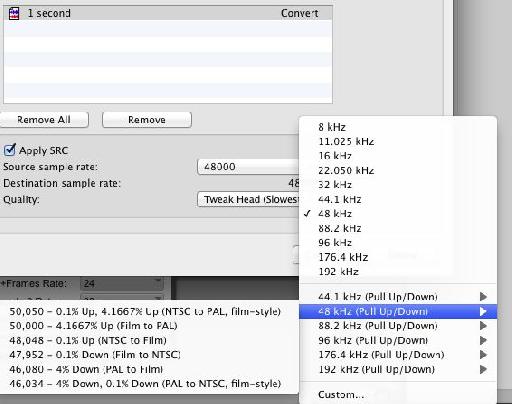 Escolhendo a taxa de amostragem adequada fonte
Pro Tools, em seguida, tratar o áudio como se a taxa de amostragem de destino da sessão é 47952 Hz; se fosse esse o caso, então 48000 amostras levaria um pouco mais de 1 segundo para reproduzir o áudio e, portanto, desacelerar de 0,1%.
O áudio resultante será 48 kHz arquivos, mas estará de volta em sincronia com o vídeo.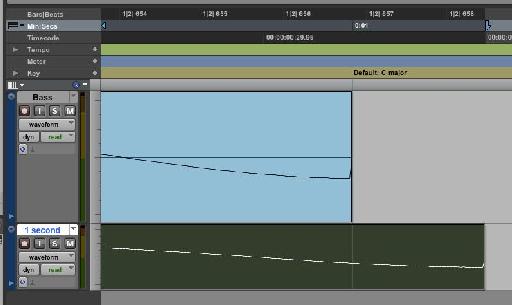 Esta imagem mostra o efeito de retardar um ficheiro de 1 segundo de 0,1%; nota que 1 segundo de código de tempo é maior do que 1 segundo de tempo real
Qualidade de conversão
Quando você aplica taxa de conversão da amostra, desta forma, você também tem uma opção de qualidade de conversão que varia de baixo (mais rápido)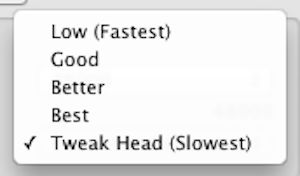 Taxa de amostragem de qualidade configurações de conversão