에서는 이 문서의 ì œ 1 부 우리는 같은 세션에서 샘플 속도를 다양한으로 오디오 파일을 ìž¬ìƒí• í•˜ëŠ" 10 프로 도구의 기능을 ë…¼ì˜í•˜ê³ , 세션에 오디오를 ê°€ì ¸ì˜¬ ë•Œ 옵션은 Pro는 도구에 의해 ì œê³µë©ë‹ˆë‹¤. 음악 ì "ìš© 상황에서는 (ê·¸ 이후의 생산, 아니다) ëª©ì ì€ 오디오 모두 동일한 속도, 그것이 원래 기록된되는 하나에서 재생하게 ë  것입니다. 필름에서 비디오 또는 ê·¸ 반대로 이동하는 ë•Œ, 특히 포스트 프로덕션에서는 그러나, 그것은 때로는 움직이는 이미지 포맷을 변화의 요구에 대처하기 위해 오디오의 속도를 변경해야합니다.

당기 업 및 끌어 오기 - 다운
각 formatwhen 움직이는 이미지의 ê¸°ìˆ ì  한계를 극복하기 위해서는 속도가 변경되어야한다 filmits에 비디오 또는 비디오로 영화에서 ì "송됩니다. 이것은 오디오가 더 빨라졌하거나 일치하도록 ëŠë ¤ì¡Œí•´ì•¼ í•  것을 의미합니다. 프로 도구 10 이것을 달성하기 위해 샘플 속도를 끌어 ì˜¬ë ¤ì"œ 또는 아래로 끌어 수있는 기능을 ì œê³µí•©ë‹ˆë‹¤. 다음 표는 하나의 포맷에서 다른 오디오를 ì "ì†¡í•  ë•Œ 자리를 ëŒ€ì‹ í•´ì•¼ 속도 변경을 보여줍니다 :


어떻게 프로 툴 변경 í""ë ˆìž" 속도에서 요구하는 속도 변화를 표시
예 - 아래로 당겨
예를 들어, ë‹¹ì‹ ì€ 위치에 영상을 초당 24 í""ë ˆìž" (FPS)에서 캡쳐한 48 kHz에서,에 기록된 위치 사운드를 함께 ì œê³µí•˜ê³  있습니다. 컴퓨터에 편집하기 위해서는 영상은 29.97 í""ë ˆìž" (NTSC 방송에 ì í•©í•œ)에 비디오로 ì "송되었습니다. 비디오 수 있도록 원래의 소스 (ê·¸ 시간 코드 중 하나를 두 번째는 실시간 일초보다 0.1 % 이상입니다)보다 0.1 % 더 느리게 실행됩니다 오디오 달리 그것이 (ì¡°ì •ì—†ì´ 수입하는 경우) 너무 ë¹ ë¥´ê²Œ ë  잡아당기는 필요합니다.
In Pro Tools then, set the session sample rate to 48 kHz

Import the location audio to the session by using the Import Audio dialog (File > Import > Import Audio or Shift-Command-i)

You will be offered to either 'Add' or 'Copy' the audio; choose 'Copy' then tick the 'Apply SRC' checkbox

From the 'Source Sample Rate' drop-down menu choose 48 kHz (Pull Up/Down) and then 47, 952 - 0.1% Down (Film to NTSC)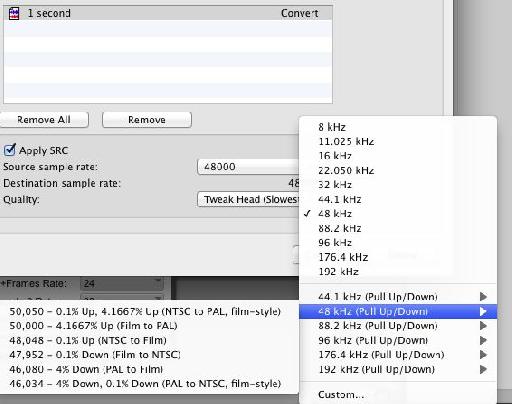 해당 소스 샘플 ë ˆì´íŠ¸ ì" 택
세션의 대상 샘플 ë ˆì´íŠ¸ê°€ 47952 Hz에서입니다 것처럼 Pro는 도구는 다음 오디오를 취급합니다, ê·¸ë ‡ë‹¤ë©´ 그때 48,000 샘플을 ìž¬ìƒí•  다소 시간이 오래 일초 이상 걸릴 것이며 오디오 따라서 0.1 %ë¡œ 늦출 것이다.
ê·¸ ê²°ê³¼ 오디오는 48 kHz에서 파일이 ë  것이지만, 비디오와 동기화 돌아올 것입니다.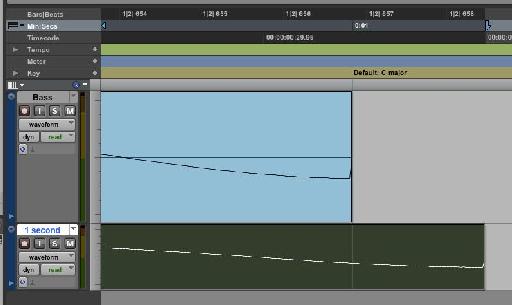 이 이미지는 0.1 %ë¡œ 1 번째 파일을 늦ì¶"ê³ ì˜ 효과를 보여줍니다;주의 시간 코드 1 두 번째는 실시간의 일초 ì´ìƒí•˜ë‹¤ê³ 
변환 품질
이 방식으로 샘플 속도 변환을 ì ìš©í•  ë•Œ, ë‹¹ì‹ ì€ 또한 낮은 (가장 ë¹ ë¥¸)에서부터 변환 품질을 ì" íƒí•  수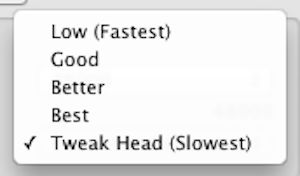 샘플 속도 변환 품질 ì"¤ì •