Dans la partie 1 de cet article , nous avons discuté la possibilité de Pro Tools 10 pour lire des fichiers audio avec différents taux d'échantillonnage dans la même session, et les options offertes par Pro Tools lors de l'importation audio à une session. Dans les situations de musique uniquement (c'est-à -pas en post-production), l'objectif est de se retrouver avec tout l'audio de la lecture à la même vitesse, celle à laquelle il a été enregistré à l'origine. Dans la post-production cependant, il est parfois nécessaire de modifier la vitesse de l'audio pour faire face aux exigences de l'évolution des formats d'image en mouvement, en particulier lorsque le déplacement du film à la vidéo ou vice versa.

Pull-ups et pull-bas
Afin de faire face aux limitations techniques de chaque image formatwhen mouvement est transféré du film à la vidéo ou à filmits vitesse doit être changé. Cela signifie que l'audio doit être accéléré ou ralenti en fonction. Pro Tools 10 offre la possibilité de tirer vers le haut ou tirer vers le bas le taux d'échantillonnage en vue d'atteindre cet objectif. Le tableau suivant montre les changements de vitesse qui doivent avoir lieu lors du transfert de l'audio d'un format à un autre:


Comment Pro Tools affiche les changements de vitesse exigées par frame rate changer
Exemple - Pull Down
Par exemple, vous avez été livré avec son emplacement enregistrés à 48 kHz, où le film emplacement a été capturé à 24 images par seconde (fps). Afin de modifier dans un ordinateur les images ont été transférées à la vidéo à 29,97 ips (NTSC adapté à la diffusion). La vidéo se déroulera 0,1% plus lente que sa source d'origine (qui est, une seconde de timecode est de 0,1% plus d'une seconde du temps réel) afin de l'audio nécessite tirant vers le bas sinon ce serait trop vite (si elles sont importées sans ajustement).
In Pro Tools then, set the session sample rate to 48 kHz

Import the location audio to the session by using the Import Audio dialog (File > Import > Import Audio or Shift-Command-i)

You will be offered to either 'Add' or 'Copy' the audio; choose 'Copy' then tick the 'Apply SRC' checkbox

From the 'Source Sample Rate' drop-down menu choose 48 kHz (Pull Up/Down) and then 47, 952 - 0.1% Down (Film to NTSC)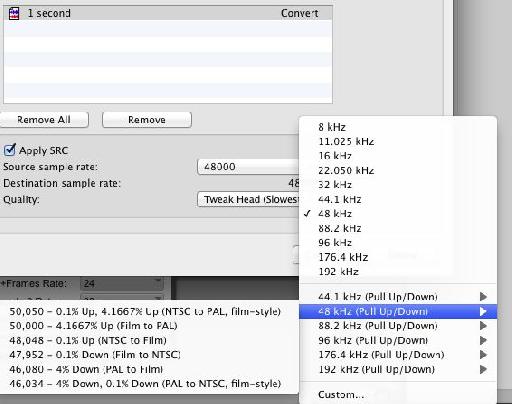 Choisir le taux de source appropriée d'échantillon
Pro Tools, puis traiter l'audio, comme si la fréquence d'échantillonnage de destination de la session est 47952 Hz; si tel était le cas, alors 48000 échantillons faudrait un peu plus de 1 seconde à jouer en arrière et l'audio sera donc ralentir de 0,1%.
Le son résultant sera de 48 kHz fichiers, mais sera de retour en synchronisation avec la vidéo.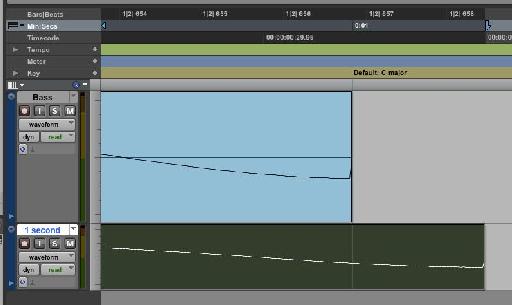 Cette image montre l'effet de ralentir un fichier 1 seconde de 0,1%, à noter que 1 seconde de code temporel est plus long que 1 seconde de temps réel
Qualité de conversion
Lorsque vous appliquez la conversion de fréquence d'échantillonnage de cette manière, vous avez également un choix de qualité de la conversion allant de Faible (plus rapide)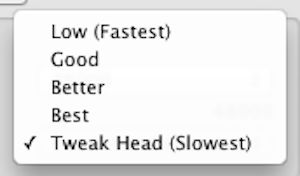 Exemples des paramètres de taux de conversion de qualité