En la parte 1 de este artículo hablamos de la capacidad de Pro Tools 10 para reproducir archivos de audio con diferentes frecuencias de muestreo en la misma sesión, y las opciones que ofrece Pro Tools para la importación de audio a una sesión. En situaciones de sólo música (que no es, en post-producción), el objetivo es terminar con todo el audio se reproduce a la misma velocidad, el uno en el que se grabó originalmente. En la post-producción sin embargo, se requiere a veces para cambiar la velocidad del sonido para hacer frente a las exigencias de cambio de formato de imagen en movimiento, sobre todo cuando se pasa de película a la inversa de vídeo o viceversa.

Pull-ups y Pull-downs
Con el fin de hacer frente a las limitaciones técnicas de cada imagen en movimiento se transfiere formatwhen de película a vídeo o vídeo a filmits velocidad tiene que ser cambiado. Esto significa que el audio tiene que ser acelerado o frenado para que coincida. Pro Tools 10 ofrece la capacidad de tirar hacia arriba o bajar la frecuencia de muestreo con el fin de lograr este objetivo. La siguiente tabla muestra los cambios de velocidad que deben llevarse a cabo cuando la transferencia de audio de un formato a otro:


Cómo Pro Tools muestra los cambios de velocidad que requiere cambiar la velocidad de fotogramas
Ejemplo - Pull Down
Por ejemplo, se han suministrado con el sonido directo grabado a 48 kHz, en donde fue capturado el metraje lugar a 24 cuadros por segundo (fps). Con el fin de editar en un ordenador las imágenes se han transferido a video a 29.97 fps (NTSC adecuada para difusión). El video es 0,1% más lento que su fuente original (es decir, un segundo de código de tiempo es del 0,1% más de un segundo de tiempo real) para que el audio requiere tirando hacia abajo de lo contrario sería demasiado rápido (si es importado sin ajuste).
In Pro Tools then, set the session sample rate to 48 kHz

Import the location audio to the session by using the Import Audio dialog (File > Import > Import Audio or Shift-Command-i)

You will be offered to either 'Add' or 'Copy' the audio; choose 'Copy' then tick the 'Apply SRC' checkbox

From the 'Source Sample Rate' drop-down menu choose 48 kHz (Pull Up/Down) and then 47, 952 - 0.1% Down (Film to NTSC)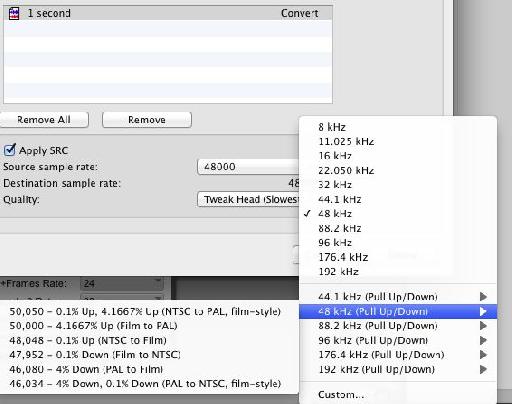 Elegir el tipo de fuente apropiado de la muestra
Pro Tools a continuación va a tratar el audio como si el destino de la frecuencia de muestreo de la sesión es 47.952 Hz, y si ese era el caso, entonces 48000 muestras se tardará un poco más de 1 segundo para reproducir el audio y por lo tanto, se reducirá un 0,1%.
El audio resultante será de 48 kHz archivos, pero estará de regreso en sincronía con el vídeo.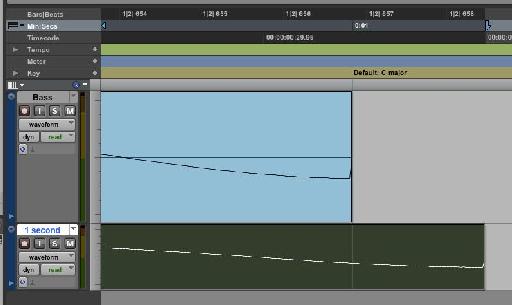 Esta imagen muestra el efecto de reducir la velocidad un archivo de 1 segundo en un 0,1%, tenga en cuenta que 1 segundo de código de tiempo es más de 1 segundo de tiempo real
Conversión de Calidad
Cuando se aplica la conversión de frecuencia de muestreo de esta manera, usted también tiene una opción de calidad de conversión que van desde bajo (más rápido)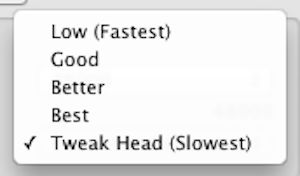 Frecuencia de muestreo de calidad de la configuración de conversión