في الجزء 1 من هذه المادة بحثنا في قدرة أدوات برو 10 لتشغيل الملفات الصوتية مع اختلاف معدلات عينة في الدورة نفسها، والخيارات التي توفرها أدوات برو عند استيراد الصوت إلى الدورة. في حالات الموسيقى فقط (وهذا هو، وليس في مرحلة ما بعد الإنتاج) والهدف من ذلك هو في نهاية المطاف مع كل من الصوت لعب مرة أخرى في نفس السرعة، واحد الذي كان قد تم تسجيله في الأصل. في مرحلة ما بعد الإنتاج مع ذلك، هناك حاجة في بعض الأحيان إلى تغيير سرعة الصوت للتعامل مع مطالب تغيير شكل صورة متحركة، وخاصة عندما تنتقل من فيلم إلى الفيديو أو العكس بالعكس.

سحب الناشئة وسحب هبوطا
من أجل التأقلم مع القيود التقنية من كل صورة formatwhen تتحرك يتم نقلها من أفلام الفيديو أو الفيديو لfilmits السرعة يجب أن يتغير. هذا يعني أن الصوت يحتاج إلى تسريع أو إبطاء لمطابقة. Pro أدوات 10 يوفر القدرة على سحب ما يصل أو هدم معدل عينة من أجل تحقيق هذا الهدف. ويبين الجدول التالي سرعة التغييرات التي تحتاج إلى أن يتم عند نقل الصوت من صيغة الى اخرى:


كيف Pro أدوات يعرض سرعة التغييرات المطلوبة من قبل في إطار معدل التغير
مثلا - هدم
على سبيل المثال، تم تزويد لكم مع الصوت المسجل على موقع 48 كيلو هرتز، حيث تم القبض على لقطات موقع في 24 لقطة في الثانية (fps). من أجل تحريرها في جهاز كمبيوتر تم نقل لقطات الفيديو إلى 29،97 في الثانية (مناسب للبث NTSC). سيتم تشغيل الفيديو 0.1٪ أبطأ من مصدره الأصلي (أي، ثانية واحدة من timecode هو 0.1٪ وقتا أطول من ثانية واحدة من الوقت الحقيقي) وبالتالي فإن الصوت يتطلب ما ادى الى انخفاض وإلا فإنه سيكون سريع جدا (إذا المستوردة بدون تعديل).
In Pro Tools then, set the session sample rate to 48 kHz

Import the location audio to the session by using the Import Audio dialog (File > Import > Import Audio or Shift-Command-i)

You will be offered to either 'Add' or 'Copy' the audio; choose 'Copy' then tick the 'Apply SRC' checkbox

From the 'Source Sample Rate' drop-down menu choose 48 kHz (Pull Up/Down) and then 47, 952 - 0.1% Down (Film to NTSC)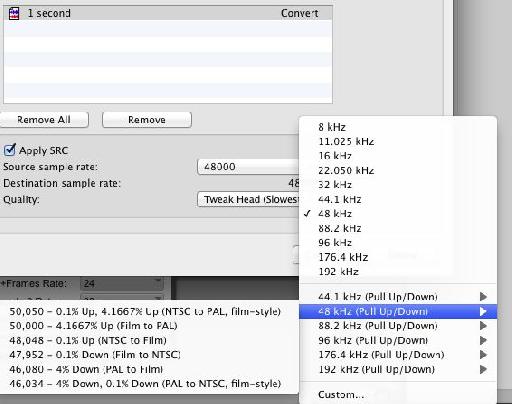 اختيار عينة المصدر المناسب معدل
وسوف Pro أدوات علاج ثم الصوت كما لو كان معدل عينة من جهة الدورة هو 47952 هرتز، وإذا كان هذا هو الحال ثم 48000 العينات سيستغرق أطول قليلا من 1 في الثانية للعب ذهابا والصوت سيتباطأ ذلك بنسبة 0.1٪.
وسوف يكون الصوت الناتج ملفات 48 كيلوهرتز، ولكن سوف يعود على وفاق مع الفيديو.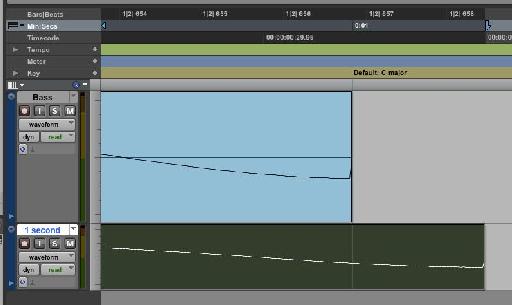 هذه الصورة تبين تأثير تباطؤ ملف 1 ثانية بنسبة 0.1٪، علما بأن 1 ثانية من timecode أطول من 1 ثانية من الوقت الحقيقي
تحويل الجودة
عند تطبيق نموذج معدل التحويل في هذه الطريقة، لديك أيضا خيار تحويل نوعية تتراوح بين منخفض (أسرع)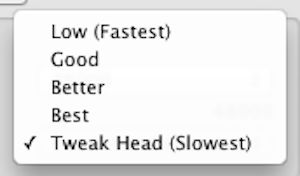 عينة ضبط الجودة معدل التحويل