If you work in scoring for media, it's likely you have heard of Sample Logic and their suite of tools. Joe Trupiano and the Brooklyn crew have been dropping some really tasty libraries since 2006, and every time they craft a new instrument geared towards the scoring / composing market the 'barrier for entry' to work in visual media seems to get erased a little more. Trailer Xpressions 3 is a fantastic evolution and a worthy chapter in the TX family of instruments.
It's Whats Inside That Counts
The vital stats of TX3 are as follows. You get 28 Kontakt Instruments that are based on a library of 1,161 mapped audio samples. This weighs in at about 3 gigabytes, so it won't completely monopolize your SSD. The samples themselves are provided by Sampletraxxx, and they load up in the familiar Trailer Xpressions interface with a few welcome tweaks. You still have direct access to the individual samples, but the instrument is where they really tend to shine with usability.
The interface is minimalist, which I very much appreciate. After all, the whole point of this suite of instruments is to provide you with polished Hollywood-like sound design without the massive turnaround time. I found it very easy to navigate and use without having to dip into the manual. TX3 is an 'unwrapped' Kontakt instrument, which means you will need to jump into the file browser and manually navigate to the folder it is installed to. Once there, you can open up any of the 28 NKI files and begin to work.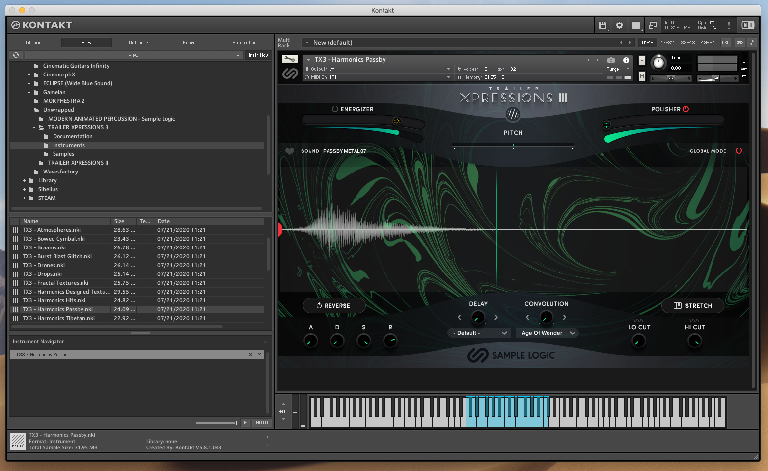 Something Old, Something New
The new additions seem small, but they functionally change the way TX3 operates and I am there for them. First of all, the new 'stretch mode' allows you to switch from the array of samples being mapped to the keys to a single sample mapped and pitch stretched across the keyboard. This is truly wonderful for quickly tweaking the sample to fit into a desired pitch area.
The new hi-cut and lo-cut filters have built in LFO modulators just above them, with full retriggering! You can instantly morph a sample over time with a few clicks of a mouse. Chalk up another win for the user.
There is an amp envelope with ADSR controls that will let you craft the gain over the life of the sample, and a single click 'reverse' function directly above those controls. Again, it just speaks to the quickness and usability of TX3. These features are quick to access, but exponentially increase the usability of the samples inside of TX3.
In terms of effects, the slick delay and convolution reverb controls return, along with the energizer and polisher. The latter two allow for multi-processor dynamic control and dramatic sound crafting.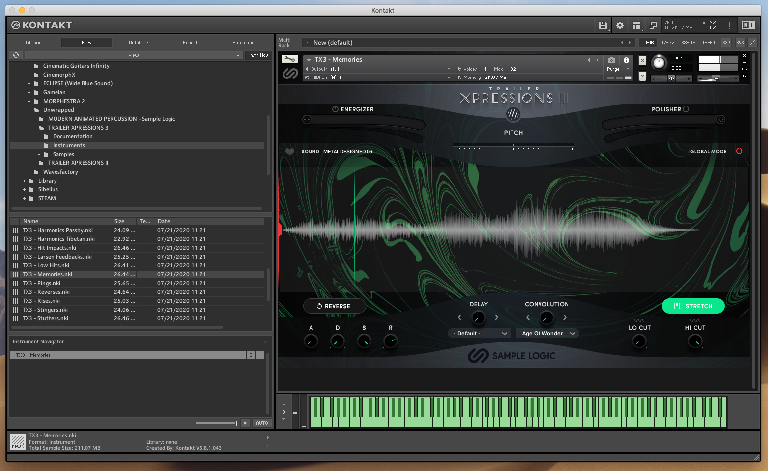 Sounds Dangerous
The sounds included in TX3 are truly special. They feel crisp, polished, haunting, and dynamic. Combined with the convenient controls for quick and dramatic changes, this instrument is a welcome addition to my sample drive. If you're looking for a way to build dramatic and dynamic soundscapes in mere moments, this is the library you're looking for. Now that we've got 3 different collections in this series, my only hope is that all three can somehow get merged into the controls and user interface of this third iteration.
Price: $99 introductory price / $199 standard
Pros: New functions are simple, yet dramatically increase usability. Beautiful and haunting samples. Easy to use interface. Light on the SSD.
Cons: Now that I've got these new functions for volume 3, I want volumes 1 and 2 to load in this 'engine'! Fingers crossed!
Web: www.samplelogic.com